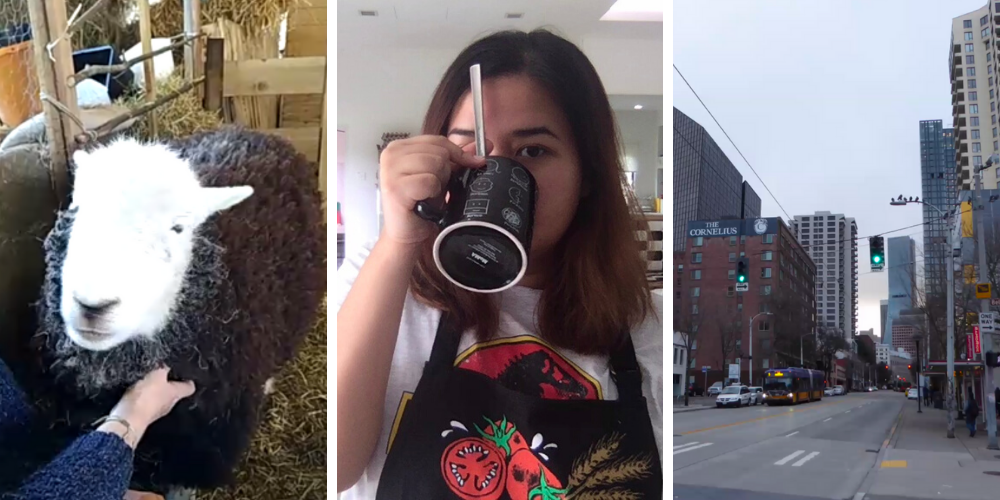 Travel plans I made in my mind to do in the year 2020 have been thrown out the window, as even though airlines have slowly been resuming flights again, it's still too risky to fly for leisure. This is why I was absolutely delighted to have a go at testing out different 'Airbnb Online Experiences'.
'Online Experiences' is Airbnb's answer to alternative travel, where they let people access 'travel' experiences from hosts around the world right through the internet. This new feature lets you connect with hosts from more than 30 different countries. The hosts themselves can also earn an income during the pandemic, as some of them usually earn their income through tourism.
I chose three different Airbnb experiences, so not only could it possibly make up for the lack of travelling for a whole year (shivering at that thought), but it would potentially be like travelling half of the world in a week. These were my chosen experiences:
#1: Guided Meditation with Sleepy Sheep
My first experience was at 11pm on a Tuesday. I had a lot of thoughts running through my head that day. I was pumped for the experience, but usually at 11pm I would have already been all toasty in bed scrolling through Twitter like it's a bedtime story.
Nevertheless, I set up my laptop, sat up on my desk chair, and looked through the confirmation email by Airbnb that was sent to me after I had confirmed my booking.
Airbnb automatically sends you an email containing the 'Airbnb Online Experience' information, including the correct date and time that matches your own timezone, as long as you've booked the experience using your own account and you've updated your location in your profile. Besides that, you get the opportunity to change or cancel your reservation, just in case.
You also get the Zoom link where you'll need to click at least 5 minutes before the start of the actual experience. The email notes that you will need an internet connection and the ability to stream audio and video to participate. In my experience looking back, you should also have your own earphones so the sound wouldn't echo back to the group.
Beccy, the host, also sent me a list of things to bring to participate in the experience, including a 'sense of humour', a 'cuddly toy or soft blanket', a fun fact about sheep, your pet, or a favourite animal, and a pen and paper. I almost overlooked this list, so I advise you to check your email thoroughly after you book your own experience.
If you join on time, you get to chat with the host and other guests who've joined with you. I really liked that I not only got to talk to Beccy in Scotland, but talk to other people around the world, from the U.K., to the U.S., to Japan. Beccy then brought her camera to show us her farm and nearby sheep and chickens.
She had a soothing voice, and she presented peaceful sceneries and the adorable sheep throughout the experience. She also asked us to stroke a fluffy toy or blanket to imitate stroking the sheep. Luckily for me, I was wearing a sheep-like jacket.
Beccy also gave each guest their own Scottish names. I was given the name Deveron MacHamish, named after a Scottish Whiskey and one of the sheep, Hamish. I also got to meet Hamish himself online. However, things like a pen and paper, and the fun fact about your pet that she advised us to bring before the experience weren't really put to use.
The last part of the experience itself was a very satisfying meditation session by her daughter, ending with live footage of their sleepy sheep. The experience ended at around 12am and I went to bed straight away. The meditation helped give me a calmer mind and didn't even need to scroll through Twitter this time.
#2: Learn to Cook Mexican Salsas
The very next morning, I had to prepare for the salsa making class which started at 9am. I had ordered my ingredients beforehand, including chillies (I picked red, but they said any kind of hot pepper), red tomatoes, a mango (or any sweet fruit), garlic, onions, and a list of other ingredients that you can do with or without.
I didn't have a few of the ingredients like tomatillos, which aren't native to Malaysia, avocado, and peanuts, but the email itself mentioned a few alternatives. You don't even have to worry if you don't have the right herbs, or even if you'd rather just watch the experience with a snack and drink by your side.
After I set up my stations, like the cutting board area, places to put ingredients, pots and pans, kitchen tools, and set my laptop nearby, I entered the Zoom link through the confirmation email and was immediately greeted warmly by Natalia and some other guests who attended the same class.
This experience had a different feel to it, mainly due to it being a more active due to the cooking, but Natalia brought an energetic vibe. She first made sure each of the guests had the ingredients and tools before we started, and gave us different alternate options if we didn't have the ingredient or tool.
I thought a Mexican 'salsa' is just the one with the diced tomato and onion with a bit of cilantro that you'd get with tacos. It was pointed out to me by my editor that 'salsa' is actually the Spanish word for sauce. I also did not prepare for the fact that we'll be making three salsas, not one, and that two of them required heat to cook the veggies with.
Even though I was a little intimidated, Natalia was patient and took the time to go through each step of the cooking process, making sure each guest was up to speed before proceeding to the next step. Before I knew it, I made three different delicious dishes by myself from scratch, and I had so much fun! Pro-tip: Get yourself some corn chips along with the ingredients so you can dip them in these sauces when you're done.
#3: The Secret of Seattle's Disappearing Hill
This last experience had the wildest timing out of all the others. I had to be up at 3.30am for this virtual walk around Seattle with David as the host. A few days beforehand, he reached out to the whole group through Airbnb (you can access messages faster if you download the Airbnb app) to say hi and to ask us about what drew us to the experience. Subsequently, I felt closer to the group knowing their answers and having them learn mine.
To be quite frank, I had different expectations when it came to this experience. Seeing "virtual walk" in the experience's page info got me excited, wondering if it was going to be David taking us around his neighbourhood on the United States for a short walk.
However, it was more like a presentation of sorts indoors, but he showed us around Seattle through pictures and maps. His draw was more towards the historical and geographical standpoint, as he explained how a hilly Seattle became flat as people got rid of the hills to add more residential and commercial areas.
I probably would have been more attentive to the facts if it wasn't 3.30am where I was (it would be 12.30pm in Seattle), but I still enjoyed learning the topic. I mostly enjoyed how passionate and knowledgable David was about the subject. We found out that Davis a member of the Atlas Obscura community and an award-winning author of many Seattle-related books.
But then there's the issue of Zoom
What I disliked about the whole experience was that I had to download Zoom. We've reported plenty of times on how unsafe the video conferencing platform is, how your Windows credentials on Zoom are vulnerable to attackers, and other privacy-related issues.
However, there are three things you can actively do to keep safe when using Zoom. The security tips were given to us by Head Cybersecurity Strategist at VMware Carbon Black Tom Kellermann:
What I noticed is that you also don't actually need to download Zoom to attend these experiences. In fact, after clicking on the Zoom link in your email, you'll be guided to a Zoom room where you can pick an option to access the meeting through the webpage instead of through a downloaded application. But keep an eye out, as that option is shown in rather small print.
While you can be safer by accessing your experiences on a web browser instead, the web browser access won't let you switch different camera views as well as you could do if you access the experiences with the application. You might miss better points of view, but ultimately, it will keep you safer from potential privacy threats.
Is it worth it?
The Guided Meditation with Sleepy Sheep experience cost RM34/class, the Learn to Cook Mexican Salsas experience was RM52/class and The Secret of Seattle's Disappearing Hill experience cost a mere RM18/class. (Prices at the time of shoot)
I don't know about all of you, but I thought these experiences were affordable, given that you are able to 'travel' online to a far away location and learn about their culture and experiences so intimately. You might try to argue with me by saying that RM52 is a bit much for a class considering I still have to get my own ingredients, but to learn a type of cuisine that isn't local to our own is rare to find in Malaysia.
For the experience in Mexico, it is hosted by a professional and authentic Mexican chef who has studied at the National School of Mexican Gastronomy and who had already been hosting guests to her kitchen in Mexico City.
Even if you compare this with other cooking classes offered here in Malaysia, RM52/class isn't unreasonable at all. Of course, these prices may include ingredients, but the vegetables I bought for the salsa class are pretty basic and the prices don't reach that much at all. With it being an online class, you won't need to spend gas money or for parking, either.
For RM52, you'll still be able to feel like you're in Mexico because of the smells when you're cooking and the music being played while you're cooking. So, I'd say it's a steal.
For the meditation with sheep experience, paying RM34 to spend time with sheep can be a bargain, depending on how much you enjoy looking at sheep. The meditation aspect of it was additionally worth the price, especially if you need a little help with focusing.
You can get the same type of experience if you watch YouTube videos of sheep and learn to meditate yourself, but you'd lose the personal touch that an experience like this offers. Without the intimacy between the host and guests, it wouldn't feel like you've travelled and met people around the world, either. The experience is even currently sold out the last time I checked, but it might come up again so keep checking!
For the Seattle one, RM18 for an Airbnb experience is on the cheaper side. Although, I'd feel as if the experience would have been more fun if I didn't need to wake up so early for it. Still, you would be spending less than if you would spend money on a double quarter pounder burger.
The prices for other experiences ranges from RM15 about Lisbon to a RM287 one where you can design your own shoes and they can send them to you for free. I also noticed that the prices for the experiences can rise up if they get more popular, and prices can also vary on different dates of booking.
Would I recommend it?
If you haven't already figured it out reading my perspective, I love talking to people—even people I don't really know. I miss that aspect of travelling and when I go out in general. While it isn't the same as actually meeting people in real life and learning new experiences in a different country, it scratches a tiny itch that I've had since the announcement of the Movement Control Order.
You know that feeling of indescribable joy you get when you get to video chat with your friends during these times, and how it instantly boosts up your mood after a long while of being by yourself working from home? That was me all through that week. Despite the late nights and super early mornings, you forget that you're up at an ungodly hour for a while to enjoy yourself being with people.
If you're a little shy, you can still enjoy these Airbnb experiences. You can book a session along with other guests around the world and the attention doesn't have to be on you if you don't want it to. You'll be around other guests who are on the same boat. But if that still isn't your cup of tea, going for these to learn a new skill might not be the best way, as the experiences are pretty social despite the constricts of your internet connection.
How to sign up for an 'Online Experience'
Click here to look through the different Airbnb experiences and choose one. I recommend the cooking ones, but if you're more of a fitness nut, there are plenty of fitness-related experiences including some led by Olympians!
After that, read through the page's description to make sure it's what you want. Click "see dates" and pick the class that fits your day and schedule. Make sure you're registered and signed in Airbnb, and pick your country and preferred currency before choosing your experience.
Next, fill in your payment details and confirm your purchase. Soon, you'll get an email notification and a notification on your Airbnb app (Android, iOS) on your phone (you don't need to download the app, but it'll make communication much faster). In the email, you'll get added info including the Zoom link, and things to bring if needed.
To recap, it's a joy for someone who misses the aspect of travelling and meeting new people during the COVID-19 pandemic, and relish the thought of being able to do it safely in the comfort of my own home. However, while it does scratch that itch, it's never going to replace actually being there, no matter how much you save on travelling fees with Airbnb's new feature.
Still, it's nice to know you now have options. Just make sure you can keep safe by opting for viewing the experience on the web browser version of Zoom if you're not keen on using the app, that is if you don't mind the lack of multi camera views.
You can also watch this video below I made of the Airbnb experiences, and give me a shout-out below if you've tried doing one. Did it live up to your expectations?
Related reading