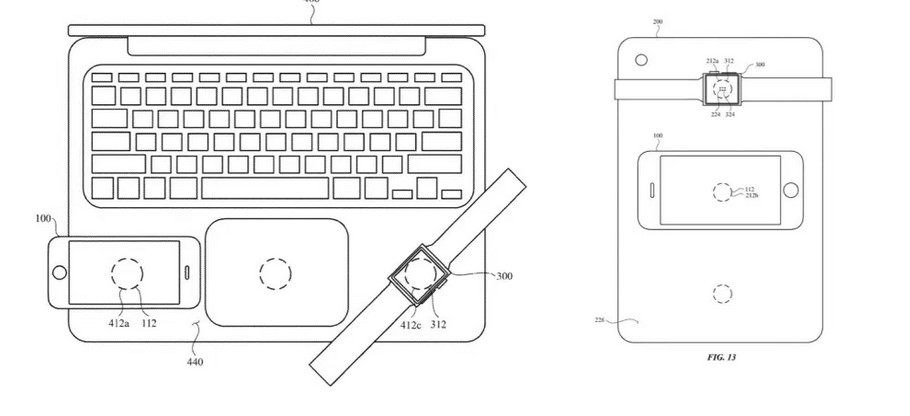 Apple appears to have plans to integrate multiple inductive charging coils into its future MacBook and iPad models which will enable them to charge other devices wirelessly. This follows a pair of patents filed by Apple and was awarded by the US Patent and Trademark Office.
The patents, first spotted by Patently Apple, describe two-way charging coils that can be used to charge the MacBook and allow the notebook to charge other devices. The site said:
Apple's patent for inductive charging between a future MacBook Pro and/or iPad Pro and iDevices such as an Apple Watch, an iPhone and/or an AirPods charging case begins to look like a very real possible scenario in the future.
Apple has been researching on this charging technology since its original patent filing back in 2016. The tech giant's latest pair of patents regarding inductive charging has added a total of 40 new patent claims that support this invention.
Here's one of the patent claims by Apple.
"A portable electronic device comprising: an enclosure having a back surface and defining an opening opposite from the back surface; a display positioned within the opening of the enclosure; a first inductive coil and a second inductive coil positioned separate from the first inductive coil, both the first inductive coil and the second inductive coil being positioned within the enclosure and between the display and the back surface of the enclosure, and operable to wirelessly transmit power to, or receive power from, an external device positioned proximate to the enclosure; and a first alignment component positioned adjacent to the first inductive coil and a second alignment component positioned adjacent to the second inductive coil, wherein the first alignment component is arranged in a first configuration, and the second alignment component is arranged in a second configuration different from the first configuration."
Based on the patent images, it looks like Apple has a variety of possible implementations of this solution. One such example shows wireless charging coils on the lid of a MacBook or under its palm rest or trackpad to wirelessly charge devices placed on top of it.
This feature sounds perfect for mobile warriors who often need to shuttle around with their laptops for work. Given that we carry multiple devices, it makes sense that we would use our laptops to charge our smartphones and other devices, albeit presently with wires.
The idea is that you only need to take your MacBook and its charger with you when you head out. This frees you from having to worry about bringing additional charging cables for different devices as you can just wireless charge them with the laptop. Even so, a patent doesn't necessarily guarantee this feature will eventually make it into a production model.
All things considered, it is strange to wirelessly charge your iPhone or Apple Watch on your laptop while you are using it. We suppose this may only be useful for charging your devices when it's not in use.
At present, MacBooks and iPads are made of aluminium, which isn't great for wireless charging. If Apple intends to go ahead with its plans to include reverse wireless charging tech to its devices, it will need to change the design and materials used in its laptops. Could we see the return of plastic MacBooks? Apple discontinued its white plastic laptops in mid-2011.
But tell us what do you think if Apple were to offer wireless charging in more of their devices? Let us know in the comments section below.
Related reading