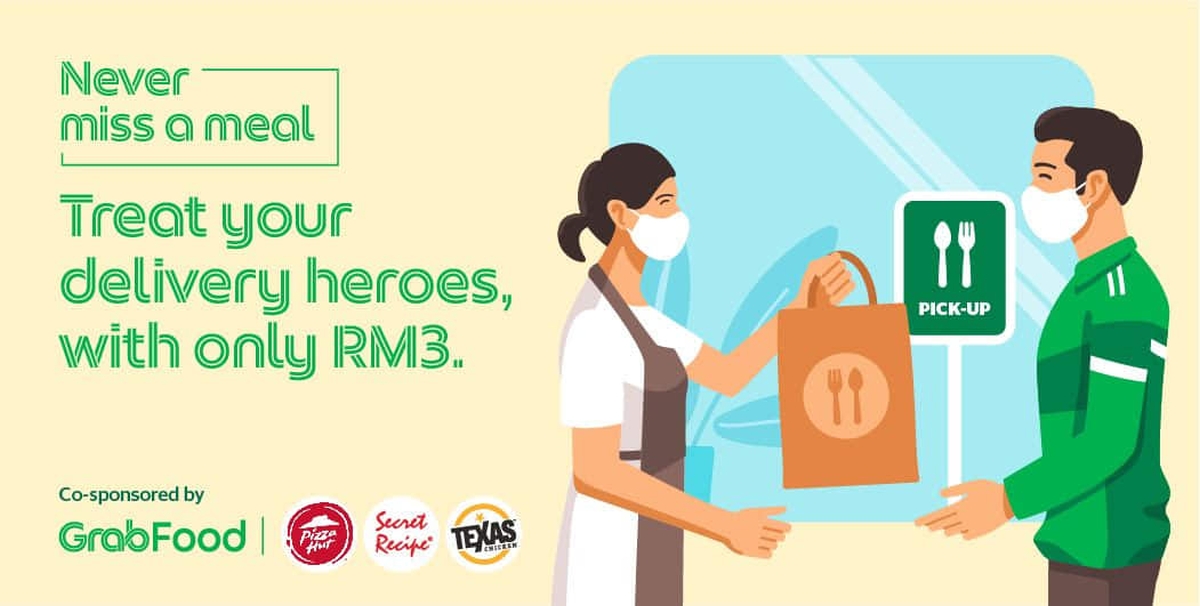 This article is brought to you by Grab Malaysia.
2020 has been a year unlike any other, or at least in recent memory. The COVID-19 pandemic has affected us all, but as the holiday season rolls around, it's a time of reflection, of appreciation, and a time of counting blessings despite the difficult year. As such, Grab has launched a new campaign, Never Miss A Meal, that offers Malaysians the chance to give back to communities who are undervalued and underserved.
"We at Grab want to call out that #kitajagakita spirit once again and rally Malaysians during this season of giving."
Here are two ways you can support undervalued and underserved communities through Grab:
1. Treat your delivery rider to a meal… with the help of Grab
Being a delivery driver isn't as simple as many think, as we recently discovered while spending a whole day as a Grab delivery rider:
So why not show your appreciation to your riders by treating them to a meal?
Delivery riders have played a crucial role during various COVID-19 restrictions in Malaysia—particularly during the early days of the Movement Control Order (MCO). Think about it this way: without these hardworking riders, you'd have missed out on your favourite orders, your Hari Raya takeaways, and even package deliveries via GrabExpress.
Besides the tipping function within the Grab app, you can also show your appreciation for delivery riders by treating them to a meal. From the 21st till the 27th of December 2020 in the Klang Valley, you can buy a meal for your delivery rider via the GrabFood app from partners such as Pizza Hut, Secret Recipe, and Texas Chicken.
Grab and the aforementioned partners are also subsidising these meals between 4pm and 6pm everyday (during dates mentioned above). This means that when you buy a meal for your Grab rider, you'll only be paying RM3 for a meal from a selected menu—and a chance to brighten someone's day.
Here's how it works within the Grab app:
From 4pm to 6pm, tap onto the Never Miss A Meal banner in the GrabFood app page.
Order your tea time snacks from Pizza Hut, Secret Recipe or Texas Chicken.
Tap on the special RM3 meal called "Treat your delivery hero to a meal" and add it to your order. This meal is co-sponsored by Grab and the restaurant.
When your delivery hero has arrived at the restaurant to collect your order, the restaurant passes the RM3 meal to your delivery hero. Remember to check with your hero if they've received their meal when they arrive at your doorstep!
2. Donate your GrabRewards Points to a worthy cause
You can also give back to the less fortunate through Grab's Joy To The Home campaign. Basically, Grab users can now donate their GrabRewards Points to a worthy cause, with donations available from just 480 points—the equivalent of RM3.
Eligible charities and partner organisations include UNICEF MY, the National Kidney Foundation, the Women's Aid Organisation, and others that you can find within your GrabRewards catalogue. Here's a quick breakdown:
All in all, the season of giving is… just that. A time to give back, a time to share joy, and a time to appreciate those in your life who have made an impact throughout the year. And when it comes to 2020, Grab delivery riders have played a huge, huge role in getting us through a difficult time as a nation.