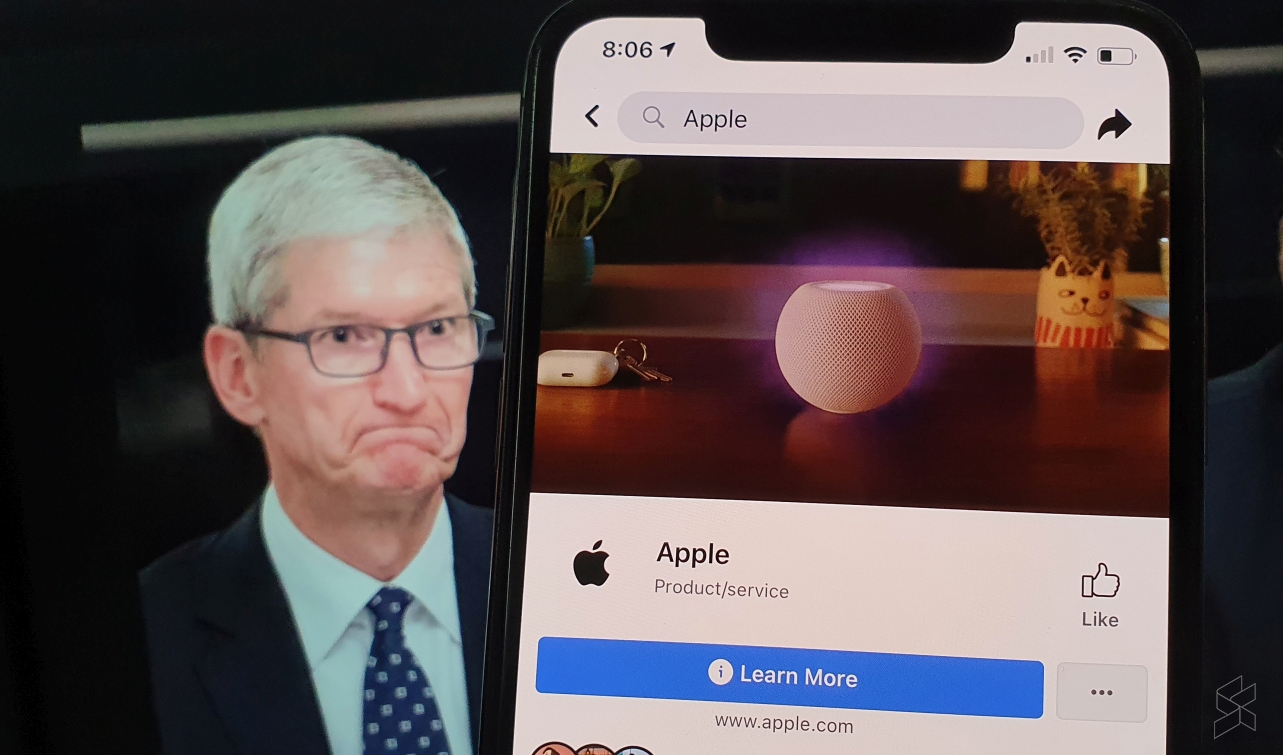 The relationship between Facebook and Apple isn't great at the moment as both are at loggerheads due to a new privacy feature on Apple's iOS 14. Facebook alleged that the new feature will harm small businesses as it would prevent them from running personalised ads in order to reach potential customers more effectively. Apple has hit back insisting that its new feature will provide users better control over their data that's being shared to 3rd party platforms.
UK-based Daily Mail has published a report alleging that Facebook has removed Apple's blue tick verification badge on their official page. It claims that it was removed following the bitter feud between the two tech giants.
In case you didn't know, the blue tick which appears next to a brand's or person's name is essentially a badge to show that it's a verified page. Most brands including Apple's rivals such as Samsung and even Huawei currently has a blue tick. This will allow users to know it's a legit Facebook page and not some fake page that misrepresents the brand.
If you check out Apple's Facebook page, it's true that it doesn't come with a blue tick. The biggest question is, was it really removed recently due to the current situation between Facebook and Apple?
While the Daily Mail's report seems to portray Facebook as being petty, it appears that this news isn't actually true. The report was based on a tweet made by a Media Consultant Matt Navarra who alleged that it was recently removed by Facebook.
Facebook has removed Apple's blue tick Page verification 😆 pic.twitter.com/HtL3EcSdn6

— Matt Navarra (@MattNavarra) December 23, 2020
For starters, Apple isn't really that active on social media and they even disable comments on their official YouTube channel. Although they have presence on both Facebook and Twitter, they do not post any content apart from their logo, videos and cover photo. What we do know is that Apple's Support account which handles product complaints and customer service enquiries is currently active.
According to Facebook, a page is only eligible for the blue tick if it fulfils several requirements. This include having an active account with a proper about section, profile photo and have at least one post. As shown above, Apple's About page is empty and they do not have any post at all. This means Apple wouldn't qualify for the verification badge on Facebook unless it fulfils the mentioned requirements.
Facebook's official response:

Apple's FB page was *never* verified

Other related FB Pages belonging to Apple are verified incl Apple Music, Apple Podcasts, Apple TV

Reason why Apple's FB Page is not verified – "The admins of a page need to initiate the verification process"

— Matt Navarra (@MattNavarra) December 23, 2020
A couple of hours later, Matt Navarra tweeted that he has received confirmation from Facebook that Apple's Facebook page was never verified in the first place. The social media giant told him that this was because Apple didn't initiate the verification process. Interestingly, other Apple related pages such as Apple Music, Apple Podcasts and Apple TV do carry the blue tick.
So, nope. Mark Zuckerberg isn't behaving like a sulking child.
Related reading