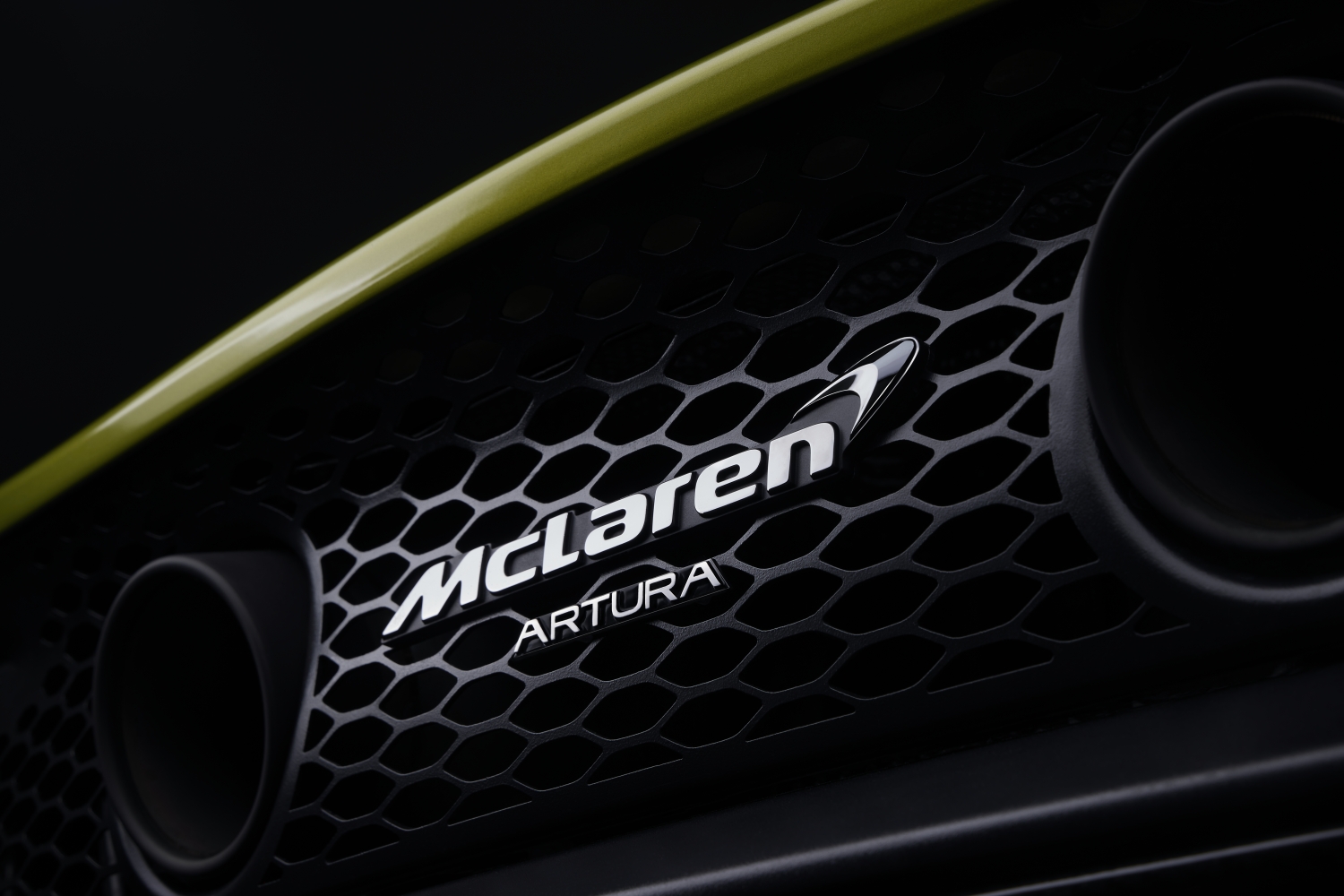 The next-generation hybrid supercar from British automaker McLaren finally has a name: Artura. Just last month, McLaren teased several images of the upcoming hybrid model, which will be launched in the first half of 2021.
Frankly, there isn't much to go on looking at the teaser image. All we can see is the Artura name prominently shown, placed just below the McLaren badge, right between twin high-mounted exhausts. The rest of the car is hidden from view, though there are some teaser images showing a camouflaged prototype, suggesting that the hybrid supercar is near production-ready.
The Artura will be the company's first series production High-Performance Hybrid (HPH) supercar that is set to be built on the new the McLaren Carbon Lightweight Architecture (MCLA).
Now, it should be said that the Artura is not McLaren's first hybrid model. That distinction belongs to the McLaren P1 hybrid car which debuted all the way back in 2012. More recently there was the Speedtail Hyper-GT, which entered production this year and it is said to be McLaren's fastest car with a top speed of 403km/h.
The new hybrid supercar will draw on McLaren's knowledge gained from making electrified models in the past. The HPH powertrain on the Artura will utilise a twin-turbo V6 petrol engine with an electric motor. McLaren claims the setup retains the performance benefits of McLaren's larger capacity V8 engines while boasting improved torque response at low engine speeds to deliver fast acceleration. In addition, the new hybrid model is capable of running on electric power alone for emission-free urban journeys.
The Artura's platform is said to benefit from weight-saving technologies developed by McLaren Composites Technology Centre that should help off-set the additional weight of the hybrid system.
McLaren's chief executive officer Mike Flewitt said:
Every element of the Artura is all-new – from the platform architecture and every part of the High-Performance Hybrid powertrain, to the exterior body, interior and cutting-edge driver interface – but it draws on decades of McLaren experience in pioneering super-lightweight race and road car technologies to bring all of our expertise in electrification to the supercar class.
McLaren said it will reveal more details on the Artura in the coming months. Customers that wish to be kept informed can go to McLaren's website.
In the meantime, here is a teaser video to wet your appetite for the upcoming hybrid supercar.
Related reading