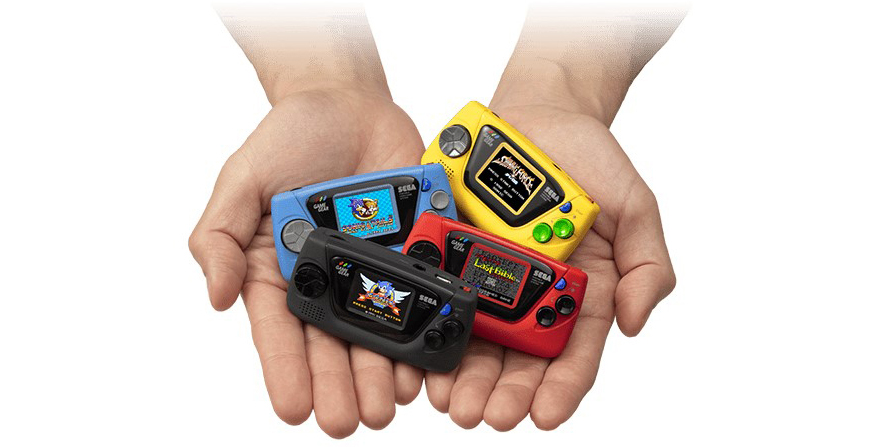 Sega turns 60 this years and it is marking the big occasion with its tiniest retro console ever – the Game Gear Micro. The miniaturised version of Sega's 8-bit handheld system, which was released back in 1990, will be released in Japan on 6 Oct this year for JPY4,980 (about RM195).
At just 80mm mm wide and 43mm tall, the Game Gear Micro certainly lives up to its namesake. Sporting a tiny 1.15″ display, it is a third the size of the original console's LCD screen.
With such a tiny screen it is very impractical to actual play games on the device. It is safe to assume that the console is more of a collectors item rather than a real retro console that you would whip out to play games while on the go.
Funny enough, Sega does have a solution for gamers who actually want to play games on the Game Gear Micro. The accessory in question is a minituarised version of the original Big Window accessory that snaps on to the console to magnify the screen.
The Game Gear Micro features a single mono speaker and a headphone jack. Just like the original, you can pop batteries into the back of the minituarised console though it uses two AAA batteries instead of six AA batteries the original required. It also has a micro-USB port though it is unclear if it works by recharging rechargeable batteries or if there is some kind of internal battery. The battery life of the Game Gear Micro is said to last up to three hours which is a vast improvement over the original's one hour of game time.
The Game Gear Micro comes in four colours – black, blue, yellow and red. The colours are not just for show as each variant is a different system with four different pre-loaded games. The games on each system are as follows:
Black
Sonic the Hedgehog
Puyo Puyo 2
Out Run
Royal Stone
Blue
Sonic Chaos
Gunstar Heroes
Sylvan Tale
Baku Baku Animal
Yellow
Shining Force Gaiden: Ensei – Jashin no Kuni he
Shining Force: The Sword of Hajya
Shining Force Gaiden: Final Conflict
Nazopuyo Aruru no Ru
Red
Revelations: The Demon Slayer
Megami Tensei Gaiden: Last Bible Special
The GG Shinobi
Columns
Sega is without a doubt heavily banking on die-hard fans to buy all four colours to complete the collection rather than just pick one. So in order to experience all games you need to pay a grand total of JPY19,920 (about RM780). There is no word as to whether the Sega Game Gear Micro will have an international release with English versions of the games. For more information go to Sega's official website.
Related reading