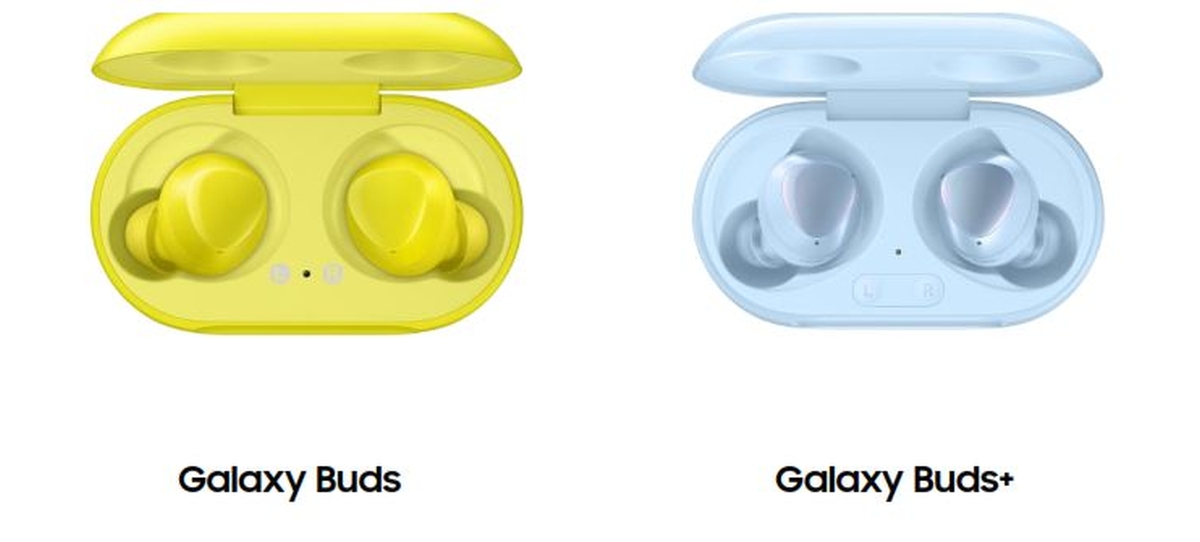 With the rise of truly wireless in-ear headphones from Sony like the WF-1000XM3 and the Apple AirPods Pro, Samsung's fallen a little behind when it comes to their Galaxy Buds. But that might be about to change as a new spec-sheet just dropped for the upcoming Galaxy Buds+, and it looks like a pretty significant upgrade over its predecessor.
This spec-sheet comparison between the Galaxy Buds and Galaxy Buds+ comes courtesy of leakster Evan Blass (@evleaks) who has a history of being very reliable when it comes to leaks.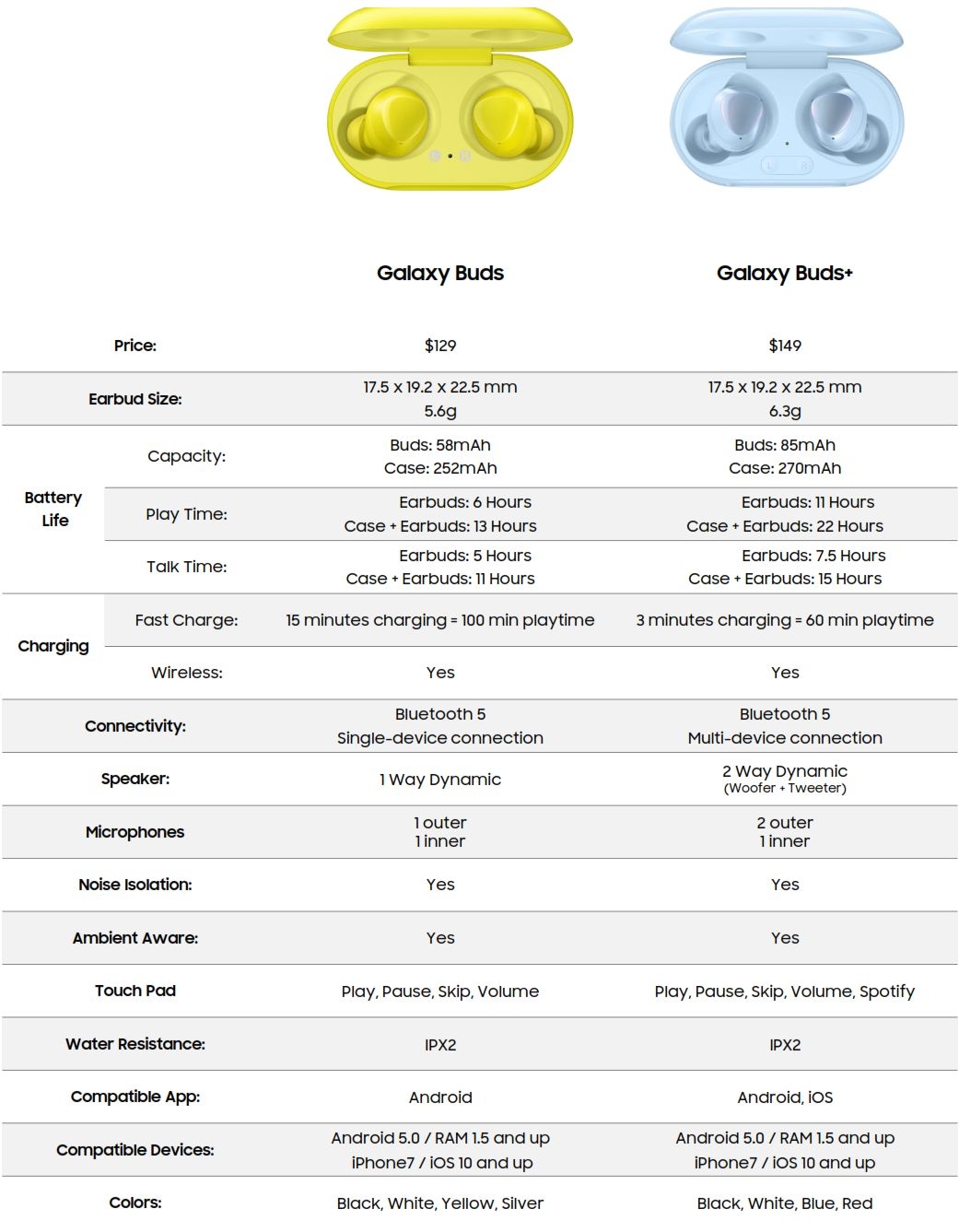 From previous leaks, we already know that the new headphones will have better battery life, sound quality and fast-charging, but I wasn't quite expecting changes that are these drastic. I mean, look at that battery life!
The current Galaxy Buds give about 6 hours of listening on a single charge with the case holding an additional 7 hours for a total of 13 hours. Compare that to the 24 hours of battery life on the Sony WF-1000XM3 headphones and you can tell that the Galaxy Buds are way behind their competition.
With the Galaxy Buds+ though, it looks like Samsung is pulling ahead in the single use listening time with a whopping 11 hours without needing the case. That's incredible. The case will give you one extra charge, bringing the total to 22 hours (which is still a little below what I'd like) which is a significant upgrade over the Galaxy Buds. Plus, there's a new fast-charging solution that can give you 60 minutes of playback after just a 3 minute charge.
On top of that, it looks like Samsung will be upgrading the audio quality of the Galaxy Buds+ by slapping a 2-way dynamic speaker into the Buds+. These will be in a tweeter and woofer configuration, and I'm really excited to hear how they sound. Samsung's also added an extra outer microphone for what I suspect is an improvement in call mic quality (because the current ones aren't very good).
Then, there's the inclusion of the ability to pull up the Spotify app on your phone directly with the headphones. It looks like this is through some kind of interaction with the Galaxy Buds+'s touchpad so I'm curious to see how that works.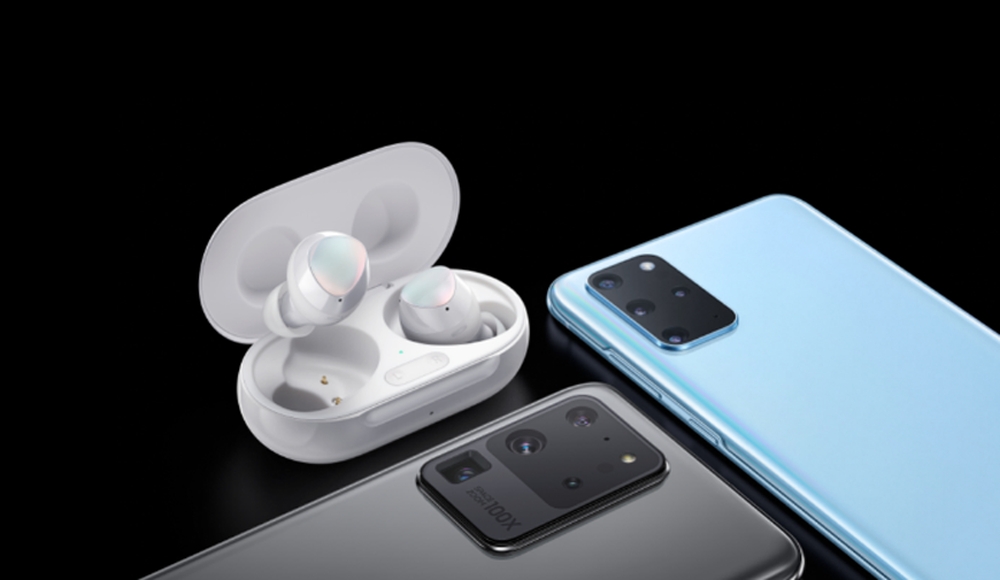 That being said, perhaps one of the most disappointing things about these new Galaxy Buds+ is that Samsung have not jumped on the active noise cancelling (ANC) bandwagon as it doesn't look like these new in-ear headphones have them. I guess the upside is that these headphones are far more affordable, with an alleged price tag of USD149 (~RM613), but I would have liked to see Samsung launch a proper high-end pair to rival the Sonys and the AirPods Pro.
In any case, all will be revealed at the official launch happening later this month, so stay tuned for all the most important updates. In the meantime, let me know what you think of the Galaxy Buds+ in the comments below!
Related