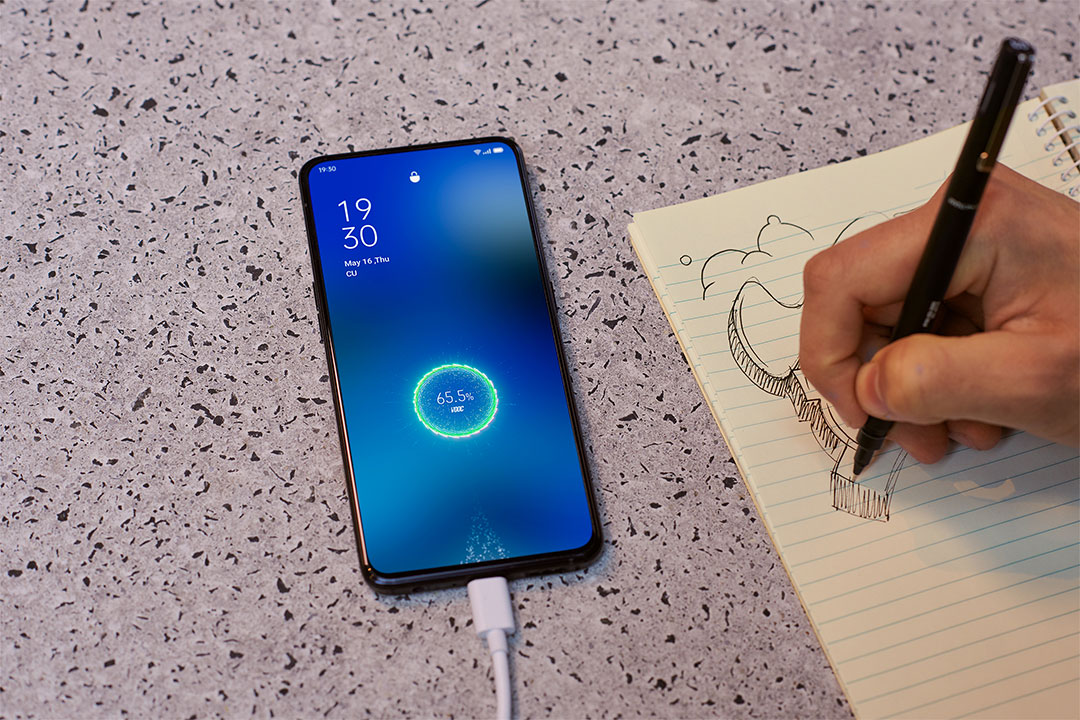 Oppo has announced several new charging technologies including one which is a significant upgrade from last year's SuperVOOC technology. Also announced is their first wireless charging technology which offers the same power output as Xiaomi's new fast wireless charger.
65W SuperVOOC 2.0
Oppo's SuperVOOC 2.0 boasts a higher 65W output, which is more powerful than the current 50W SuperVOOC that's found on the Find X Lamborghini edition and R17 Pro. The faster charger will be making its debut on their upcoming Reno Ace and they claim that you can fully charge a 4,000mAh battery in less than half an hour. Below is a demo video that was shared by Oppo's VP:
According to Oppo, its SuperVOOC 2.0 takes charging efficiency to new heights through customisation and optimisation in hardware, software and algorithms. The smartphone maker claims that the technology can charge a 4,000mAh battery from 1-100% in 27 minutes and a full charge is accomplished in 30 minutes. Interestingly, Oppo says that a battery is not fully filled when the battery indicator shows 100%.
For a quick top-up, the upgraded fast charger can charge up to 27% with just 5 minutes on the cable. The new charger is also backward compatible with SuperVOOC and older generation of VOOC Flash Charge.
Oppo also added that the new charging system uses advanced components, design and manufacturing process to improve charging efficiency. It also uses Gallium Nitride (GaN) semiconductors to effectively shorten charging time and reduces adapter size. As usual, there are multiple layers of safety protection measures to ensure greater peace of mind during charging.
30W Wireless VOOC Flash Charge
Oppo has finally adopted wireless charging and they have introduced a 30W Wireless VOOC Flash Charger for quicker charge without cables. The 30W wireless charger can fully replenish a 4,000mAh device within 80 minutes. It is also compatible with Qi wireless charging standards and it supports lower charging power of 5W or 10W. The charger itself makes real-time adjustments to ensure a more efficient and safer charging while avoiding overheating.
For greater safety, Oppo has incorporated several hardware designs to avoid overheating. This include foreign object detection that can stop charging immediately when it detects foreign metal objects on the charging pad.
30W VOOC 4.0
To bring fast charging to the masses, Oppo has upgraded its VOOC Flash Charge 3.0 to 4.0 that has a higher max output of 30W. On a 4,000mAh battery device, VOOC Flash Charge 4.0 can push 67% charge in 30 minutes and a 100% charge in 73 minutes. This claims to be 12% faster than VOOC Flash Charge 3.0 that has a maximum output of 20W.
With further optimisation of its VFC algorithm, Oppo has managed to reduce the time needed to charge the final 10% of the battery capacity. Internal resistance has been reduced and they have also suppressed heat generation with a more efficient adapter and advanced battery cell design. The VOOC Flash Charge 4.0 will be making its debut on an upcoming Oppo K5 device.
[ SOURCE ]