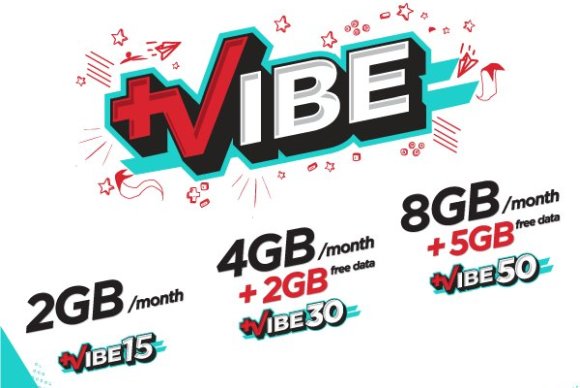 TuneTalk has introduced its brand new +Vibe monthly data plans which give you more high-speed data than before. It's more affordable than its existing Datatata plans and you can enjoy as much as 13GB of data with unlimited free calls.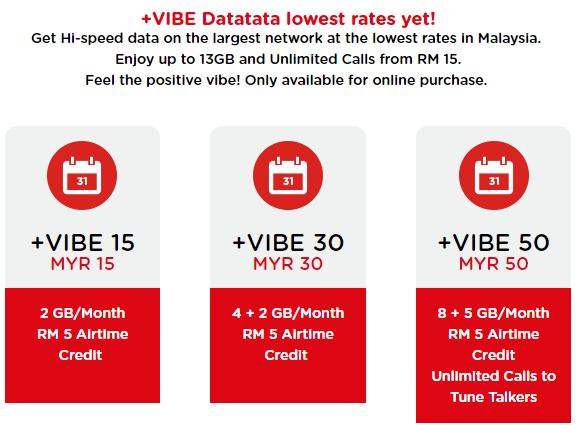 There are 3 monthly data options available. The base +Vibe 15 option gives you 2GB of data and RM5 of airtime at RM15/month. Going up a notch at RM30/month, the +Vibe 30 plan comes with 6GB of data along with RM5 of airtime.
For the heavy data user, the highest +Vibe 50 plan at RM50/month comes with a whopping 13GB of data. In addition to having RM5 of airtime credit, it also comes with unlimited calls to all Tune Talk users. However, after you've finished your data, TuneTalk will charge a pay per use rate at 2 sen per MB.
As a comparison, the standard Datata Plan gives you 4GB of data at RM28/month and 8GB of data at RM48/month. On top of that, you'll get additional 1GB data by just topping up RM30 and 2GB of data when you top up RM50.
These +Vibe plans are available exclusively online and it is different from your usual data plans. Instead of using your prepaid's credit, the +Vibe Plans are charged directly to your credit or debit card and it will be automatically renewed in the subsequent months. In a way, the experience is like a postpaid with auto debit but you're billed in advanced.
It is worth pointing out that all 3 +Vibe plans come with 30 days of airtime validity. So if you use less than 2GB of data, you can just activate +Vibe 15 (RM15) to keep the line active for 30 days.
Take note that these new +Vibe plans are not applicable for Tone Excel, Tone Plus and Felda Mobile subscribers. It's available from now until further notice.
For more information and to activate these plans, you can head over to TuneTalk's +Vibe page.