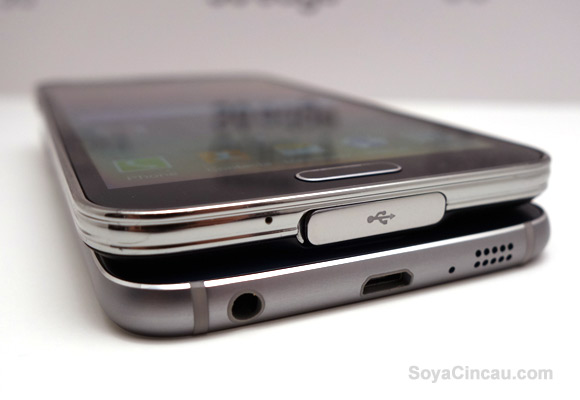 Galaxy S5 (top) and Galaxy S6 (bottom) shown
Samsung is expected to launch its new
flagship smartphones
next month during
MWC 2016
. As we inch closer towards its launch day, serial leakster,
@evleaks
has dropped more details on Samsung's next big duo.
The Galaxy S6 and S6 edge had opened a new chapter for Samsung with its premium glass and metal design, along with top specs that hold well to this very day. Of course, there are many that frown upon its compromises. It was their first flagship to not have a removable battery and most critical of all, it lacks an expandable microSD slot. If you were disappointed by the Galaxy S6, there's a lot to look forward to on the upcoming model.
MicroSD now accepted
According to @evleaks, the new Galaxy S7 and S7 edge will finally offer a microSD slot. Like the current S6, both models will be offered with either 32GB and 64GB storage options, which in Malaysia we are likely to receive the smallest option of just 32GB.
This would be good news for those taking loads of pictures and 4K videos as the device is alleged to support microSD cards up to 200GB. This reaffirms an earlier "insider source" that Samsung is finally bringing back the microSD slot to its latest flagship.
Bigger Battery and Faster charging
With each new model, the Galaxy S lineup has always seen an increase of battery capacities. However on the Galaxy S6, it was downsized from 2,800mAh on the Galaxy S5 to just 2,550mAh (2,600mAh on the S6 edge). Fortunately, the new processor and energy efficient Universal Flash storage were good at maximising every mAh of power.
The Galaxy S7 and S7 edge are alleged to receive 3,000mAh and 3,600mAh capacity batteries respectively, which is a huge jump. That's like fitting a Galaxy Note battery into a smaller device, and hopefully this could translate to more than 24 hours of usage.
Wireless Charging will still be the star of the show and Samsung will likely to support fast wireless charging for the new flagship duo as it did with the Galaxy Note5. Charging an S7 is reported to take about 2 hours wirelessly while the S7 edge will take slightly longer at 2.2 hours.
Water Resistance
First introduced on the Galaxy S5, the S7 is said to be getting water and dust resistance with an IP67 rating. This is similar with the Galaxy S5 which in theory can be submerged up to 1 metre for up to 30 minutes. Even if you don't go to the pool, having water resistance is a good feature to have especially for those unexpected moments. Even word has it that the folks at Cupertino are working to make its upcoming iPhone waterproof.
If Samsung is doing it, it better be a cap-less design without those clumsy flap covers.
Recap of what we've heard so far
The Galaxy S7/S7 edge will be running on their latest Exynos 8890 processor but there will be a Qualcomm-powered version for selected markets that runs on a Snapdragon 820 processor. Expect them to come with 4GB of RAM and has support for faster Cat 9 4G LTE.
In terms of screen size, the standard S7 is likely to retain the same compact 5.1″ Quad HD display while the S7 edge is rumoured to be either a larger 5.5 or 5.7 incher. To have a 5.7″ smartphone at this time of the year doesn't make any sense as it would cannibalise its own S6 edge+ that was launched not too long ago.
Camera wise, the new flagships will get a smaller pixel count of 12MP instead of its current 16MP shooter. However, it is compensated with faster f/1.7 lens versus f/1.9 for better low-light performance. With a smaller BRITECELL camera module, the new S7 could have a flat and flush back design without the protruding camera hump.
Are you excited now? MWC 2016 is happening on 22nd February 2016 and Samsung would normally announce their latest Galaxy S model a day earlier.