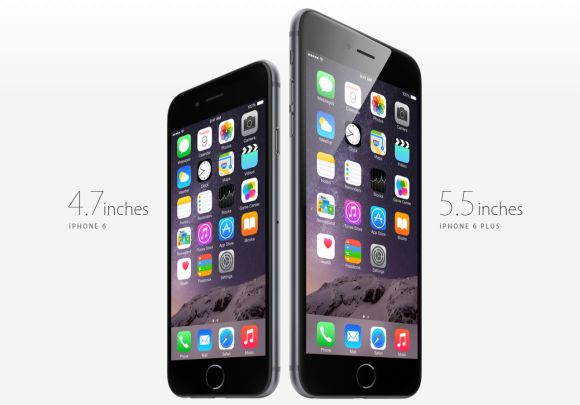 UPDATE: iPhone 6 32GB is now available in Malaysia. Priced at RM1,999.
This is probably good news for Apple users. The latest iPhone 6 official price is similar as the previous iPhone 5S when it was launched in Malaysia at RM2,399 for its entry 16GB version. Since Apple has discontinued the 32GB version, the next jump is the 64GB model that's priced at RM2,749, followed by its biggest 128GB version at RM3,149.
For the bigger iPhone 6 Plus, the entry 16GB model is priced the same as the smaller iPhone 6 64GB version at RM2,749. The pricing continues upwards to RM3,149 for 64GB and RM3,549 for the largest 128GB version. The official pricing was taken from Maxis and DiGi's online store. All 3 colours are available – Gold, Silver and Space Grey.
Below is the price comparison versus the iPhone 5S and iPhone 5C.
iPhone 6
iPhone 6 16GB – RM2,399
iPhone 6 64GB – RM2,749
iPhone 6 128GB – RM3,149

iPhone 6 Plus
iPhone 6 Plus 16GB – RM2,749
iPhone 6 Plus 64GB – RM3,149
iPhone 6 Plus 128GB – RM3,549

iPhone 5S
iPhone 5S 16GB – RM2,399 RM1,999
iPhone 5S 32GB – RM2,749 RM2,199
iPhone 5S 64GB – RM3,149 discontinued

iPhone 5C
iPhone 5C 8GB – RM1,499
iPhone 5C 16GB – RM1,999 discontinued
iPhone 5C 32GB – RM2,399 discontinued
If you're planning of getting the latest iPhone on contract, both DiGi and Maxis have started their pre-orders online. However it can be a struggle to get in right now due to the heavy traffic. The Apple Online store could be offering it too but it has yet to be updated at time of posting. The iPhone 6 and iPhone 6 Plus will be officially available on 6th November.