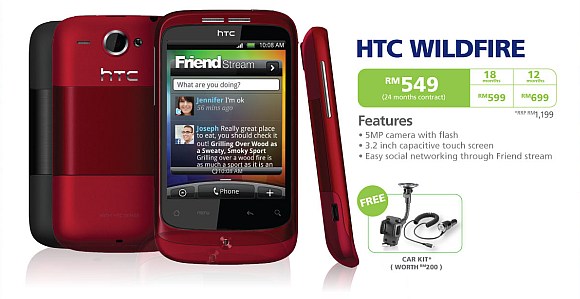 Click for larger image.
Maxis is once again leading the Android device pack with its latest addition, the HTC Wildfire. You can check out our review on the HTC Desire.
At launch about a month a got the Wildfire was sold outright with no plans from any telco but we were told by HTC PR that Maxis is will be offering a bundling package very soon, and here it is.
We predicted that with a 12 months package the Wildfire will cost around RM700 and it looks like we were spot on with that one. With a 12 month contract on Maxis, the HTC Wildfire can be your for RM699. You can go as low as RM549 with the Wildfire if you're willing to put up with a 24 months contact on Maxis.
There's currently a promotion on HTC devices with Maxis at the moment. Running from 13 to 17 August, with every purchase of the Wildfire you'll get a free car kit worth RM200 and with every purchase of the HTC Desire you get a free casing worth RM80. Only valid for purchases made at the Maxis KLCC roadshow.
Speaking of 24 months, Maxis has included this option to subscribe for 18 months and 24 months. This is a new bundling across all the Android devices in Maxis' stables. Our favourite Samsung Galaxy S is a mouth watering RM1,499 pm 24 months contract and the pretty good HTC Desire is RM1,349 on 24 months. You can check out the new pricing for the device here but if you're too lazy, check out the breakdown below.
Interestingly, Maxis has dropped some of the Android devices from its lineup, including the Motorola Milestone, HTC Legend, the standard Samsung Galaxy and the LG GW620.