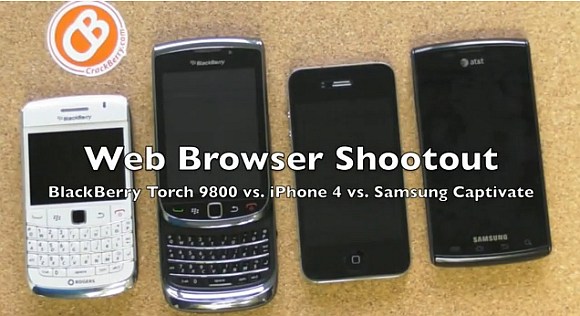 None of these phone are in the Malaysian market officially but we have a feeling you'd like to found out how the new BlackBerry stacks up against the iPhone 4. Here we have a video that will reveal everything.
OK, some will argue that the Torch is a device for a different market, you can't compare it with the iPhone 4. We beg to differ, both are smartphones, both have touchscreens and both have app stores, so why can't we put them in a ring together to do battle?
Fact of the matter is, RIM and Apple are competing in the same market segment when it comes to smartphones and there will be people who will compare the two when it comes to making their next mobile phone purchase, so like it or not, both Apple and RIM will be marketing their devices to the same people.
So head on over to after the jump to see the browser battle between, the BlackBerry Torch 9800, the iPhone 4 and the Samsung Captivate (which is technically very similar to the Galaxy S we have here).
Note to BlackBerry fans: it doesn't look good and so much for the massive browser improvements on the new BlackBerry 6, looks like there's still some work to be done.