As part of the Data Internet Selangor (DIS) initiative, the Selangor state government is providing 70,000 of its residents with free mobile internet. The initiative is aimed to provide residents with internet access, as the new normal has forced many to rely on the internet to overcome limitations imposed by lockdowns.
Who is eligible?
The initiative is open to Malaysians residing in Selangor that are under any of these target groups:
Small business owners who have registered with PLATS Selangor and/or local authorities
eCommerce sellers under the Selangor eBazaar program
Grab partner-riders
Students from UNISEL, KUIS, INPENS, PTRS (Selangor's Citizen Tuition Programme) and Yayasan Selangor
Single mothers
Village leaders and community representatives
Farmers
Religious leaders
Indian community leaders
Indigenous communities
Other target groups chosen by the State Legislative Assembly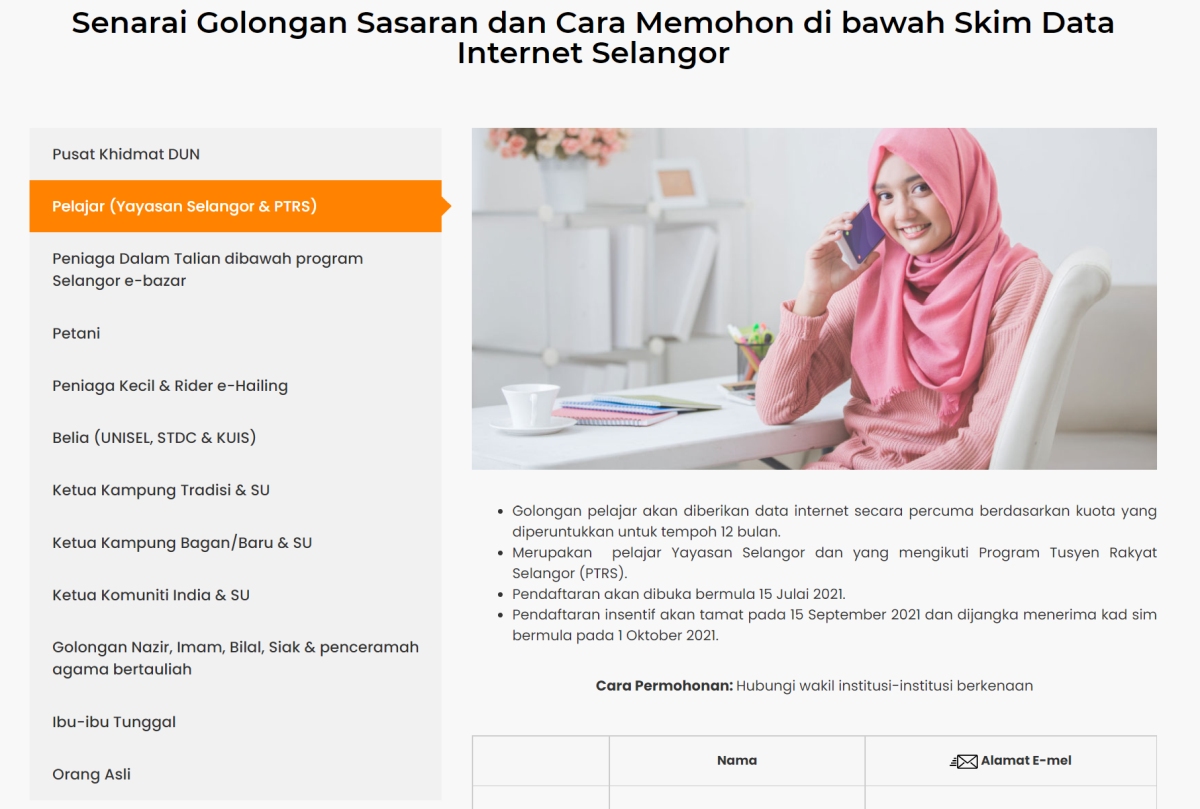 How to register?
Registration has been open since July 15 and will end on September 15. SIM packs will be handed out to eligible residents starting October 1. If their application is successful, residents will hear from the telco of choice by October 1.
Registration methods vary depending on the categories. Small business owners will be able to register here, while Grab riders will be able to sign up here.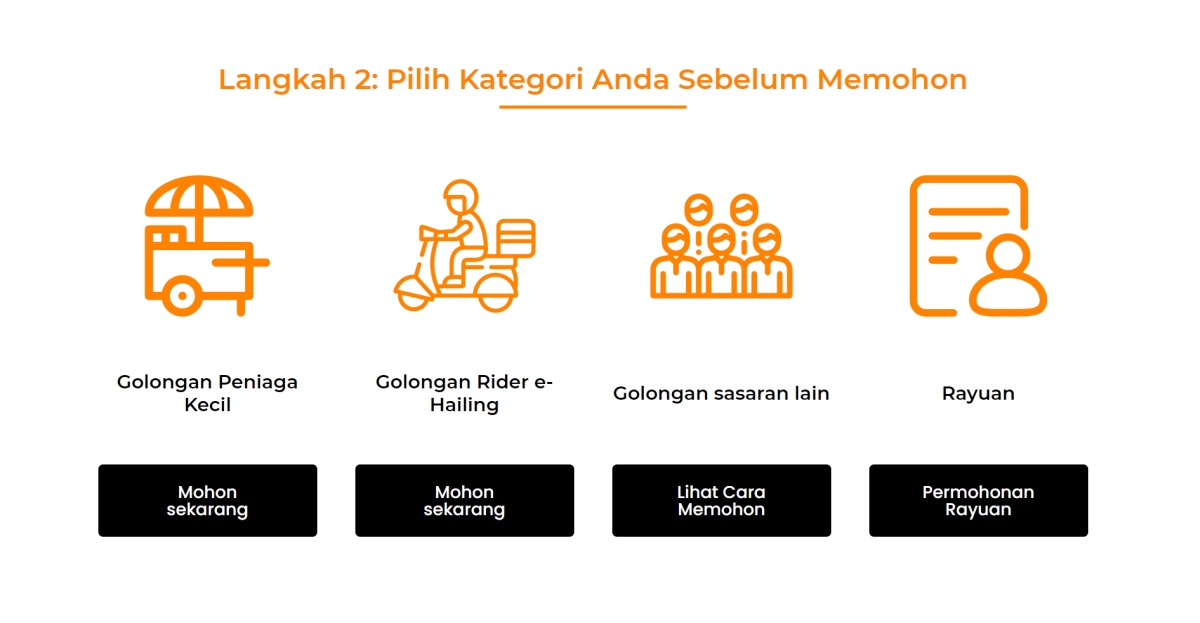 For the other target groups, applicants will need to email representatives of the Selangor State Executive Council assigned to their respective category here. When sending an email applicants should include details such as their full name, IC number, home address, phone number and their chosen telco subscription.
An appeal form can also be accessed here.
Subscription packages
There are three prepaid internet plans to choose from – Life* 20, Celcom Selangor B40 and Unifi Prepaid Bebas. The Life* and Celcom packages offer 15GB of data a month, while the Unifi subscription provides up to 45GB a month.
Life*, which is an MVNO that uses Digi's network, also offers additional benefits including free monthly calls of up to 100 minutes as well as 10 free SMS texts a month. The package also provides insurance coverage of up to RM 60,000. In the event of hospitalisation, users can also receive RM50 a day up to 30 days.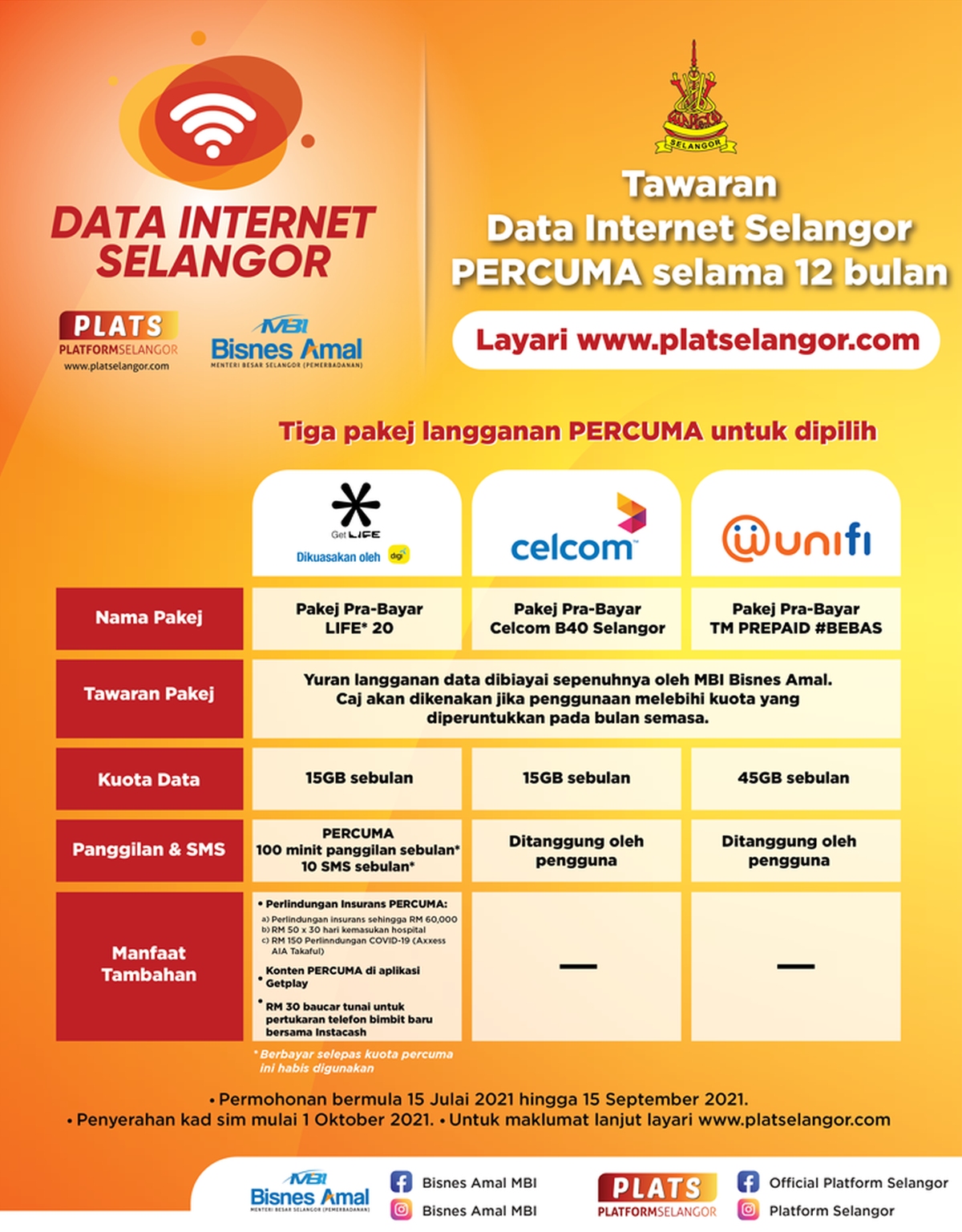 Furthermore, users also receive COVID-19 coverage of RM150 under AIA's Axxess Takaful. Choosing the Life* package also lets users enjoy free content on the Getplay app and they will receive an InstaCash voucher worth RM30 to trade-in their smartphone.
All 3 subscription packages will be subsidised by MBI (Menteri Besar Incorporated) Selangor. If the telcos report no data usage from users, MBI reserves the right not to subsidise the bill for that particular period of non-usage, or they may cancel the subsidy altogether. Furthermore, if the monthly data quota is exceeded, additional costs will be borne by the users.
In July, Selangor had also collaborated with TM under the SISM40 (Skim Internet Selangor Kategori M40) to provide monthly subsidies of up to RM30 for fibre broadband subscriptions for a year. Eligible M40 households can save up to RM360 for one year with the programme.