Microsoft Windows 365 is now officially available everywhere. Meant for businesses and enterprises to rent Cloud PCs which you can use via any device with a web browser, pricing for it has been revealed and those interested can get it now.
If you're interested, you can get Windows 365 for as little as RM84 per user each month. It should be noted though that this gets you a pretty weak virtual machine. For RM84 a month, you'll be getting a single virtual CPU with just 2GB of RAM and 64GB of storage. That's in fact even lower specced than what Microsoft themselves consider to be a 'basic' Windows 365 setup. The RM84 plan also takes into account Windows Hybrid Benefit, a discount provided to Windows 365 users who have Windows 10 Pro on their primary work device.
According to Microsoft's plans for Windows 365 Business, the most basic recommended plan is RM147 per user each month, which gets users 2 vCPU with 4GB RAM and 128GB of storage. Moving up the ladder, their standard plan goes for RM189 per user each month. This has the same 2 vCPU and 128GB of storage configuration, but doubles the RAM to 8GB. For those needing a little more power, Microsoft's recommended premium plan upgrades that to a 4 vCPU setup with 16GB of RAM and 128GB of storage, but will cost RM294 for each user per month.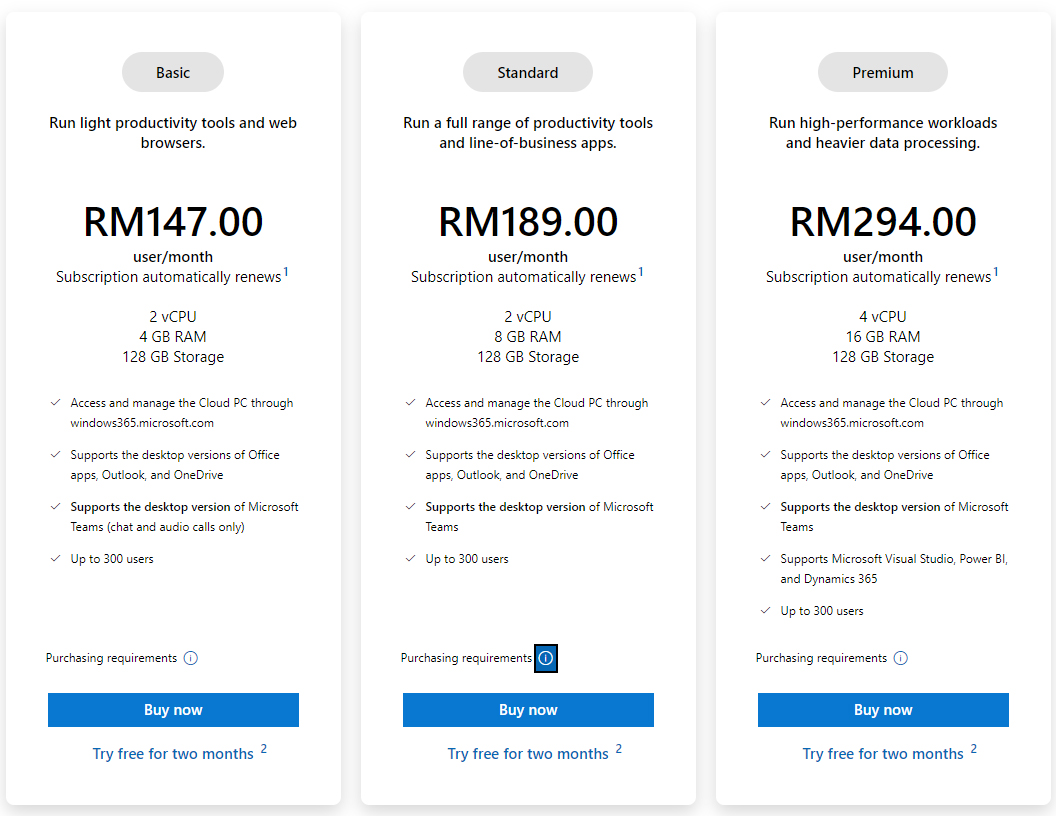 These prices for Windows 365 Business don't include the aforementioned discount that Windows 10 Pro users would get though. The basic plan for example goes down to RM172.20 per user each month if you subscribe with Windows Hybrid Benefit. Of course, you don't have to follow Microsoft's recommended setups at all. If you want the highest spec possible, that'll cost a whopping RM680.40 per user each month. It comes with 8 vCPU, 32GB of RAM and 512GB of storage.
If you have more than 300 or so people in your company and would like to get them all Windows 365, Microsoft recommends Windows 365 for Enterprise instead. Prices here are all the same as Windows 365 Business with the Windows Hybrid Benefit discount, but doesn't have the Windows 10 Pro requirement, as it already assumes that your company uses Windows 10 Enterprise. It also needs the interested company to manage all the Cloud PCs via a Microsoft Endpoint Manager. This does however allow for an unlimited number of users.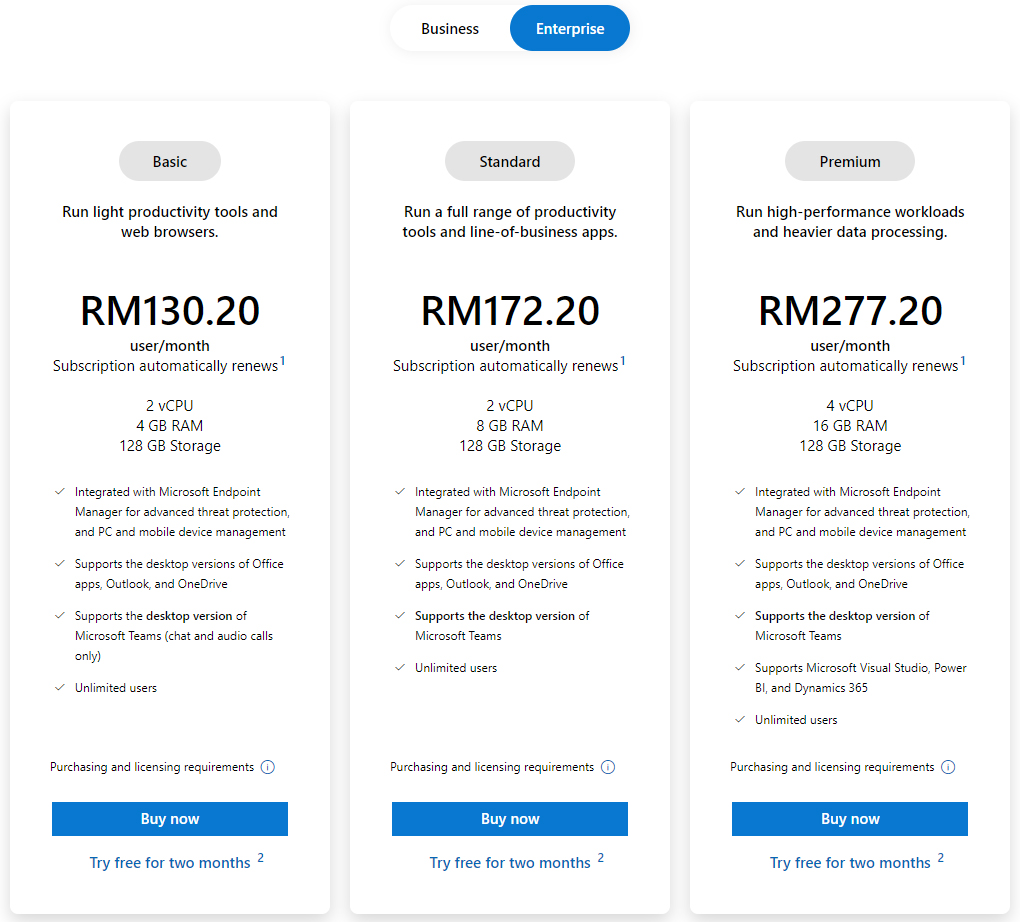 If you're not sure which plan is for you if you're interested in Windows 365, you may first want to start by determining the number of users. If you're a small business looking to help your employees shift to working from home, Windows 365 for Business would make a lot more sense. Furthermore, it helps to pick your configuration based on your use case. A software developer for example will certainly struggle on Microsoft's recommended basic plan, while going overboard will only waste your subscription fee.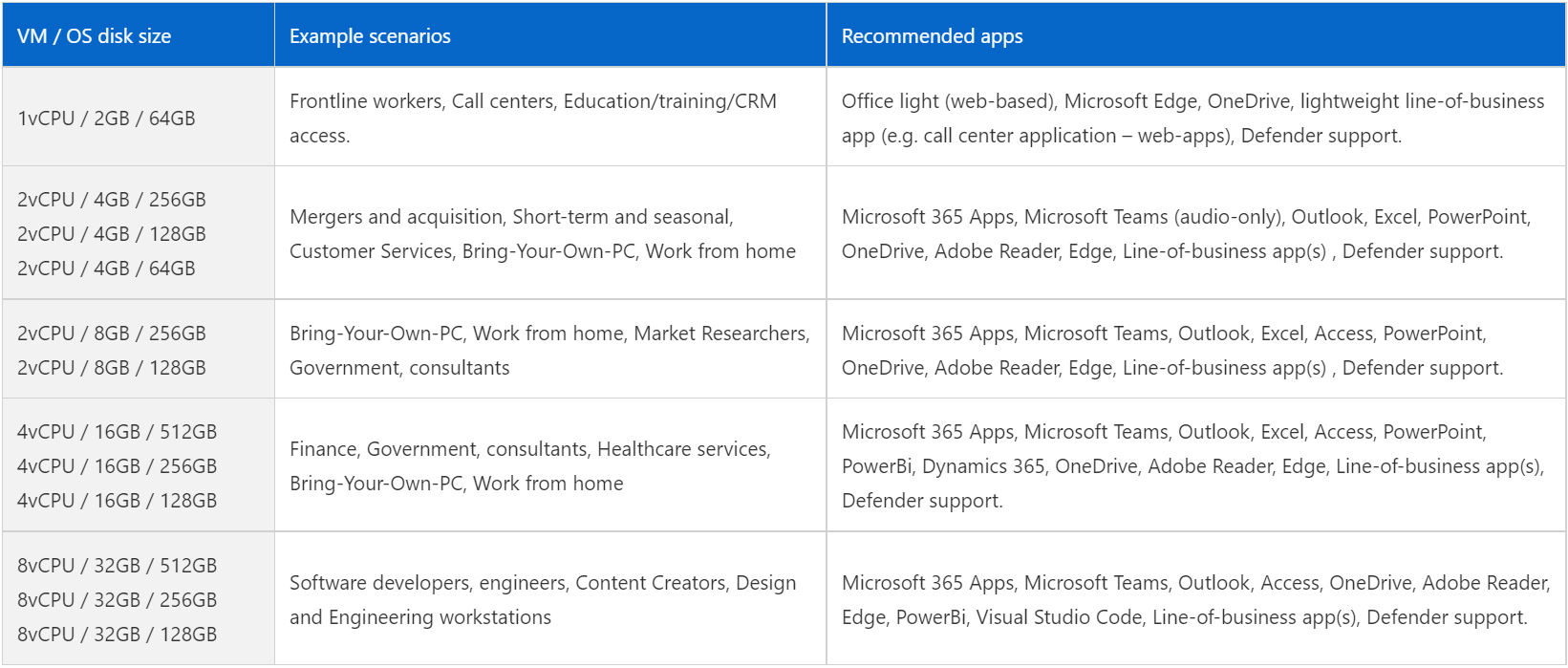 For the full breakdown of the Windows 365 pricing structure, you can visit its product page on the Microsoft website.