Asus Malaysia has unveiled its updated ExpertBook series that is catered to suit the needs of business professionals. The lineup consists of the new B1 series, as well as the refreshed B5 and B9 which feature a lightweight design for greater portability.
The updated laptops run on the latest 11th-gen Intel Core processors as well as integrated Intel Iris Xe graphics. For better durability, the new ExpertBooks come with military-certified MIL-STD 810H construction.
Asus ExpertBook B1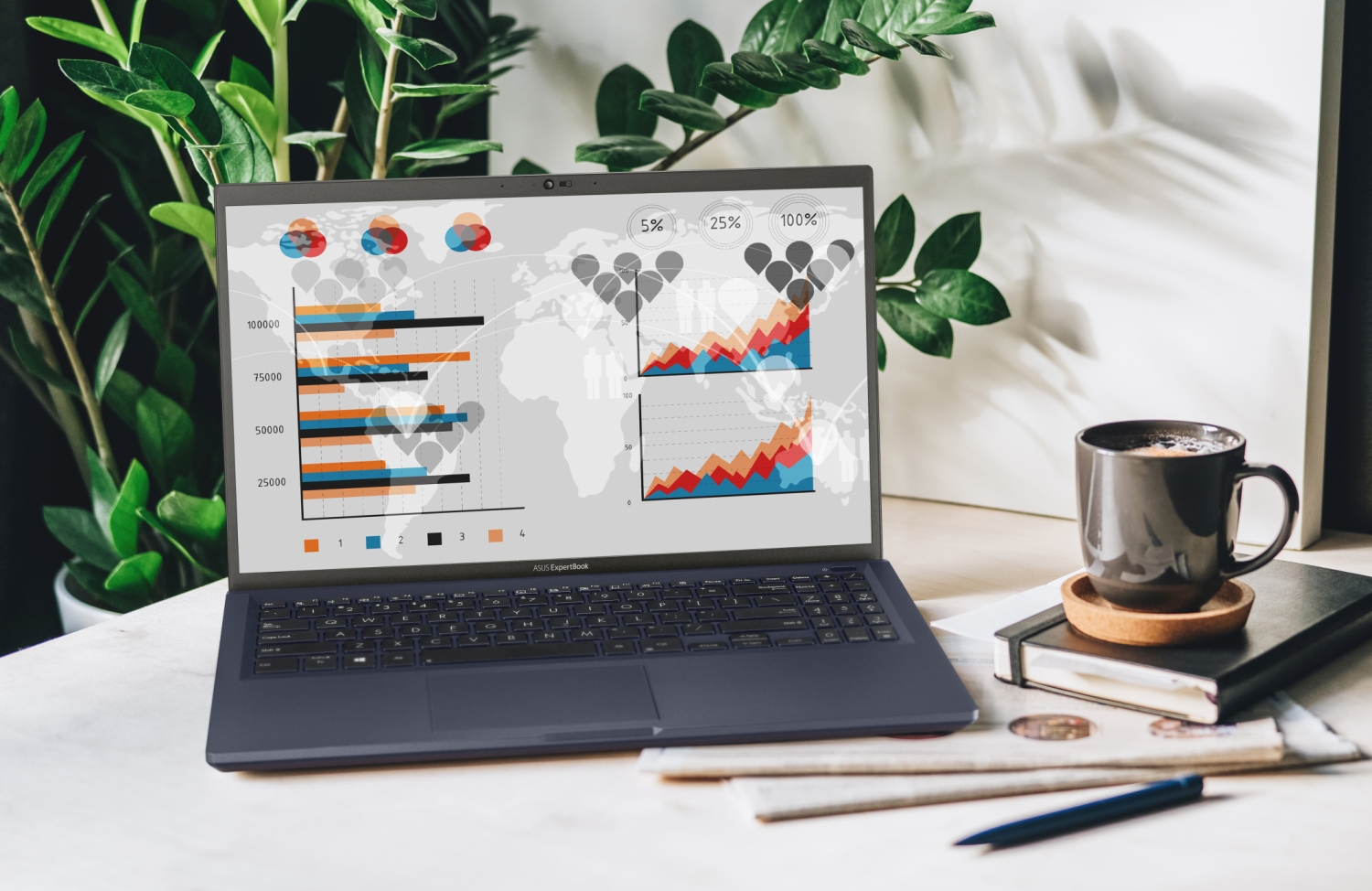 The all-new ExpertBook B1 series is the most affordable of the lineup with prices start from under RM4,000. It comes in two screen sizes – 14″ (B1400) and 15.6″ (B1500), which pushes Full HD resolution and a maximum brightness of 220 nits.
For the 14″ model, you can get it with a Core i5-1135G7 CPU with a choice of 256GB or 512GB SSD. There's also a higher-spec Core i7-1165G7 CPU option that comes only with 512GB SSD. All models are equipped with 8GB of DDR4-3200 RAM as standard.
Meanwhile, the larger 15.6″ model is only offered in a single configuration of an Intel Core i7-1165G7 CPU with 8GB RAM and 512GB of storage. Interestingly, the price for the 15.6″ model with the Core i7 is the same as the 14″ version that comes with a Core i5.
The B1400 model features Asus' NumberPad 2.0 where the trackpad doubles as a virtual Numpad. This isn't included for the bigger B1500 as it has a dedicated Numpad on the right side of the keyboard.
According to Asus, the ExpertBook B1 series allows easy upgrades for RAM and storage as the base of the laptop is accessible by removing a couple of screws. It has a single slot each for SO-DIMM, PCIe 3.0 SSD, and 2.5″ SATA HDD.
Touching on the I/O ports, the B1 features a Thunderbolt 4 USB-C port, two USB 3.2 Gen 2 Type-A ports plus one USB 2.0 port. There's an HDMI and 1000Mbps LAN port, in addition to a VGA port. With the abundance of ports, you can hook up to two 4K UHD displays simultaneously. Also included is a power button with a fingerprint sensor, MicroSD card reader and a standard 3.5mm audio combo jack.
The laptops also support WiFi 6 and Bluetooth 5.2 connectivity. For a better video call experience, it also features two-way AI noise-cancelling technology for the mic. When enabled it filters out unwanted ambient noise while making your voice clearer.
Overall, the 14″ ExpertBook B1 has a thickness of 19.2mm and weighs 1.45kg. Meanwhile, the larger 15″ model is slightly thicker at 19.4mm and it is heavier at 1.73kg. Both versions are powered by a 42Wh 3-cell Li-ion battery.
Here's the official pricing for the ExpertBook B1 series in Malaysia:
B1400C (i5, 8GB RAM, 128GB SSD) – RM3,599
BI400C (i5, 8GB RAM, 512GB SSD) – RM3,759
B1400C (i7, 8GB RAM, 512GB SSD) – RM4,399
B1500C (i7, 8GB RAM, 512GB SSD) – RM3,759
Asus ExpertBook B5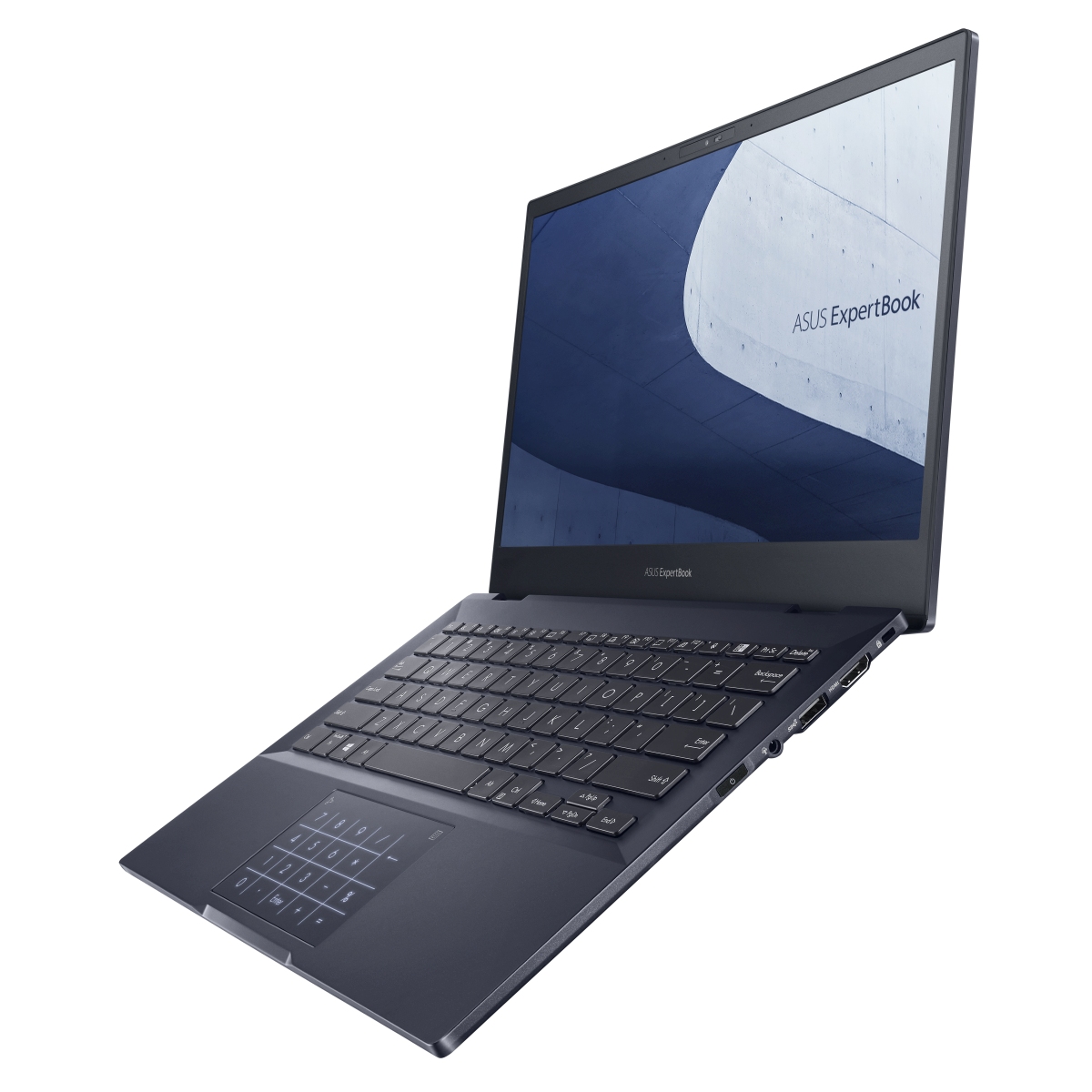 If you're looking for a thinner and lighter alternative, there's the Asus ExpertBook B5 series. The standard ExpertBook B5 (B5302C) with a normal clamshell design features a 180-degree hinge and weighs 1kg. Meanwhile, the convertible ExpertBook B5 Flip (B5302F) with a 360-degree hinge weighs in at 1.11kg.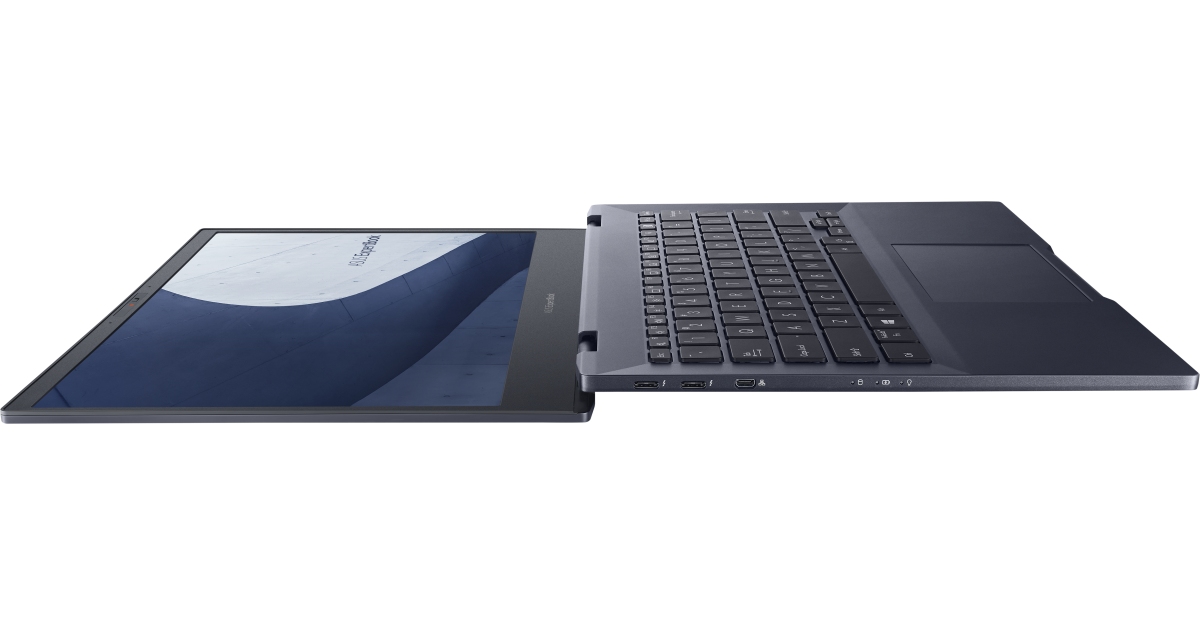 Both models come with a 13.3″ Full HD display that pushes a brightness of 300nits. The ExpertBook B5 Flip comes with added touch-screen support and this allows you to use the B5 Flip as a tablet.
The rest of the hardware appears to be similar for both B5 options. For the ExpertBook B5, you have a choice of an Intel Core i5 with 8GB RAM + 256GB of SSD storage or an Intel Core i7 with 8GB RAM + 512GB SSD. The Flip version is also available with both Core i5 and i7 options but all of them get the same 8GB RAM + 512SGB SSD combo.
Both models offer an extensive selection of ports which include two Thunderbolt 4 USB-C ports, one USB 3.2 Gen 2 Type-A, one HDMI and one micro-HDMI for LAN. It also gets a power button with an integrated fingerprint sensor as well as a 3.5mm audio jack. The trackpad also comes with Asus' NumberPad 2.0 feature.
There I/O section features 2 USB Type-C ports, 1 USB Type-A port, 1 standard HDMI and a Micro HDMI port. The B5 series also allows for 4K display outputs and fast charging. It also gets WiFi 6 and Bluetooth 5.l0 support. Both laptops feature a 66Wh 4-cell Li-ion.
The prices for the ExpertBook B5 models are as follows:
B5302C (i5, 8GB RAM, 256GB SSD) – RM4,299
B5302C (i7, 8GB RAM, 512GB SSD) – RM5,199
B5302F Flip (i5, 8GB RAM, 512GB SSD) – RM4,999
B5302F Flip (i7, 8GB RAM, 512GB SSD) – RM5,599
Asus ExpertBook B9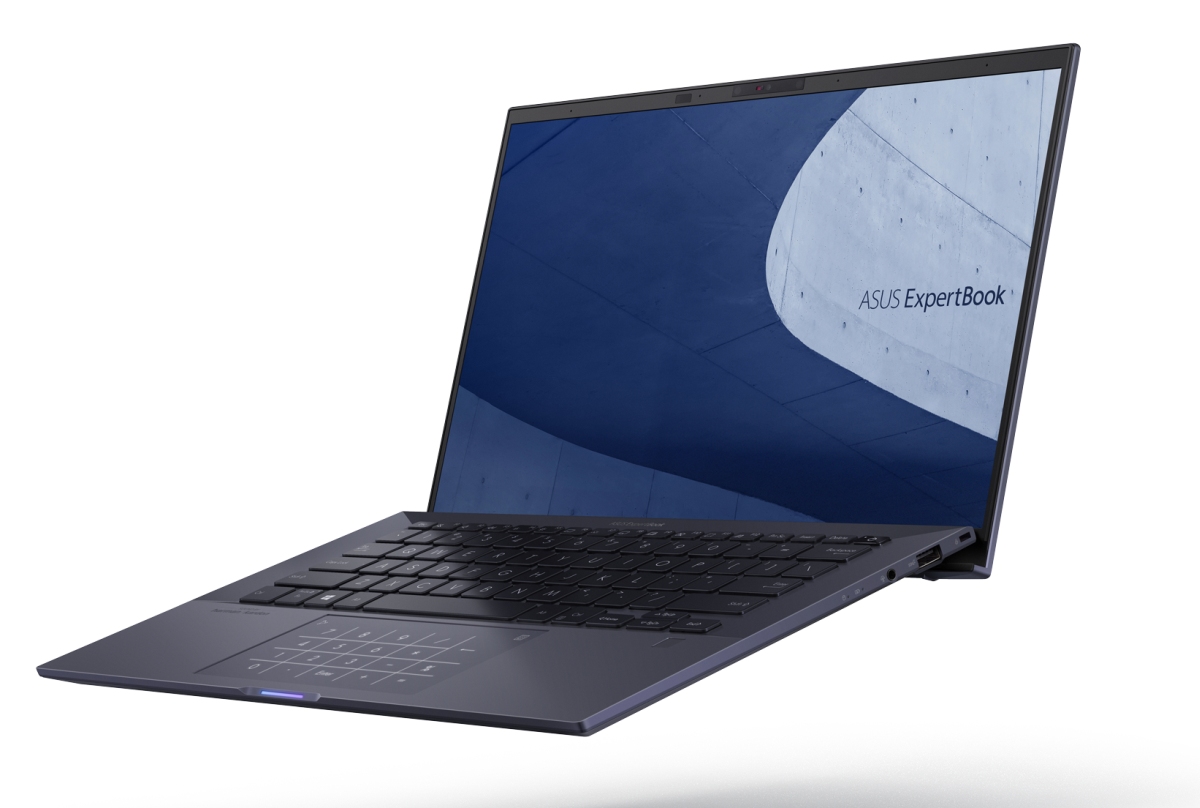 The ExpertBook B9 is the most premium of the lot and Asus is calling it the world's lightest 14″ business laptop. The laptop could weigh as little as 880g with a 33 Wh battery cell. However, Asus Malaysia is only offering the 66 Wh battery version (B9400C) which tips the scale at 1.005kg.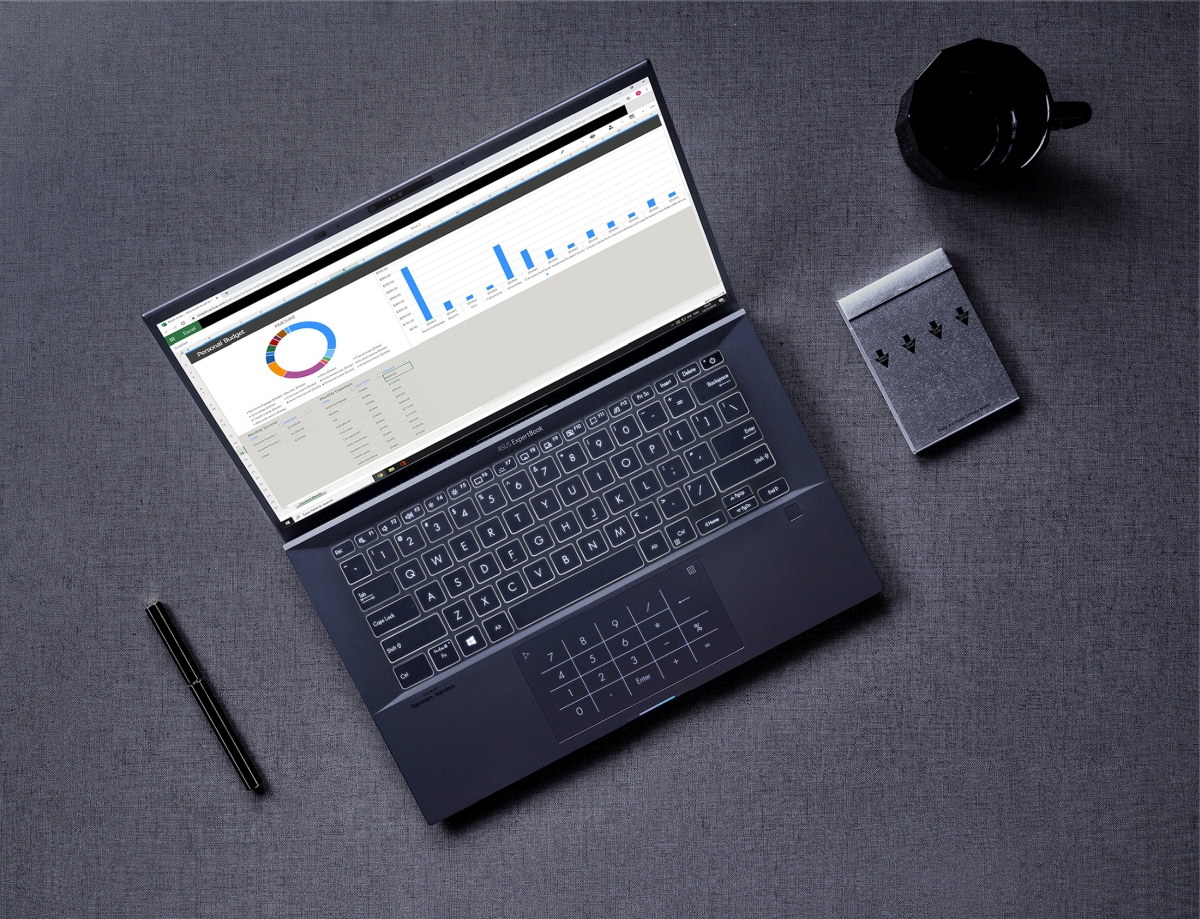 It is powered by an Intel Core i7-1165G7 processor and much like its 2020 predecessor, offers a 14″ Full HD IPS screen which now pushes a higher 400-nit brightness. The notebook is offered with a single configuration of 16GB LPDDR4x RAM and 1TB SSD storage.
In terms of ports, it will offer two Thunderbolt 4 USB-C ports, one USB 3.2 Gen 2 Type-A port, a HDMI port, micro-HDMI for LAN and an audio jack. The ExpertBook B9 also features a glass-covered trackpad with Asus' NumberPad feature and integrated stereo speakers certified by Harman Kardon. The laptop also supports WiFi 6 connectivity and Bluetooth 5.0.
The Asus ExpertBook B9 with the Core i7 processor, 16GB RAM and 1TB SSD is officially priced at RM7,989 in Malaysia. The entire 2021 ExpertBook series including the B1, B5, B5 Flip, and B9 comes with Microsoft Windows 10 Pro pre-installed and are covered by a 3-year on-site support warranty.