The Windows thin-and-light market has been getting more and more saturated with new releases all the time. You can get a sleek, ultra-portable laptop for work at almost any price range these days, be it for budget-conscious students or boardroom members wanting the best. The Microsoft Surface Laptop 4 is very much for the latter demographic.
With that in mind, I should also probably make it clear that I don't normally use such premium laptops; I'm more of a price-to-performance kind of guy. But when Microsoft offered the Surface Laptop 4 for review, well, it's certainly hard to say no. So how did my time with it go?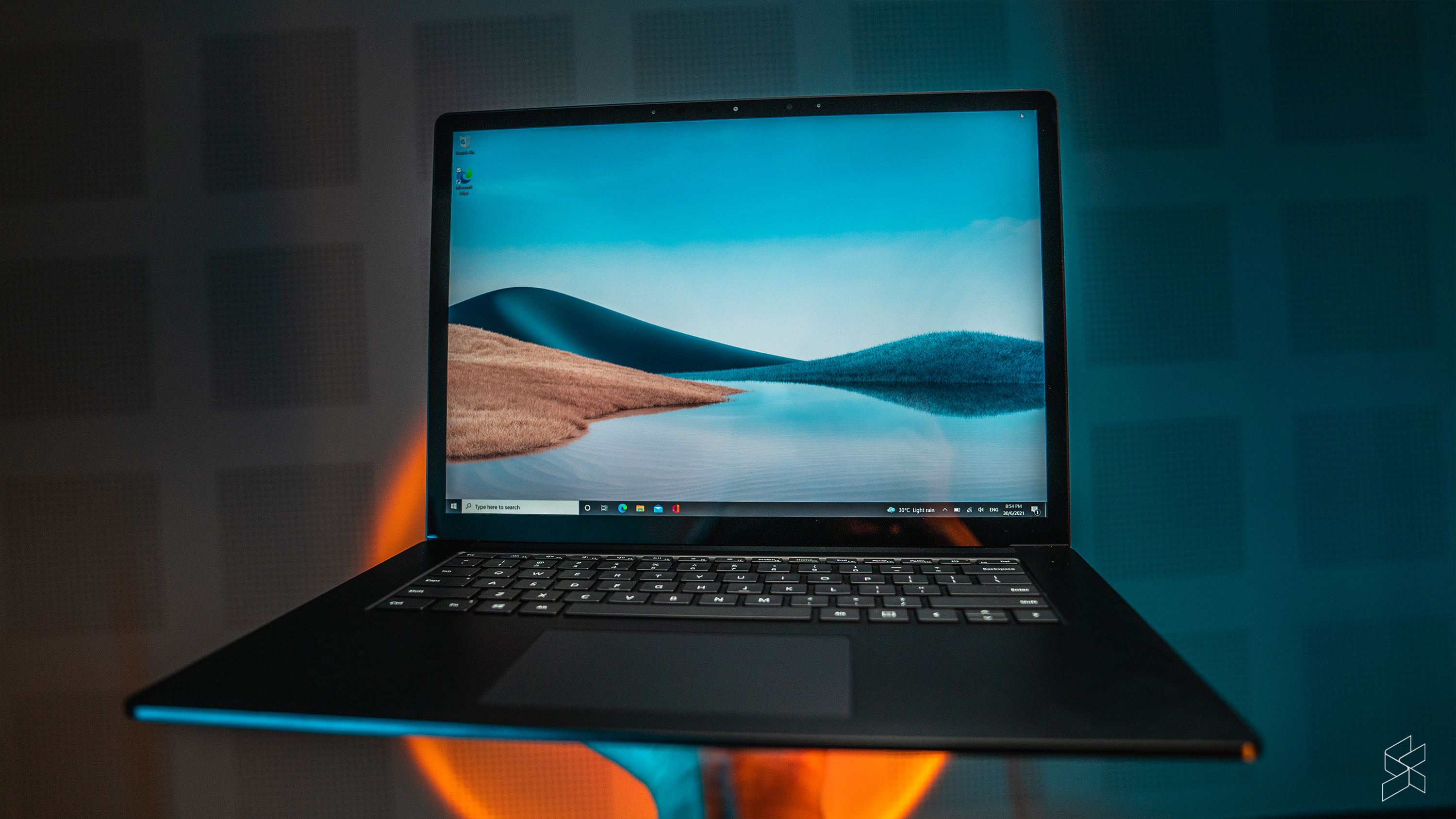 Incredible performance, thanks to some special silicon
Having used this device for a couple of weeks, the gist of it is that it has phenomenal performance. Our review unit, the 15-inch version, has a custom AMD Ryzen 7 Microsoft Surface Edition CPU, 16GB of RAM and 512GB of storage. Admittedly, it's a little obsolete upon release—that custom processor, a Ryzen 7 4980U, may be the best AMD U-series chip of its generation, but it's still from the last generation.
Seeing as it is supposed to be a custom processor, as a PC nerd I couldn't resist putting it through its paces with benchmarks. And I have to say, it's pretty impressive. While the 11th Gen Intel Core i7-1165G7 does slightly score higher for single core CPU performance, the eight cores on the Ryzen 7 Microsoft Surface Edition totally outdoes its Intel counterpart in multicore performance. Mind you that Intel processor is also available as an option in the Microsoft Surface Laptop 4, albeit costs more than our model.
But enough about synthetic benchmarks, because let's be real: people won't be buying it to run Cinebench all day. Instead, it'll be used for your day-to-day office work, or students with presumably well-to-do parents. Well, in that regard, you'd be pleased to know that it pretty much comfortably handled every work task I threw at it. I had multiple instances of Google Chrome with 10-20 tabs each, did some photo editing on Adobe Photoshop, programs like Discord, Slack, Spotify and Microsoft Word all open too—you name it it'll handle it just fine.
That being said, one clear area of weakness is the integrated GPU. Don't get me wrong, the AMD Radeon integrated GPU will handle your day-to-day tasks just fine. Gaming however is a little touch and go. Dota 2 with low-med settings at 1080p was playable, with frames hovering between 40-60fps; Overwatch saw a similar result.
Any game more demanding that that though is a bit of a hard pass. I managed to get up to 30fps with Apex Legends for instance, but it's at such low settings that it's hard to recommend it anymore. Of course, if you are looking at buying this laptop, gaming probably wasn't at the top of your priority list anyway.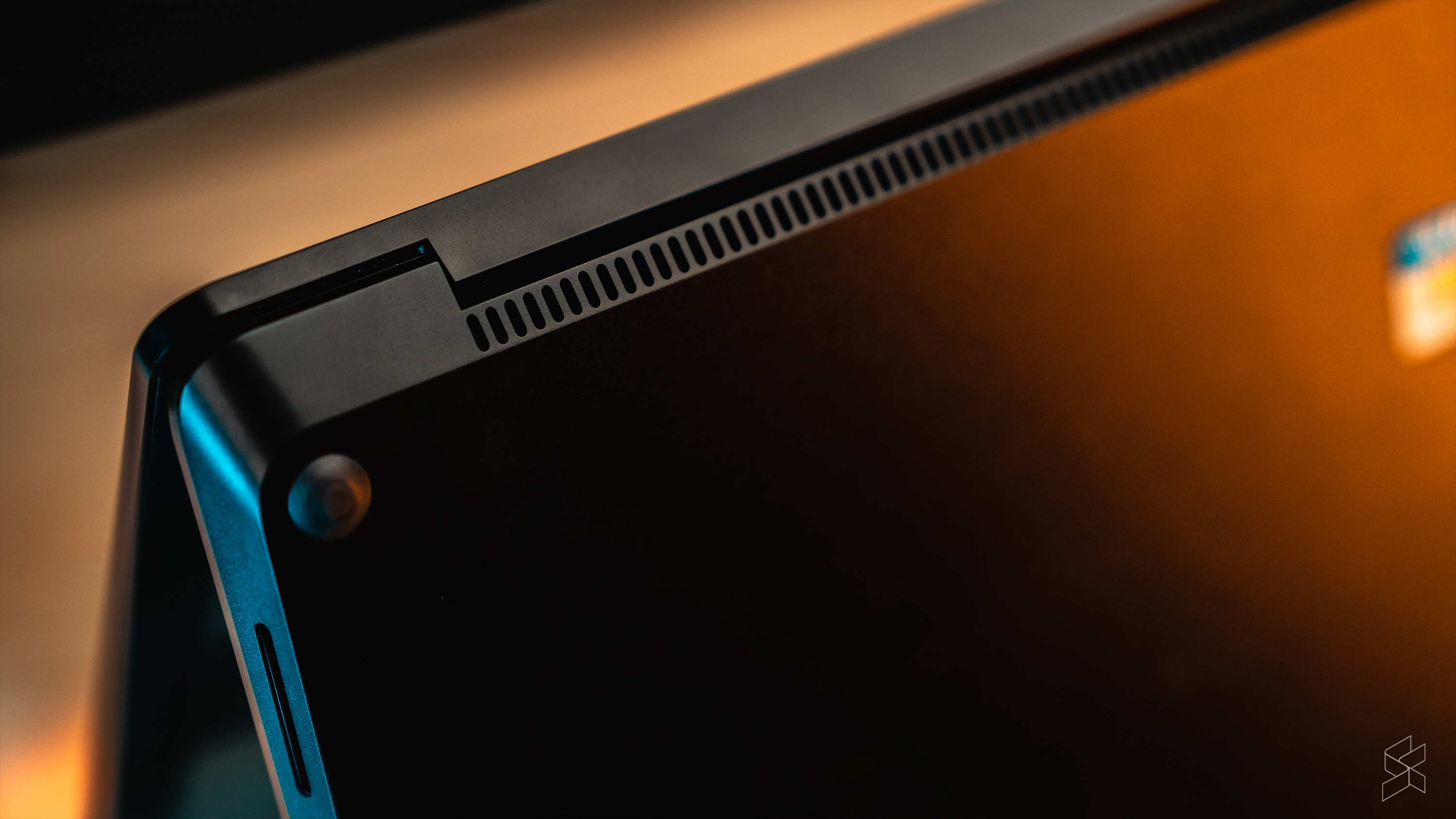 A concern I did have though going into the review was heat management. With any processor it's important to dissipate the heat produced away from it as much as possible. And with a laptop, that used to be a challenge, especially the portable thin chassis you find on them these days. However, I'm actually quite impressed with how well it did thermally.
I never did once see that custom AMD chip thermal throttle during everyday use, even on the busiest of days. There was a small dip in CPU speeds while I was running the synthetic benchmarks, but realistically I was expecting that.
The keyboard never did once feel too hot to use. The metal chassis meanwhile did feel a little warm, but again, never to the point where it was uncomfortable. I will say though that you can definitely hear its fan whirring away; not annoying, but definitely noticeable in a quiet room.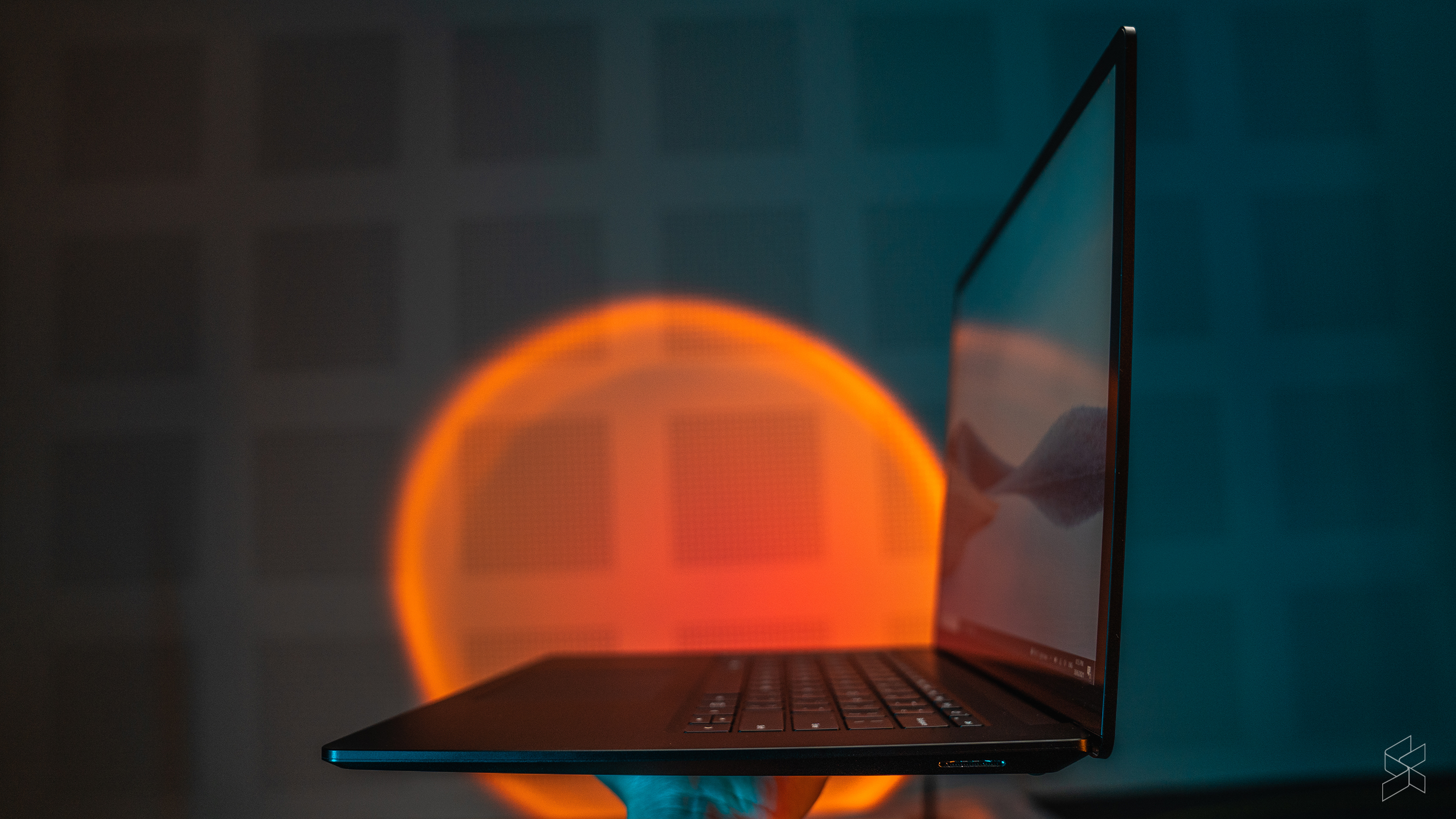 As for battery life, it's respectable. I got roughly 10 hours of use with max brightness on the display while working. This was also with the battery power mode set to best performance too. No where near its advertised 17.5 hours, but I perhaps could've stretched it to that long if I wanted to by tweaking some settings.
Good display, even better build quality
There are two main variants to the Microsoft Surface Laptop 4 based on display size, and ours comes with a 15-inch display. You will almost immediately notice that the screen looks taller than usual, and that's because it is.
Featuring a touchscreen 3:2 display with a resolution of 2496 x 1664 pixels, it'll certainly take awhile to get used to, especially if you daily drive an ultrawide monitor at home. But eventually the unusual aspect ratio did grow on me, with it having a good balance of screen real estate and a high enough resolution to make work much more productive than a standard FHD screen. One minor nitpick I do have though is that the glossy monitor have some glare to it, so I had to pump up the brightness when using it outdoors or in a well lit room.
Moving on to content consumption, it performs as you'd expect from an IPS display really. Great for movies and YouTube, but the extra black bars on the top and bottom will take some getting used to. It also definitely doesn't have the best laptop speakers out there. Others in its class like the Apple MacBook Pro are far ahead in terms of sound quality. With no visible speaker grills on the body, you'll have to make do with decent but slightly flat audio coming through the keyboard. It's fine, but don't expect it to blow your mind.
As for the keyboard, it's good. The travel feels nice and every key is where it should be. There's no deck flex too—the solid metal chassis and overall incredible build quality means that while it's a little on the heavy side, this laptop feels premium. And despite its 1.5kg weight, it was still fairly easy for me to move about with it.
No shaky display, no wobbly keycaps and the time with the touchpad is exquisite. In fact, perhaps the one real rival to how premium it looks and feels is again, the Apple MacBook Pro. No Alcantara finish on this Surface Laptop 4's palm rest though, as that's limited to just the 13.5-inch model.
It's not perfect though
Perhaps the biggest negative to the Surface Laptop 4's design is really the lack of change from the previous Surface Laptop. The bezels aren't horrible, but by 2021 standards it's definitely on the thicker side. The touchpad also could've certainly have been bigger as it's absolutely tiny in comparison to something like an Apple MacBook Pro.
The webcam meanwhile is yet another remnant of the previous generation Surface Laptop, with its 720p camera certainly not the best. It'll suffice though for Windows Hello unlock and the odd Zoom call or two. Microsoft's choice to stick with the Surface Connect port was also something I found slightly annoying to use. Because of the way the side of the device is angled, most of the time I found myself having to lift the right side of the laptop to properly plug the charger in.
Speaking of ports, with just one USB-A 3.2 and one USB-C 3.2 port, there were times when I would've appreciated just maybe an extra port. Maybe that's why Microsoft included a Bluetooth mouse in the review, which I'll get to in a bit. It also has a 3.5mm audio jack, and… that's it really. Not the greatest selection, but at least it actually has a USB-A port unlike its Apple counterpart.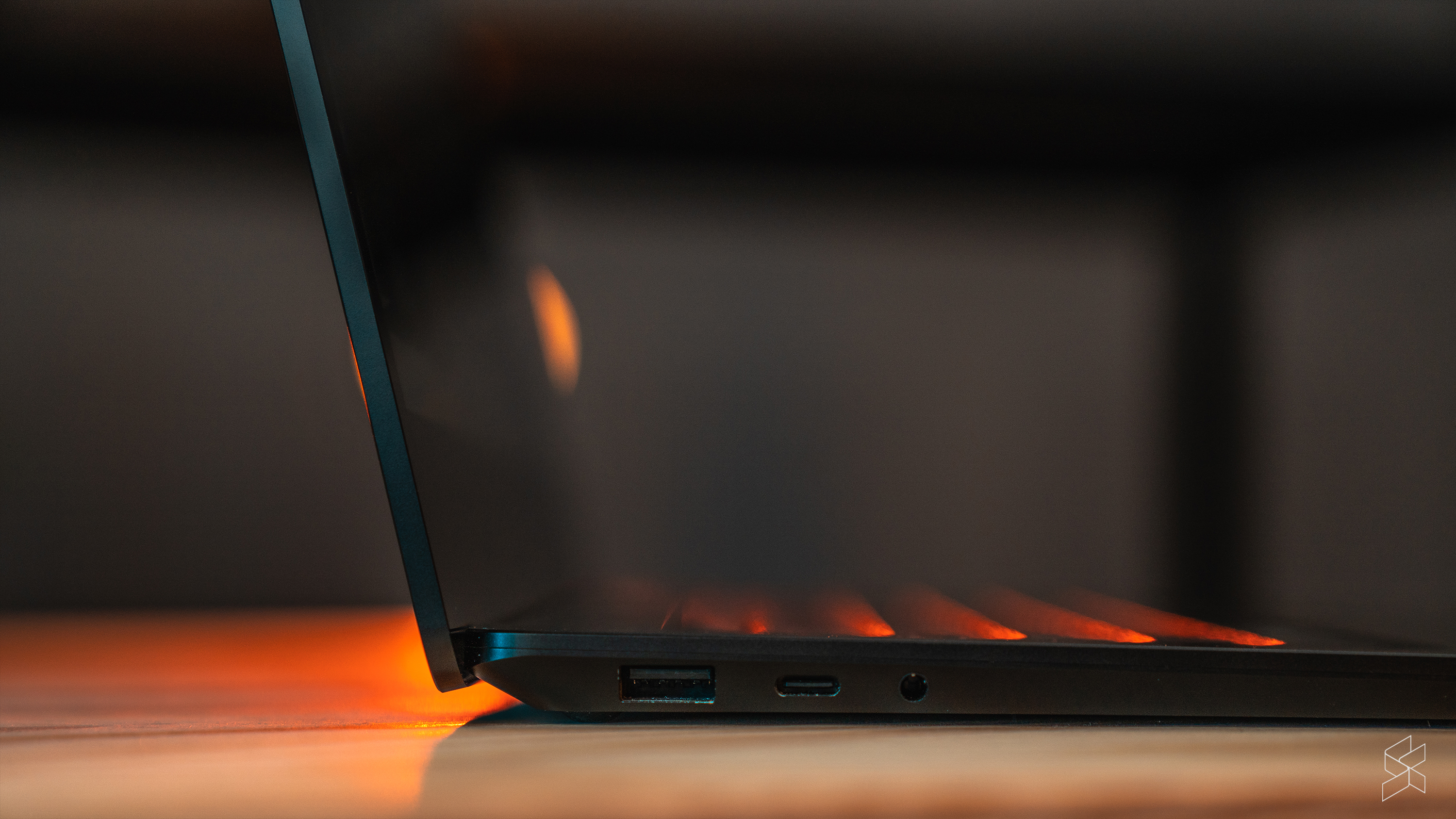 They've also thrown in a Surface Arc mouse to review which, I'm going to be honest, I am not a fan of. Yeah it's super portable as it can be flattened into a straight bar for easy keeping, but using it felt atrocious. It's a little bit too small for me, and it's weird shape means that more often or not it topples over to one side. The lack of a physical scroll wheel was also something that just didn't cut it for me.
I find it hard to believe that this is better than a good quality wireless mouse from someone like Logitech. In fact, having used the touchpad on the Surface Laptop 4, I genuinely saw no point in using the mouse—the touchpad really was that good, despite its size.
Going back to the laptop though, for the most part I can look past the negatives. In the bigger scheme of things, the 15-inch Microsoft Surface Laptop 4 is perhaps among the best Windows laptops of its class, with its downsides mostly nitpicks on the slightly outdated design. But the bigger question now is…
Is it really worth the price?
At the end of the day, it really does come down to its price for me. And at RM7,799, it's certainly a tough pill to swallow. Even if you opt for the base model 15-inch Microsoft Surface Laptop 4 with half the RAM and storage, it'll still set you back RM5,999. And as I mentioned, I'm a price-to-performance kind of guy. I don't see myself spending this much money on a laptop, ever. But what about those who would be considering at a laptop like this?
If you've been looking for a solid high-end portable laptop but lament that most good options come with displays between 13-14 inches, the Surface Laptop 4 is perhaps for you, especially if you don't need a dedicated graphics card. Other options in of this size include laptops like the Dell XPS 15, which admittedly costs more at RM9,279 but does also feature a dedicated graphics card and a H-series Intel processor with more power.
Similarly, the Apple MacBook Pro 16″ is another contender but just like the XPS 15 you'll be paying a premium for a H-series processor and a GPU. The Surface Laptop 4 meanwhile is more like its lightweight 13-inch cousin with a more power-efficient processor and integrated graphics, except that it has a much larger 15-inch screen.
Alternatively, if you prefer a current gen CPU with integrated graphics, there's the Lenovo ThinkPad E15 Gen 3. It has an AMD Ryzen 7 5700U in it, which is roughly on par with the Ryzen 7 4980U found here. The ThinkPad E15 also has a 15.6-inch display in a more traditional 16:9 form factor. You can get it specced with 16GB RAM and 512GB of storage too, and it'll be much cheaper with listings on Lazada priced at RM3,699. However, you'll have a lower resolution FHD display and, depending on which specific model you get, you may be stuck with a horrible TN panel too.
But getting back to the Microsoft Surface Laptop 4, I still really liked it, though there's no way I'm buying it for myself. Even with the nitpicks about its design from last year, and last-gen processor, anyone looking for a 15-inch laptop without the need for a graphics card will find the Microsoft Surface Laptop 4 among the best that they can get out there if they can afford it. It's just not clearly the best in 2021, the way it would have been if this was 2020.