If you're looking for a mobile postpaid and fibre broadband bundle, Maxis has refreshed its new combo offering on Hotlink. You can now get a Hotlink Postpaid 60 and a Maxis Fibre plan from RM149/month. If you're eligible for the Jaringan Prihatin programme, you can also enjoy the RM180 subsidy (12 months x RM15) with the plan.
There are a total of 5 fibre options available ranging from 30Mbps to 800Mbps. All plans come with Hotlink Postpaid 60 which offers unlimited calls and SMS, plus 30GB of high-speed data and 30GB of YouTube data quota.
Whichever plan you pick, you will get a new WiFi 6 router. The base postpaid + 30Mbps fibre plan costs RM149/month while the higher 100Mbps combo is going for RM189/month and 300Mbps combo option costs RM209/month.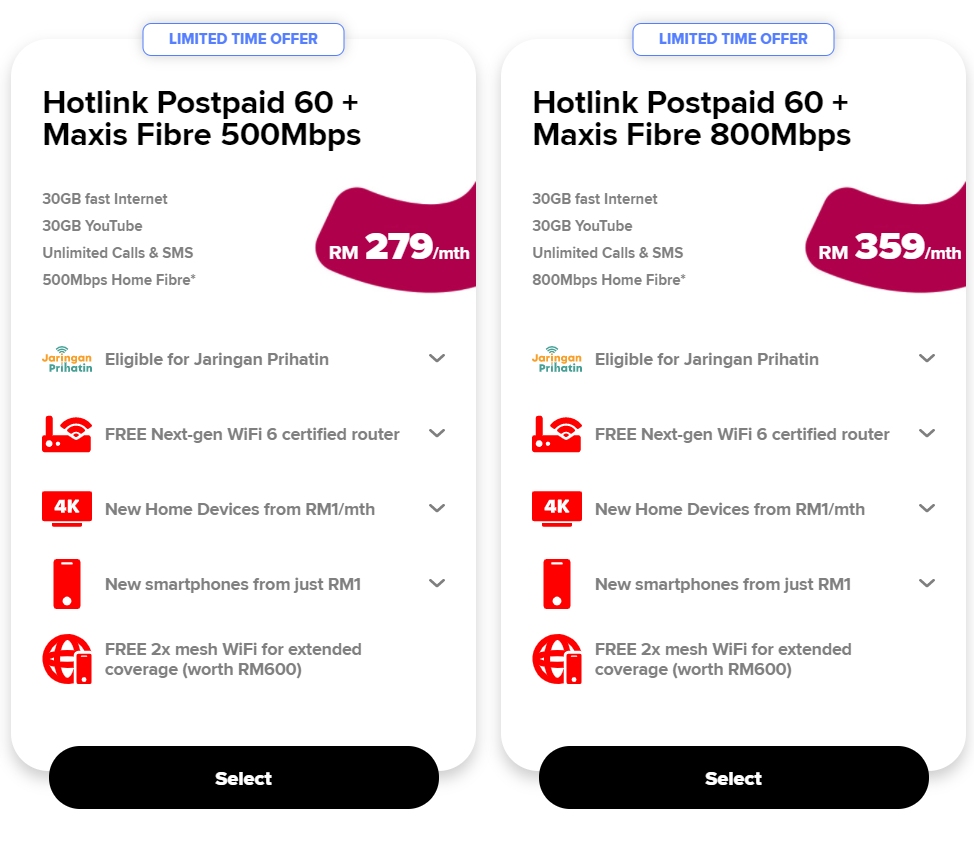 If you have a larger family and need higher speeds, the 500Mbps combo costs RM279/month and the 800Mbps combo option is going for RM359/month. These two plans also come with free 2x Mesh WiFi nodes to expand the wireless coverage in your home.
Voice calls are not included with the home fibre broadband plans. If you need to make lots of calls at home, they are offering a RM10/month add-on which offers unlimited domestic calls and it comes with a free DECT phone.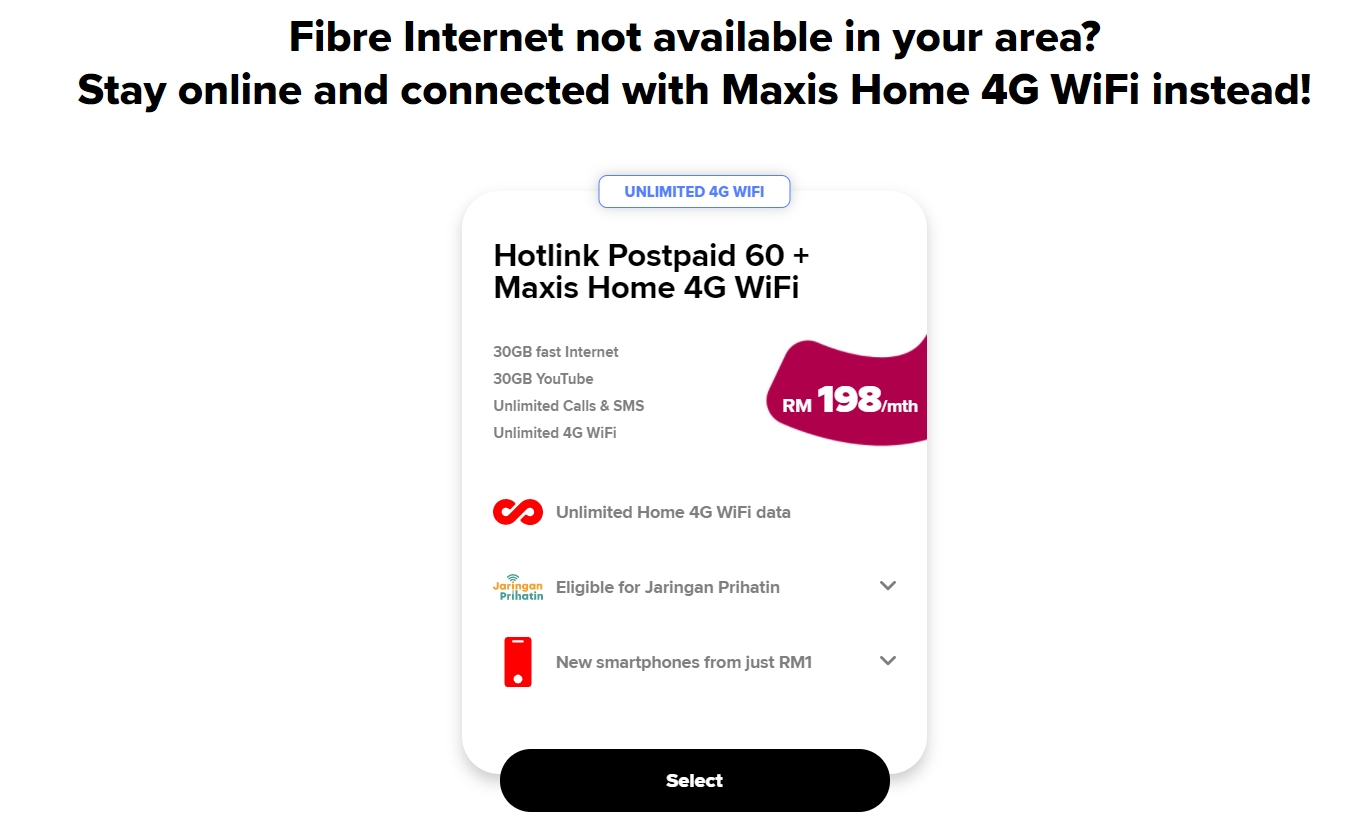 For those who are living in areas without fibre coverage, Maxis is offering a Home 4G WiFi wireless broadband combo option. The Hotlink Postpaid 60 with Maxis Home 4G WiFi is going for RM198/month.
According to the FAQ, the fibre plans are tied with a 24-month contract. If you're going for the Home 4G WiFi solution, the FAQ mentions that the 4G wireless router comes with a 12-month contract.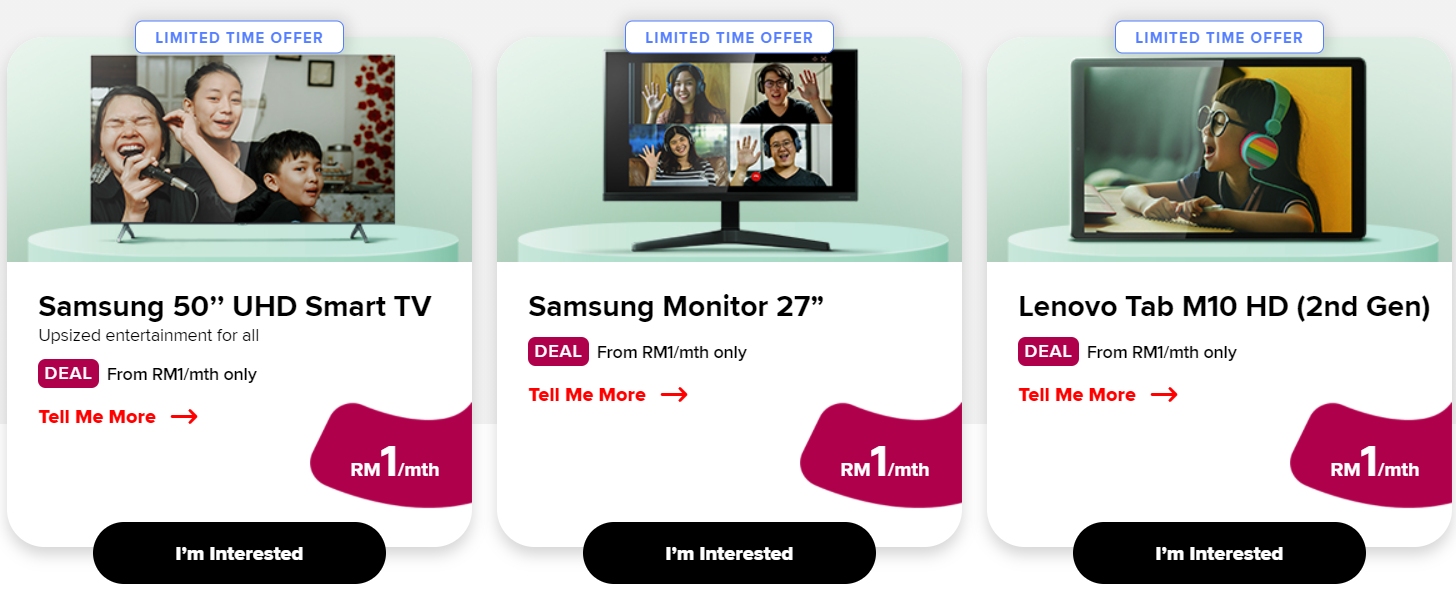 If you need to add on a TV, a monitor or a tablet, Maxis is also offering devices on a contract which starts from RM1/month. If you want the Samsung 50″ UHD Smart TV, it costs RM1/month for 800Mbps combo customers or RM79/month for customers on the 30Mbps combo option. Meanwhile, the Lenovo Tab M10 HD (2nd Gen) is offered for as low as RM1/month for 800Mbps or RM39/month for 30Mbps customers.
Overall, the refreshed offering costs more than the previous RM99/month Hotlink Postpaid + Fibre Broadband bundle but the new postpaid plan offers 3x the data quota. The previous Hotlink Postpaid Flex came with 10GB of high-speed data and 10GB of YouTube. On top of that, the new bundle offers the option for you to add on devices on contract.
For more info, you can visit the Hotlink + Maxis Fibre Broadband page.