Portable gaming consoles have been around for quite some time now, with the Nintendo Switch being the most prominent one. Valve though wants to go toe-to-toe with the Switch, today announcing a new handheld gaming console: the Steam Deck.
Steam Deck Specs
It features a custom AMD APU (Accelerated Processing Unit, basically what AMD calls a CPU+GPU combination), with a Zen 2 CPU and RDNA 2 GPU inside. The AMD APU uses the same generation of hardware to what's powering the Sony PlayStation 5 and Xbox Series X/S, albeit very much a cut-down version of it. That being said, this should still outperform the older Vega GPUs on consumer-grade desktop AMD APUs, and the Nintendo Switch for that matter. The four core, eight thread CPU and 8 RDNA compute units on the GPU will be paired with 16GB of super fast 5500MT/s LPDDR5 RAM.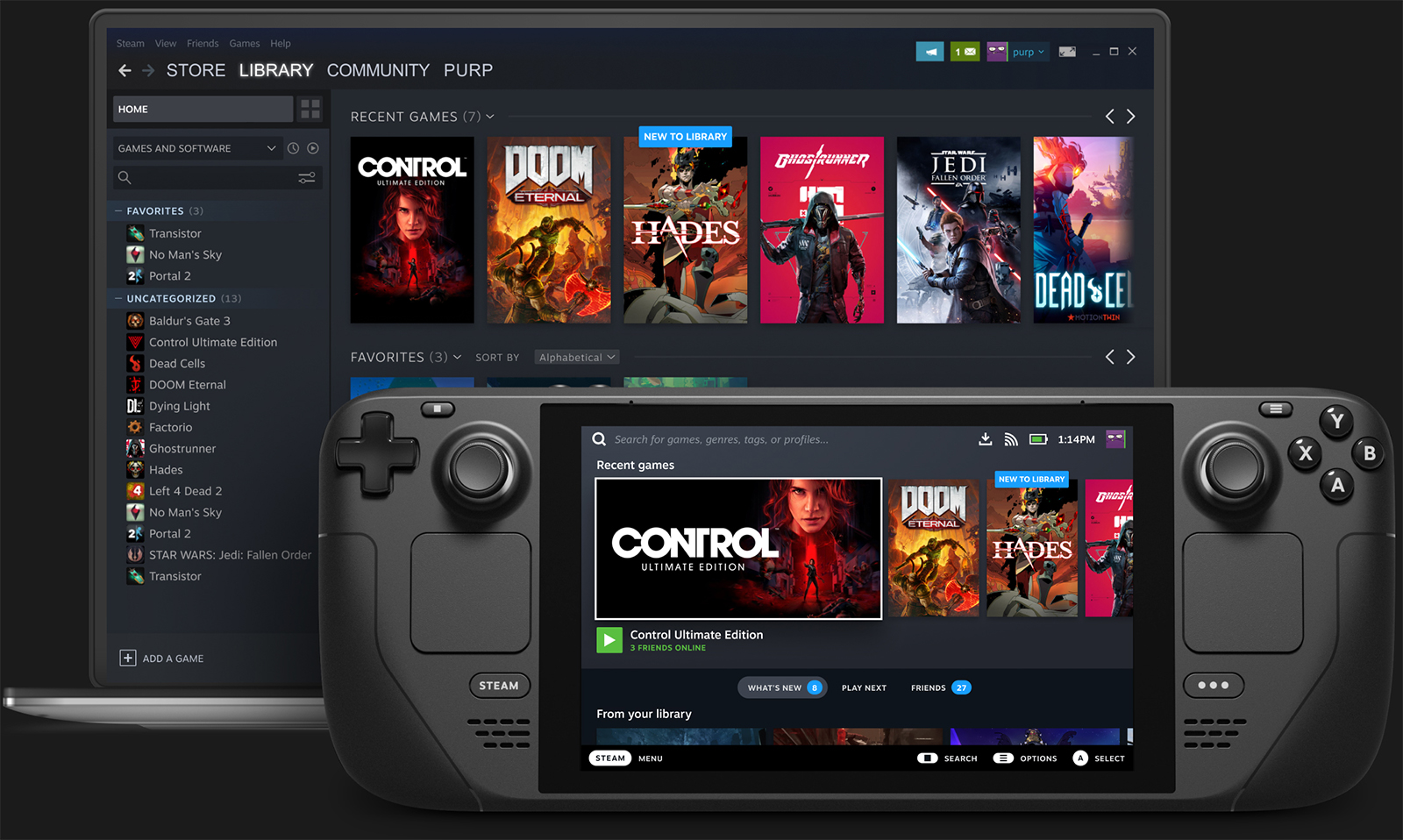 As for the display, Valve has fitted on the Steam Deck a 7-inch 1280 x 800, 60Hz LCD touchscreen display to the handheld. While it's not the most high-res screen it probably fits the capabilities of the AMD APU underneath. Plus, IGN has already tested out the Steam Deck and it seems as though they managed to play Jedi Fallen Order with high settings without any issues. The Steam Deck also features two square trackpads on top of the usual ABXY controller setup. There's also four extra buttons on the back of the device, giving much more control than the Nintendo Switch.
The Steam Deck will have three variants to pick from. The base model is has 64GB of storage via eMMC, a 256GB model with faster NVMe storage and the top end Steam Deck has 512GB of high-speed NVMe storage. Regardless of which model you get, there will be a microSD card slot for expandable storage. Other hardware specs include Bluetooth 5 and WiFi 5 connectivity, an ambient light sensor, stereo speakers, a 3.5mm audio jack and a dual microphone array setup. Battery-wise, Valve expects the 40Whr battery to provide between 2-8 hours of gameplay and features 45W charging via USB-C too.
On the software side of things, you won't find Microsoft Windows 10 or Windows 11 for that matter on the Steam Deck. Instead, the Steam Deck has a custom SteamOS 3.0 operating system installed, built on KDE Plasma, an Arch-based form of Linux. Interestingly, because it's a Linux-based operating system, you can expect to use it like a normal computer if you'd like to.
Of course, one big plus for the Steam Deck over the Switch is that it is backed by Steam's huge catalog of games. And unlike Nintendo's views on exclusivity, Valve has also stated that you won't be limited to just Steam games too. You can install any third-party programs or even straight up replace the operating system if you wish.
Oh, and there's a dock for the Steam Deck too. It can be connected to the handheld via a special USB-C cable and is powered by another USB-C port. The dock has a further 1x USB-A 3.1 and 2x USB-A 2.0 ports along with a HDMI 2.0, DisplayPort 1.4 and Ethernet port. While the Nintendo Switch dock lets you cast your screen to a TV, with the Steam Deck dock you can straight up hook it to a monitor and use it as your PC.
Pricing and availability
As mentioned earlier, there will be three models of the Steam Deck to choose from, the 64GB eMMC storage base model, a 256GB NVMe version, and a 512GB NVMe model. Furthermore, each higher tier of the Steam Deck gets you extra goodies too, such as a carrying case and anti-glare glass. It starts at just USD 399, which is 50 USD more than the Nintendo Switch OLED.
Steam Deck, 64GB eMMC storage — USD 399 (~RM 1,676.00)

Steam Deck, 256GB NVMe storage — USD 529 (~RM 2,222.06)

Steam Deck, 512GB NVMe storage — USD 649 (~RM 2,726.12)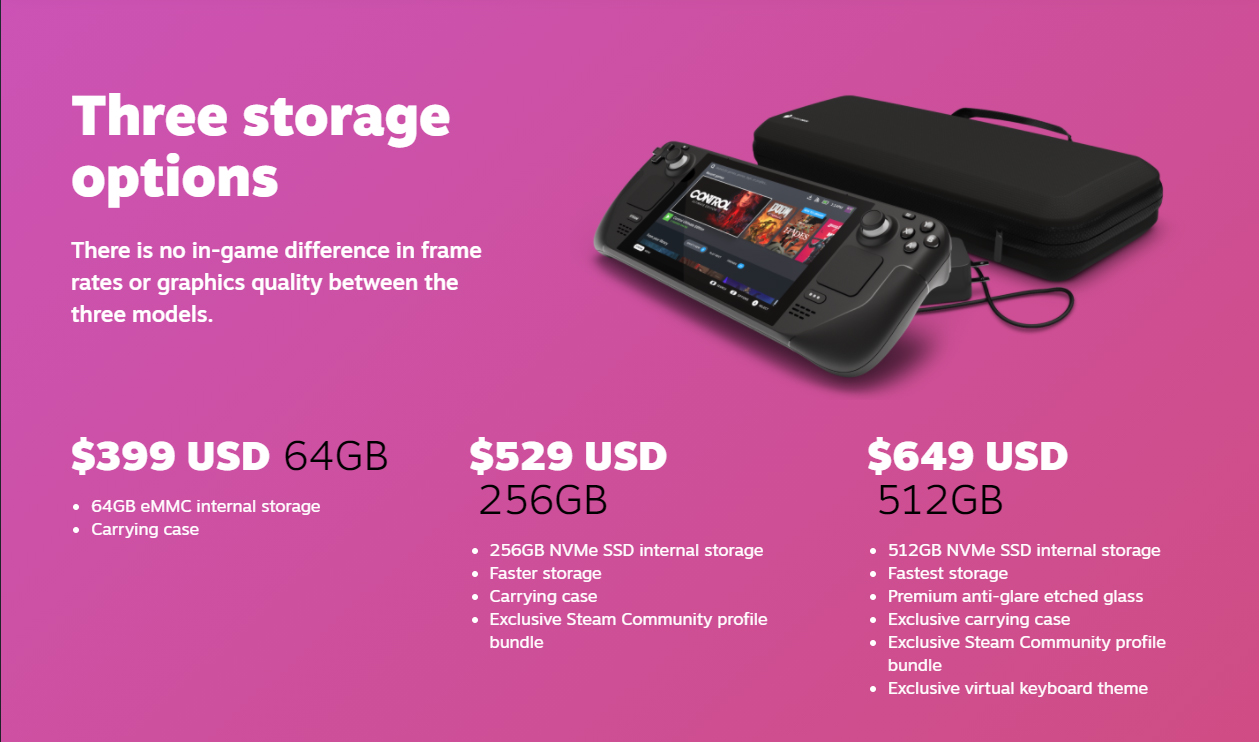 Unfortunately, for the time being only those in the US, Canada, European Union and United Kingdom can reserve themselves a Steam Deck via the Steam Store. The handhelds themselves are expected to be shipped out by December this year. Valve has mentioned that information on expanded availability will be made known soon, so hopefully Malaysians will be able to snag themselves one of these soon.
In the meantime, you can check out the Steam Deck's website or its listing on the Steam Store for more information.