Selangor Information Technology & Digital Economy Corporation (SIDEC) is planning to reopen its SME grant applications while looking to enlist more Digital Service Providers (DSPs) to come on board.
The Selangor SME Digitalisation Matching Grant offers a 50% matching grant or a maximum of RM5,000 to eligible businesses in Selangor.
This initiative is aimed at helping state SMEs ride the wave of digitalisation as they battle the COVID-19 pandemic. This may include building an eCommerce presence, boost sales through digital marketing or improve existing operations with modern HR, payroll, accounting, and Point-of-Sale (POS) systems. Embracing digitalisation brings many benefits as SMEs will be able to reduce costs, increase company efficiency as well as being able to grow their sales.
The grant requires the engagement of DSPs, which are local technology corporations deployed to aid in SME digitalisation.
Calling for IT companies to participate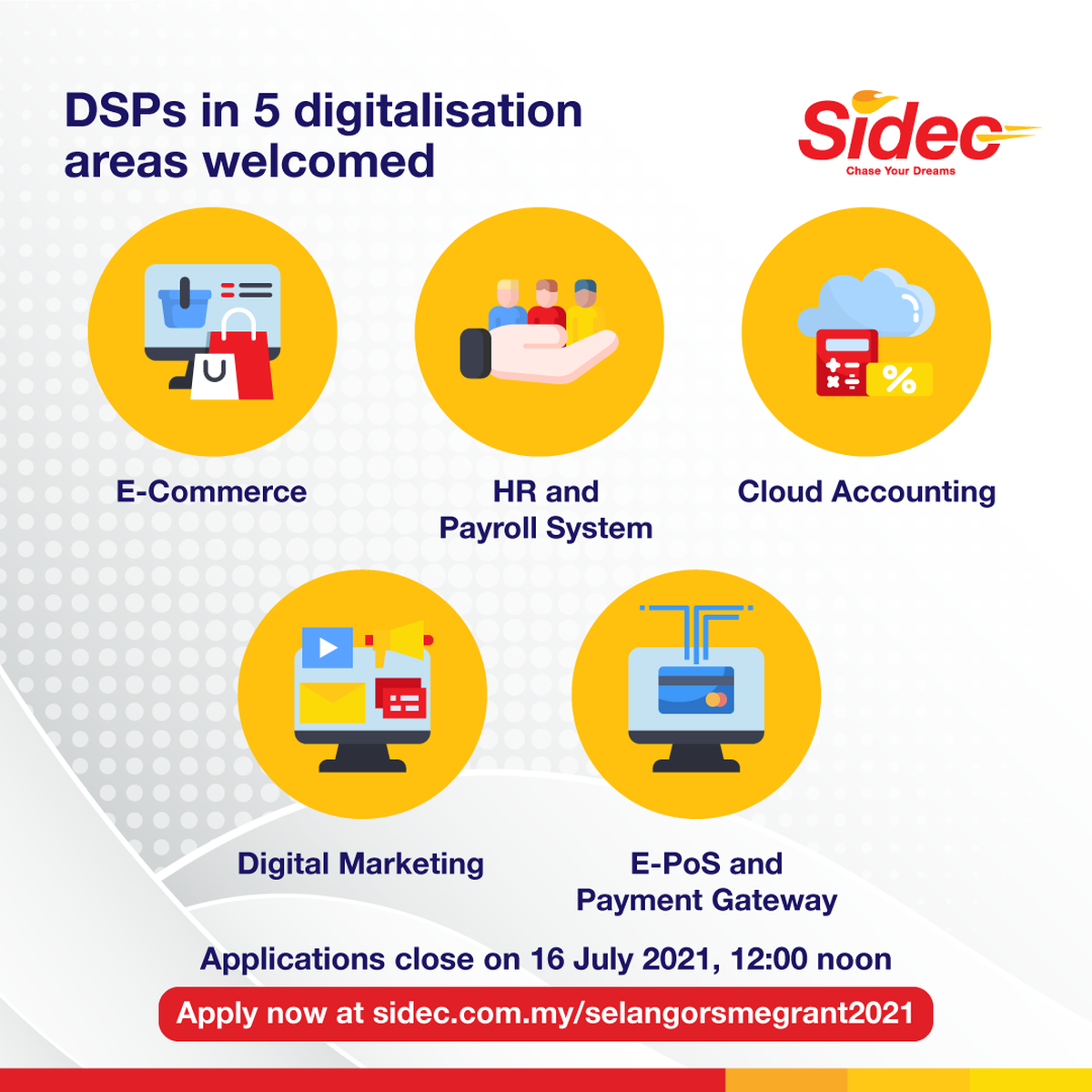 Businesses that specialise in e-commerce, HR & payroll systems, digital marketing, cloud accounting and electronic point of sale (E-PoS) plus payment gateway providers are encouraged to join as a partner. SMEs who apply will be able to select up to three digital services under the grant.
SIDEC requires legally registered DSP companies to be at least 51% Malaysian-owned with operations in Selangor for over 3 years as well as a paid-up capital of at least RM100,000. If they have been in business for less than 3 years, DSPs can instead prove that they have served a minimum of 100 enterprises.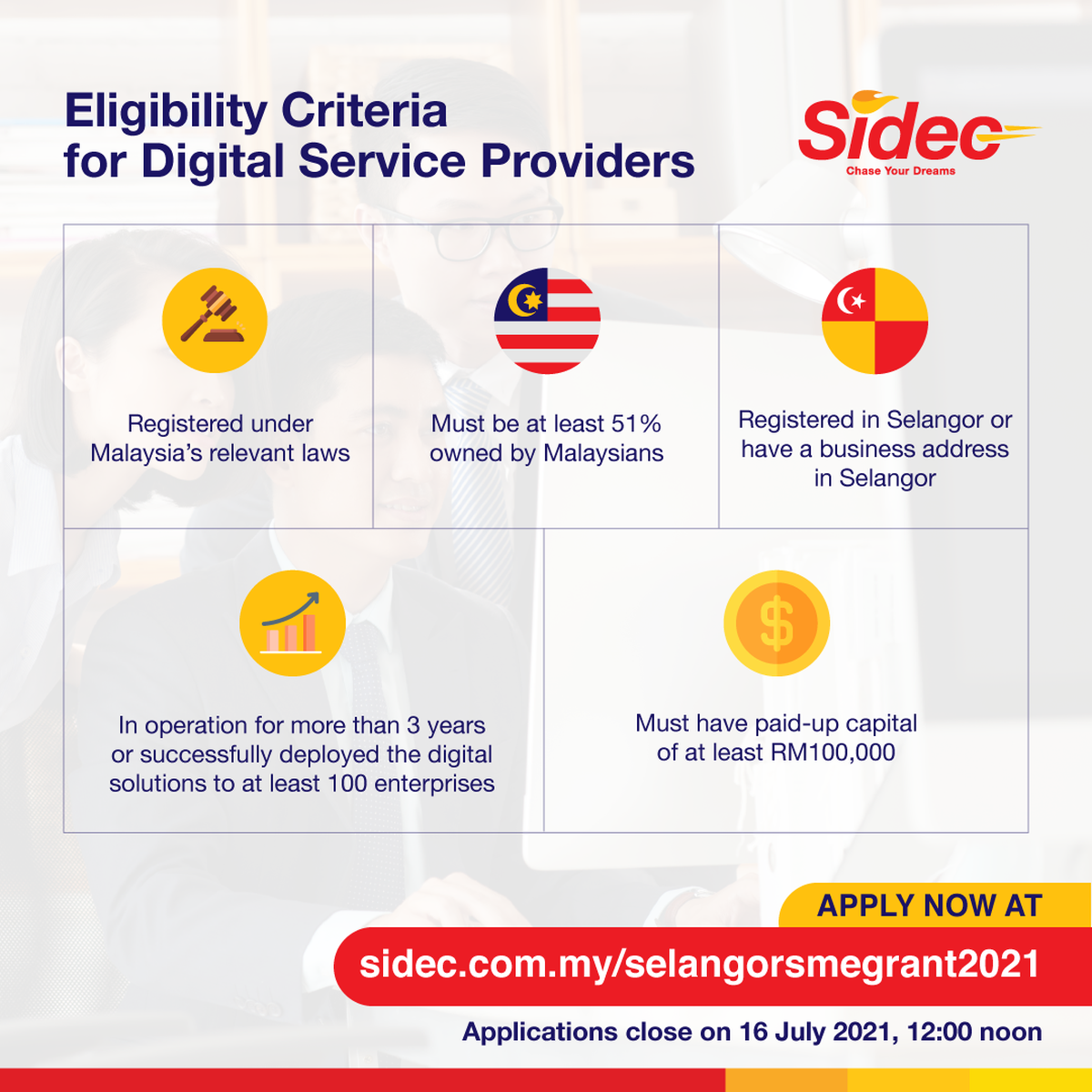 During the application process, DSPs must also attach supporting documents including the latest CTC of SSM certificate, CTC of Form 9/Form 32A together with the complete set of Form 24, Form 44, and Form 49.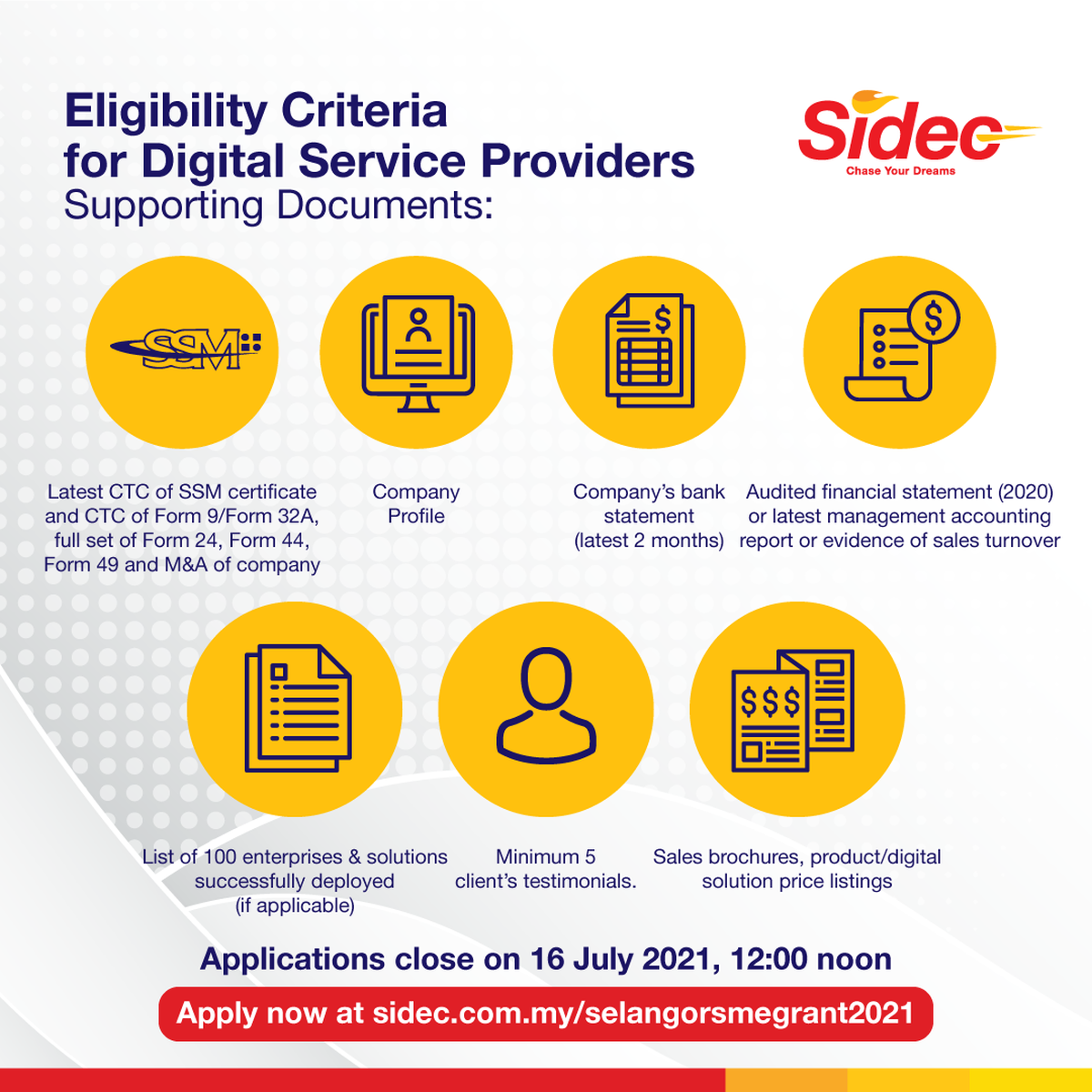 Furthermore, the company profile, a two-month bank statement as well as an audited financial statement from last year are also required to be submitted. At least 5 client testimonials and relevant sales brochures must also be present.
Applicants will receive an email notification on the application status within 21 business days.
How can SMEs apply for SIDEC grant?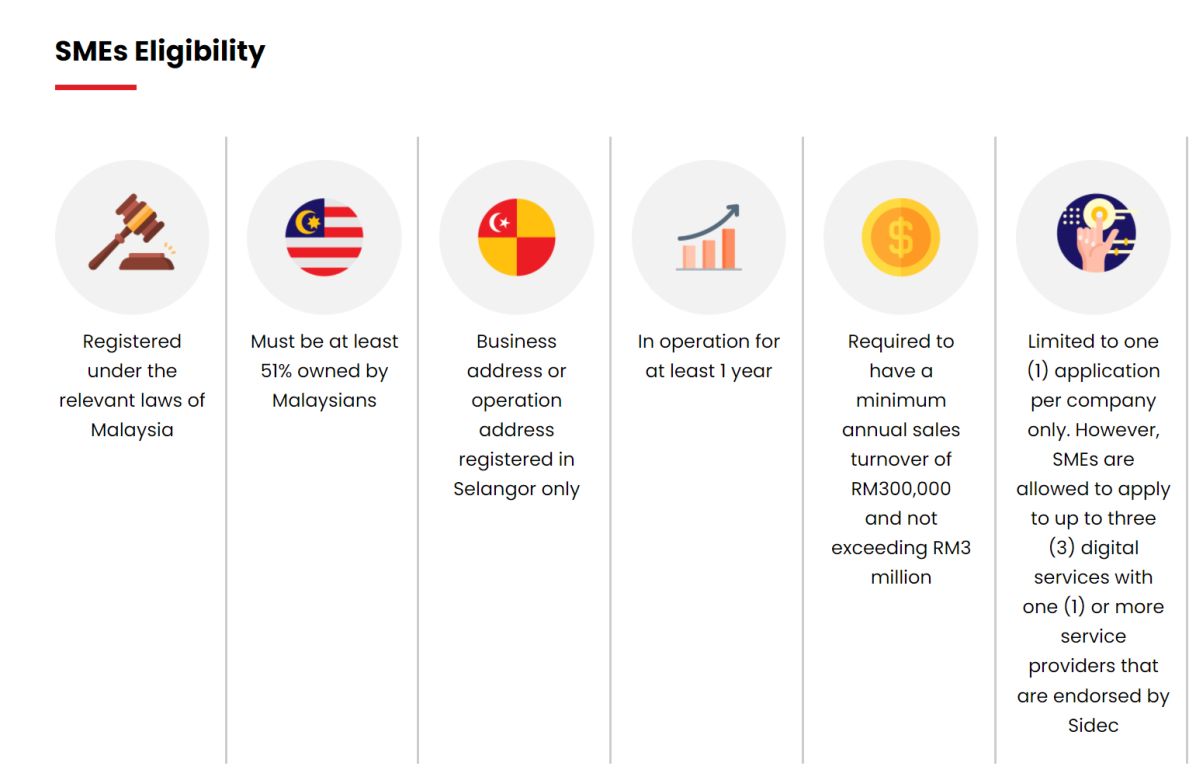 For SMEs to apply, they are required to have been operating in Selangor for over a year, while yielding a minimum 51% Malaysian ownership as well as an annual sales turnover between RM300,000 to RM 3 million.
The grant is limited to one application per organisation. The current list of DSPs authorised by SIDEC can be viewed here.
The Selangor government formed SIDEC to cultivate Selangor's digital transformation as the digital hub of ASEAN, while focusing on its key digital economy areas – e-commerce, startups and SME digitalisation.
The Selangor SME Digitalisation Matching Grant initiative was first launched in April 2021, with the Selangor government allocating RM5 million. In the first round of applications, RM1.2 million was approved, successfully aiding 280 SMEs. The initiative targets to benefit a total of 1,000 organisations.
According to Selangor executive councillor for Industry and Trade Dato Teng Chang Kim, Digital Marketing is the most popular among SMEs at 31.8%, followed by Cloud Accounting at 25.4% and digital HR and Payroll system at 16.6%.
DSPs can now send in their applications from July 1 to July 16, with a 12:00pm deadline, by clicking here. SMEs on the hand, will be able to apply for the grant starting August 1.