Huawei recently announced the global launch of the Huawei Watch 3 and Watch 3 Pro, their first smartwatches powered by their in-house HarmonyOS operating system. Now, Huawei has confirmed that it will be coming to Malaysia, with a special announcement on it set for the 25th of June.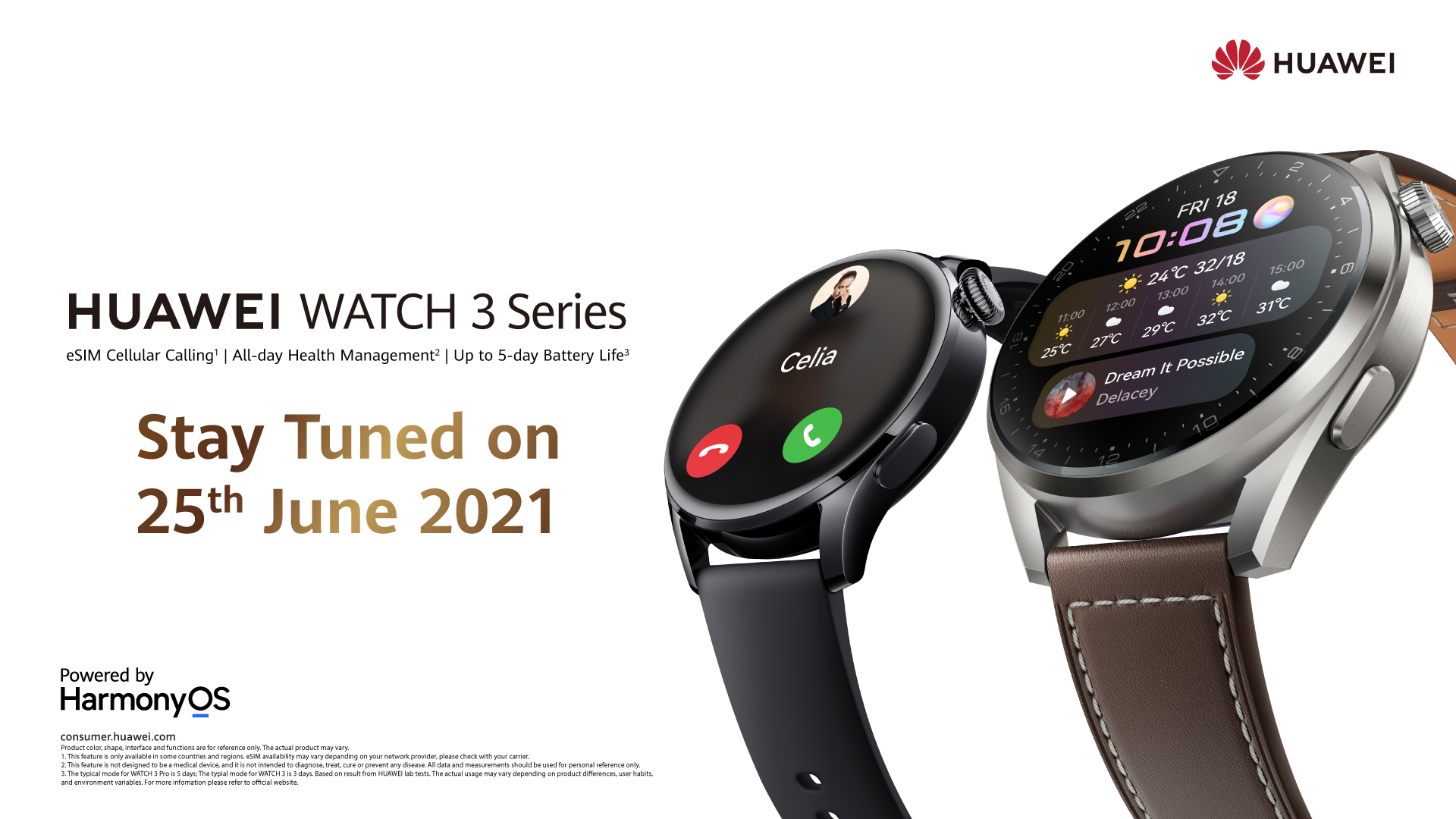 To recap, the Huawei Watch 3 features a 1.43-inch, 466×466 AMOLED display with fullscreen touch gesture operation. The edge-to-edge screen has a rotating bezel reminiscent of the Apple Watch on the right for you to control it with. Helping run HarmonyOS is 2GB of RAM and 16GB of storage. You can also expect a 3 day battery life when using smart mode, while the Watch 3 can last up to 14 days when in ultra-long battery life mode.
There's also a high-precision temperature sensor in the Watch 3, allowing for skin temperature detection. This is on top of other new features such as handwashing and fall detection for users to monitor their health and workout progress. Huawei has added eSIM support, while you can answer MeeTime calls with the smartwatch too. It supports other OS syncs too—all you have to do is scan the QR code right out of the box. Huawei Malaysia added that users in Malaysia will be able to download apps as well through the on-device Huawei AppGallery.
The Huawei Watch 3 Pro has fairly similar specs, but notably has a much longer battery life compared to the base model. According to Huawei, it'll last up to five days in smart mode while switching it to ultra-long battery life mode nets you three weeks of battery life. The Pro variant is also made of titanium and ceramic, compared to the non-Pro's stainless steel and ceramic chassis.
As mentioned earlier, Huawei Malaysia will be making an announcement on the Watch 3 series later this month on the 25th of June. While the price hasn't been revealed just yet, they have hinted that the launch will be accompanied with special promotions and free gifts, so if you're interested you can check out their Facebook page. In the meantime, you can also visit its product page for more information.
Related reading