Almost two decades ago in 2003, Adobe famously weighed in on the PC vs Mac debate with the bold claim that the PC was the faster option when using their applications. These days though, with Apple's new M1-chip powering their hardware, Adobe now claims that the M1 chip runs their applications up to 80% faster.
This comes as Adobe got the Pfeiffer Consulting firm to test two nearly identical MacBook Pro 13 laptops, hooked up to an Apple Pro Display XDR, with the main difference being the processor running it. Specifically, the laptops used were:
Apple M1 laptop – 13 inch M1 MacBook Pro,16GB RAM, 2TB SSD

Intel laptop – 13 inch Intel Core i5 MacBook Pro, 16GB RAM, 2TB SSD
The results certainly reinforced Apple's decision to walk away from Team Blue. In every single benchmark Pfeiffer carried out, the M1 machine smoked its Intel compatriot.
In Photoshop for instance, there was on average an 89% improvement on the Apple M1. Their tests saw content-aware fill being over 3 times faster, while resampling an image with complex layer structures to 200% was almost 1.5 times faster.
"It seems clear that Photoshop strongly benefits from, among other aspects, the unified memory architecture of the M1 chip, as well as from the acceleration provided for Adobe Sensei-powered features by the Neural Engine of the Chip, as can also be seen in benchmarks of other Creative Cloud apps," – Pfeiffer report
The highest average improvement was seen in Lightroom Classic, with a whopping 116% improvement in performance. That's saying quite a lot, seeing as Lightroom Classic has been known to be one of Adobe's slowest programs. Even the lowest average M1 gain over Intel stood at 59%, in InDesign.
On average, the M1 laptops performed a massive 83% faster than the Intel-powered MacBook Pros. You can check out the table below for the specific numbers: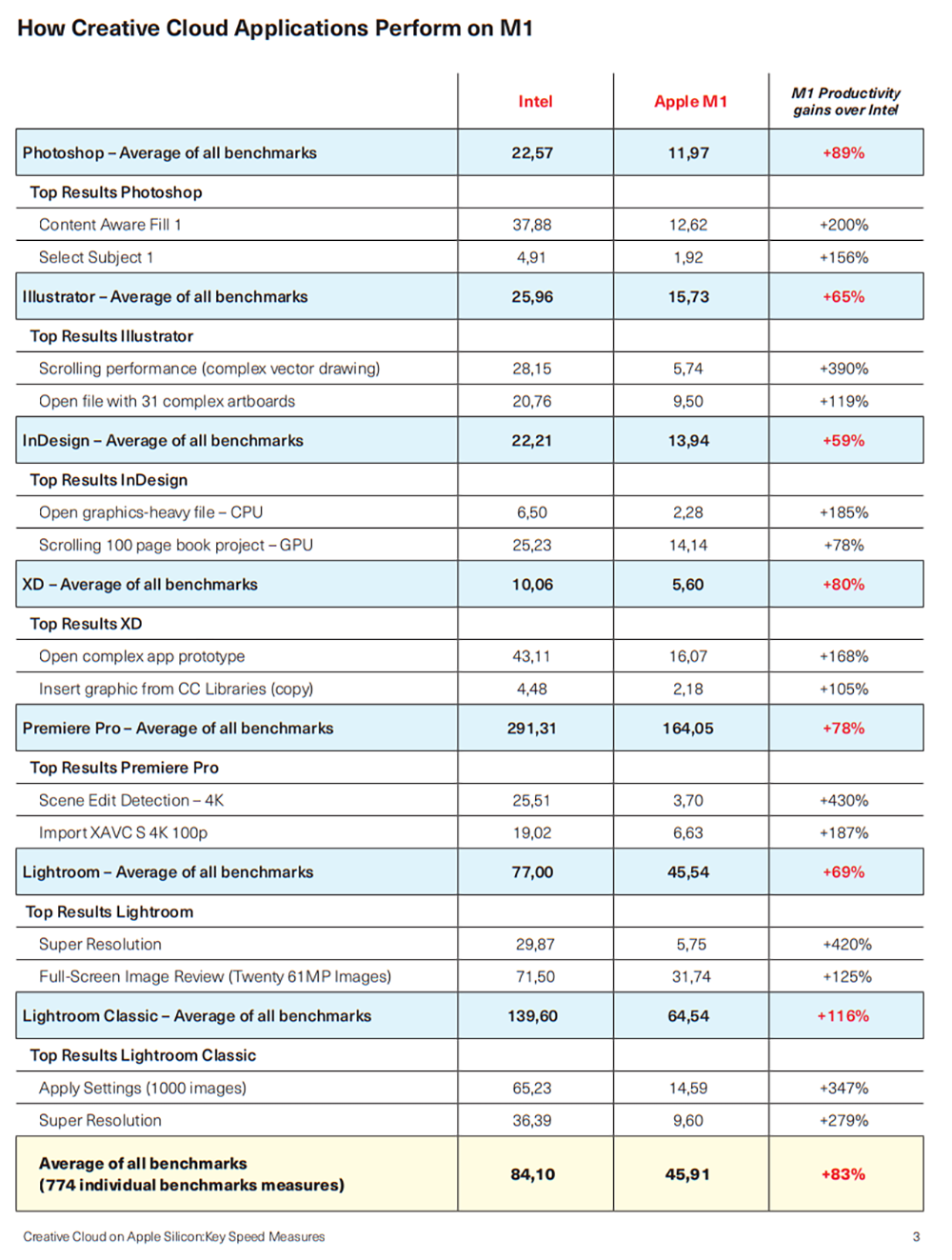 Curiously, Pfeiffer had opted not to use the higher-spec MacBook Pro 13 that has an Intel Core i7 in it. Furthermore, while the M1 MacBook Pro maxes out at 16GB of RAM, you could still have more RAM on the Intel variant, for a total of 32GB.
That being said, the Intel MacBook Pros are certainly a lot costlier. The M1 machine that Pfeiffer tested costs RM 9,599 in Malaysia, while their Intel variant would cost RM 10,399. Had they decided to use the higher-spec Intel Core i7 version, it would've added RM 800 to the pricetag.
Going back to the Pfeiffer report, if you're interested in reading the full scope of their M1 vs Intel tests, you can click here.
Related reading