Okay, so I know snores are pretty common, but there might also be an underlying issue to them. It's why Fitbit might soon add snoring and noise detection to its devices—which could also monitor snores from the people around you, besides your own snores.
According to 9to5Google, they found that Fitbit might soon introduce a "Snore and Noise Detect" feature after decompiling the latest version of the smartwatch app. They were "able to see various lines of code" that hints at possible future features, but they also note that Google may not even launch it.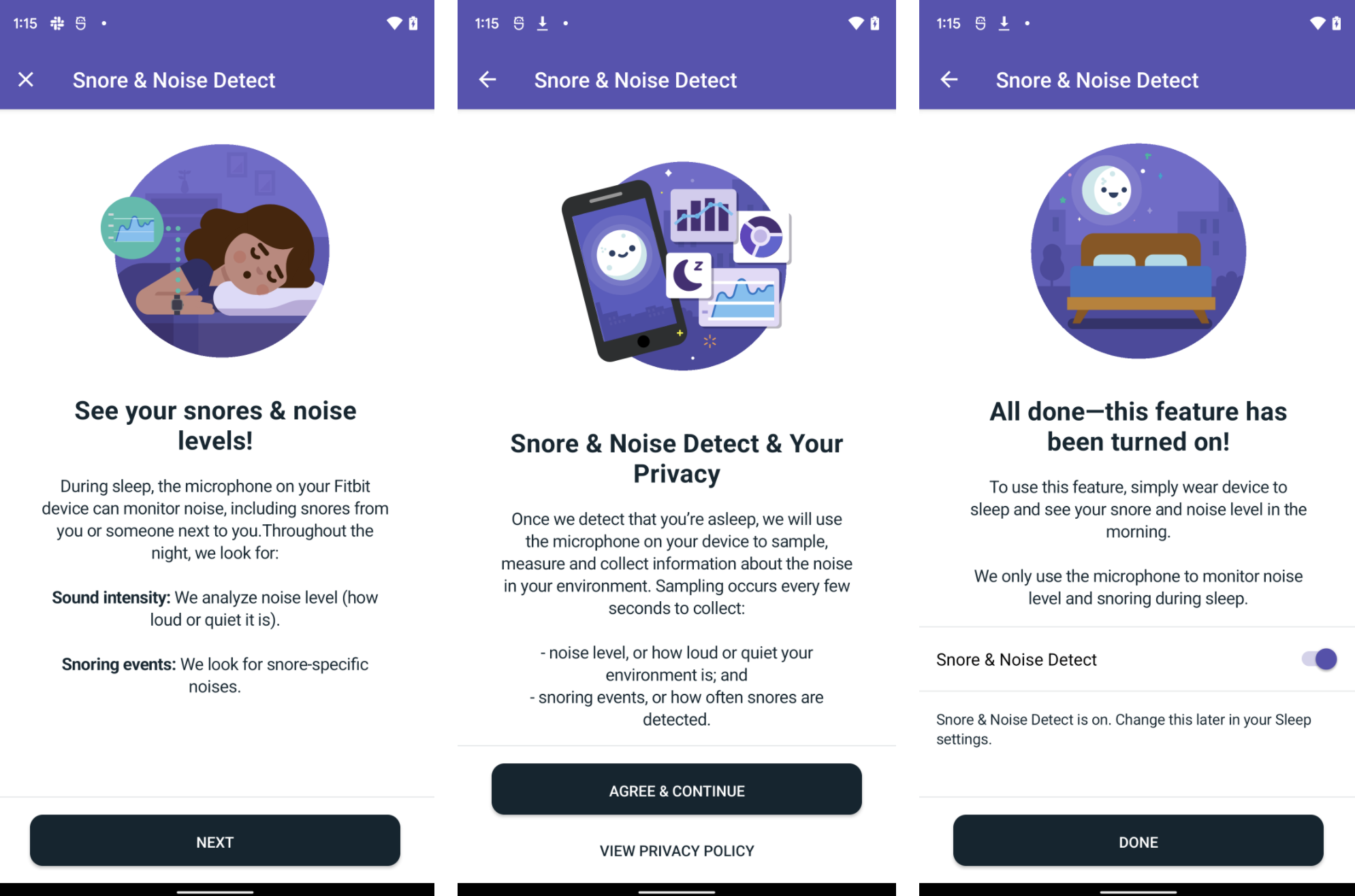 The "Snore and Noise Detect" feature allows a Fitbit's microphone to listen to "ambient noise including your potential snoring" after you've fallen asleep. It also lets you track the noise of someone who sleeps next to you—which does sound a little creepy.
However, it can't distinguish who is snoring, which sounds a little inconvenient. The feature also doesn't recommend users to play white noise or other ambient sounds in the bedroom as it can interfere with the snore detection.
The possible results after Fitbit detects your snores include:
None to mild: Snoring for less than 10% of the total time you were asleep.
Moderate: Snoring for 10–40% of the total time you were asleep.
Frequent: Snoring for >40% of the total time you were asleep.
Fitbit would also be able to tell how loud the ambient noise is in your bedroom, from "very quiet" to "very loud". The information comes from the acoustic pressure measured by the Fitbit device's microphone.
The feature analyses noise level, and tries to find "snore specific" sounds and patterns. In addition to the it constantly listening to you and your partner sleep, doing so would cause a major drain on the device's battery. Fitbit recommends "charging your device above 40%" before sleeping.
Fitbit might also introduce "sleep animals", which lets you correlate your own sleeping pattern with an animal. For example, a restless sleeper would be a bear, and a slow-to-fall-asleep sleeper would be a kangaroo. But it appears to also be in an early stage of development and there is no more information to what we can do with this revelation.
Fitbit's "Snore and Noise Detect" feature isn't available yet to users. But while it is a little creepy that a feature like it would be possible soon, it might help detect something like sleep apnea.
Related reading