I was one of the ones who succumbed to purchasing a McDonald's x BTS set yesterday along with many others, and I don't regret it—the dipping sauces were pretty good! I am not such a huge BTS fan that I would purchase the packaging for RM21.90 on Shopee—but it looks like someone did.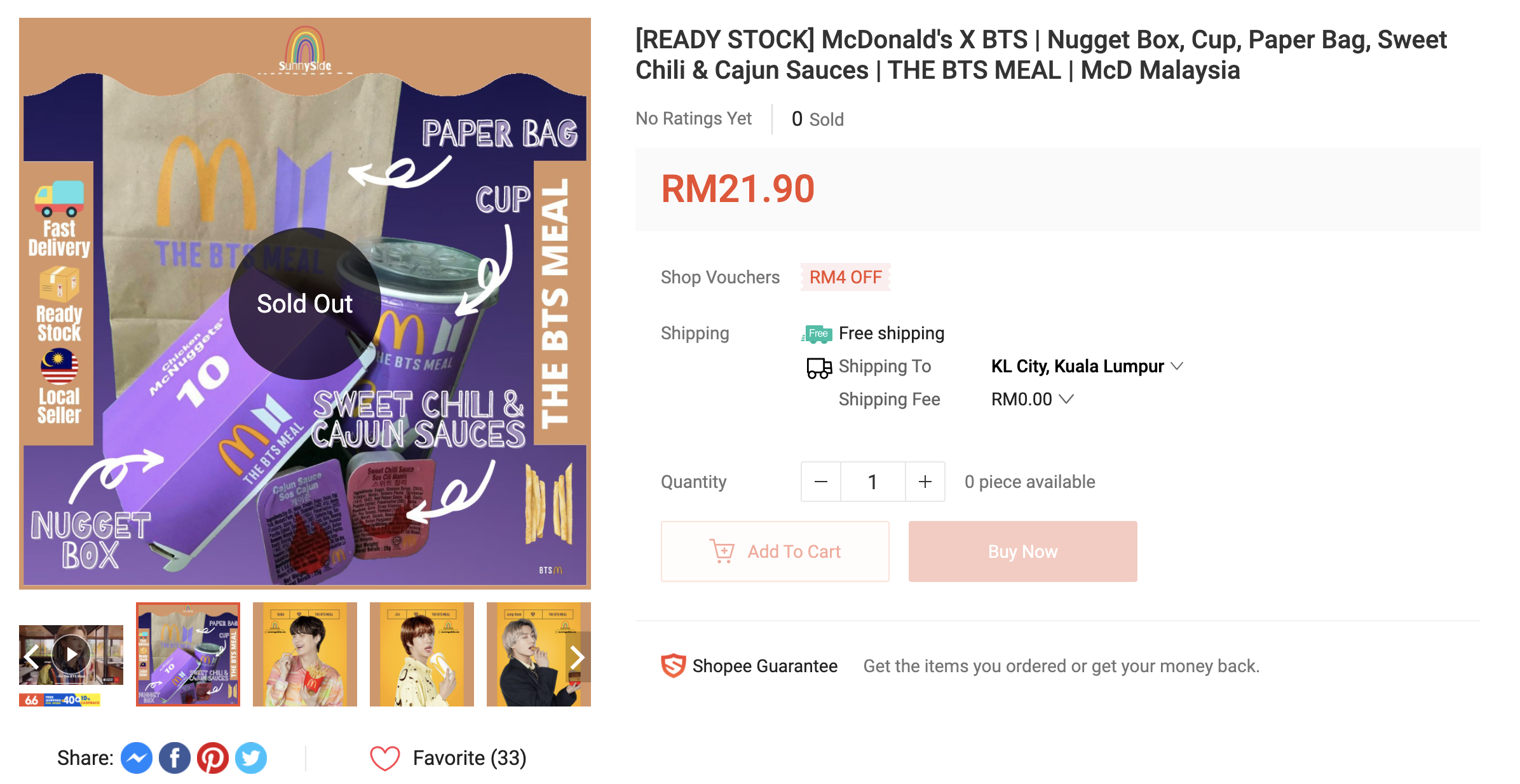 A seller took the opportunity to sell their original BTS-themed McDonald's meal packaging for RM21.90—about RM4 more than the actual BTS meal sold at McDonalds. And surprisingly, it has already been sold.
"We know you're excited, we are excited too! But safety's first. The BTS Meal collection is available at our Shopee store," wrote Shopee store SunnySide.
The set that was sold included a McDonald's x BTS nugget box, cup, paper bag, and the sealed special dipping sauces (Sweet Chili and Cajun). They also warned that the product had been filled with food and drink before.
Looking at the Shopee results for "McDonald's BTS", you can see a handful of sellers letting go of their packaging for different prices. One seller also had the audacity to sell theirs for RM59.90—complete with grease stains on the paper bag. When I tried to look for the same thing on Lazada, nothing really popped up except for a couple BTS-themed sweatshirts.
I don't personally see the appeal of being just its packaging for such a high price, especially as you can still get the McDonald's meal in Malaysia for cheaper which also comes with actual food. I'd say save your RM4, buy yourself a BTS meal and keep that pretty purple packaging for yourself.
[ SOURCE, IMAGE SOURCE ]
Related reading