Whenever anyone asks me for a tablet recommendation, I almost always tell them to go for an iPad—any iPad, depending on their budget. The Android tablet ecosystem has just been underwhelming in recent years, while Apple has continued to work on improving the iPad experience via iPadOS, and continued software improvements over the years (plus great peripherals like the Apple Pencil).
However, the Galaxy Tab S7 series offers some of the best hardware in the Android tablet market, and Samsung has also improved the experience with value-adds such as Samsung DeX—the desktop version which impressed me on the top-of-the-line Tab S7+. These don't come cheap, however, so Samsung has now reportedly released an FE version of the Galaxy Tab S7, as first reported by XDA Developers.
For some context, FE stands for Fan Edition, and the moniker usually indicates that this is a flagship device—with some compromises made for the sake of cost reduction. A good example of this would be the Samsung Galaxy S20 FE. In any case, this is the first time we're seeing the FE brand on a Samsung tablet, and Samsung accidentally published a page on its German website with the device—and pricing details.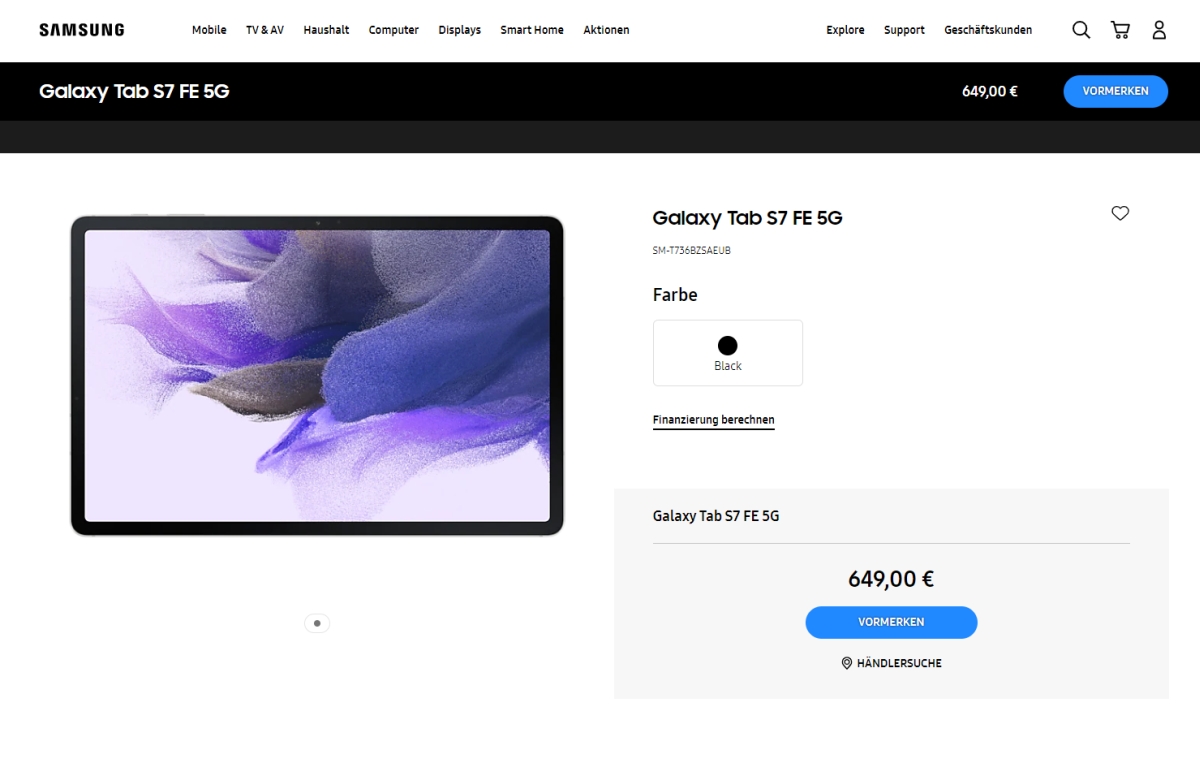 However, if you attempt to click on the page now, the Samsung website automatically redirects you to a Tab S7 page instead. This seems to indicate that the South Korean company accidentally uploaded the details, including a price tag of EUR 649 (~RM3,287), and that the device will be called the Tab S7 FE 5G—with 5G support, obviously.
Two colours will be available: Mystic Black and Mystic Silver, as well as up to 64GB of storage and 4GB of RAM. Meanwhile, the Snapdargon 865 series processor from the regular Tab S7 is replaced on the FE with the upper-midrange Snapdragon 750G—still a very capable chip, it must be said.
Something else that has been downgraded is the display on the Galaxy Tab S7 FE. You still get a large 12.4″ screen, but it's a TFT display rather than AMOLED, pushing a resolution of 2,560×1,600 pixels. You also miss out on a high refresh rate, with a regular ol' 60Hz rate instead.
Meanwhile, other specs include a 10,090mAh battery that can be fast-charged at 45W, with Samsung promising up to 13 hours of video playback on a single charge. Interestingly, you also get an S Pen along with the device, and the Tab S7 FE also comes with support for DeX—which is genuinely a good desktop mode for productivity purposes.
Samsung hasn't actually put out any official word for now, and as mentioned, you can't access the full page anymore. However, it seems really likely now that the South Korean firm will make an announcement in the near future, so hold on—we'll be sure to have the latest coverage here.
[ SOURCE ]