Following the release of the latest iPad Pro 2021, Apple's colourful new iMac 2021 is now available for purchase in Malaysia. This is the latest all-in-one Mac that is powered by Apple's M1 chip and it's priced from RM5,599.
Pricing and availability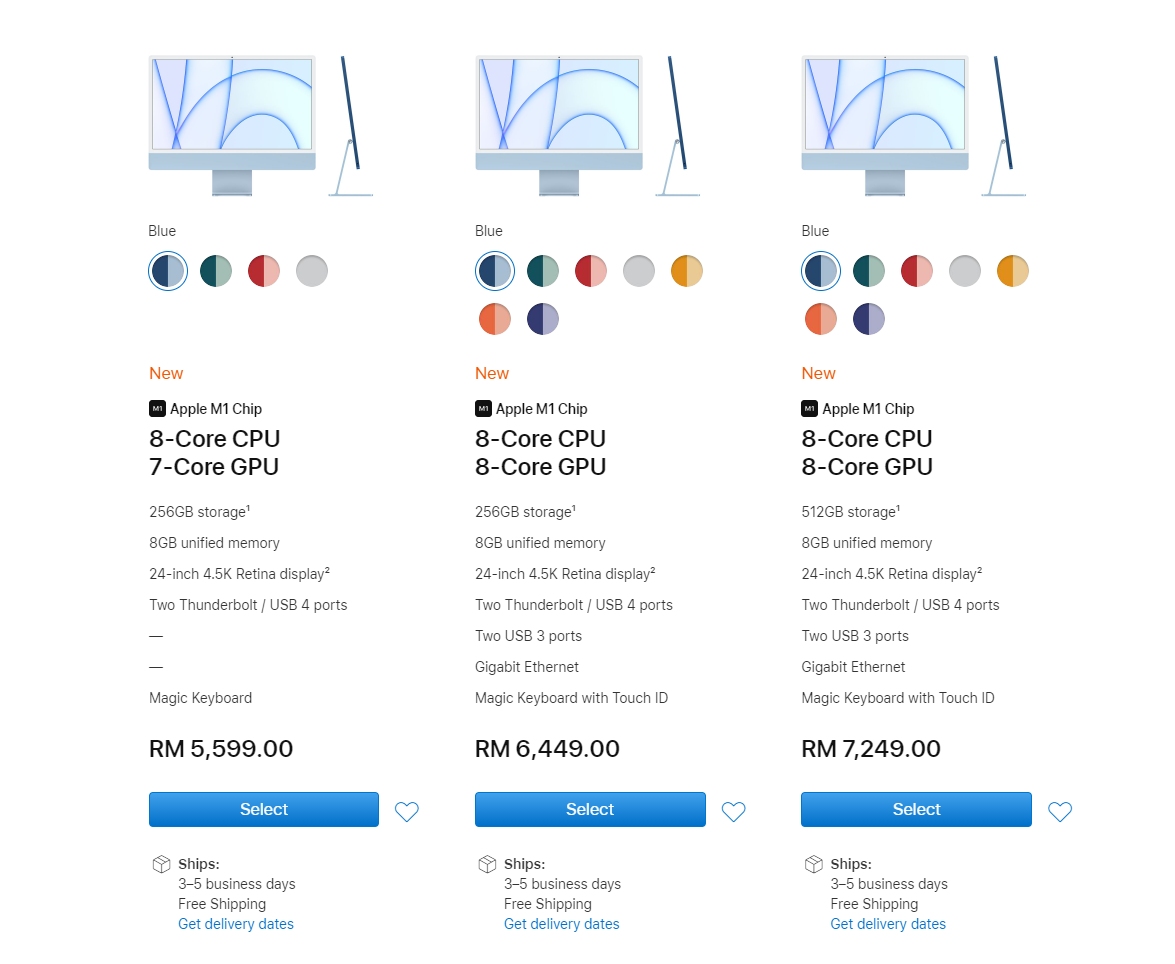 The base iMac with a 7-core GPU and two Thunderbolt (USB4) ports is priced from RM5,599. Meanwhile, the higher-spec option with an 8-core GPU and two Thunderbolt (USB4) + two USB 3.0 ports is priced from RM6,449. The mentioned prices are for the 8GB RAM and 256GB SSD storage configuration.
The entry-level iMac can be customised with up to 16GB RAM and up to 1TB of storage. To upgrade from 8GB to 16GB RAM will cost you an extra RM800 and each storage bump (e.g. 256GB to 512GB, or 512GB to 1TB) will cost you RM800. The higher-spec 8-core GPU iMac can be upgraded to 16GB RAM and up to 2TB of storage. The jump from 1TB to 2TB SSD will cost you an extra RM1,600.
If you order today via the Apple online store, it will ship in approximately 3-5 business days. If you customise the iMac with 16GB RAM or 1TB storage and higher, it will take 5-6 weeks to ship.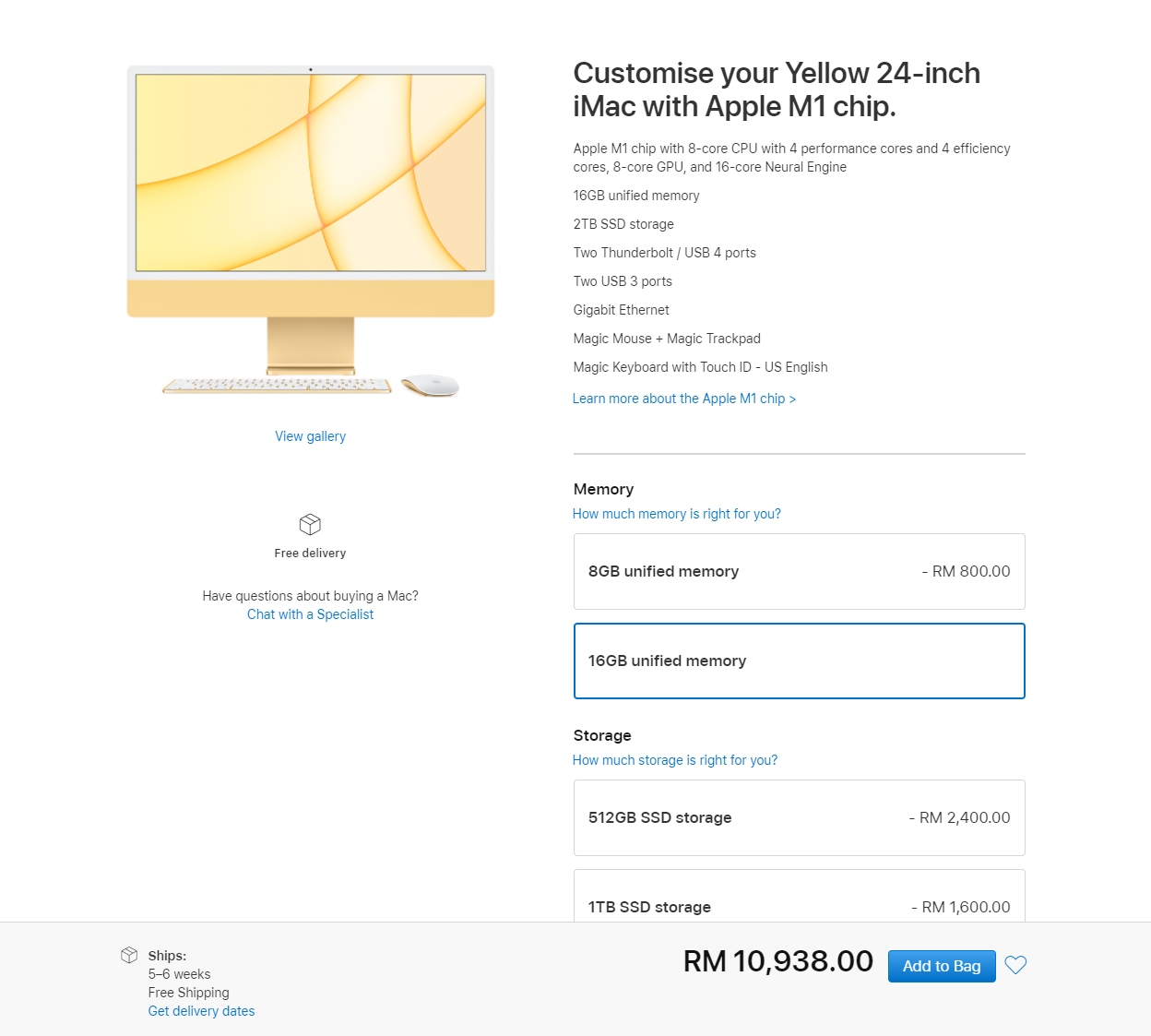 A fully-specced iMac 2021 with 8-core GPU, 16GB RAM, 2TB SSD storage and with both Magic Mouse and Magic Trackpad will cost you RM10,938. That's excluding the optional software options such as Final Cut Pro (RRP: RM1,299) and Logic Pro (RRP: RM799).
In terms of colours, the base iMac (7-core GPU) comes in Blue, Green, Pink and Silver, while the higher-spec (8-core GPU) option gets the full array of colours including Yellow, Orange and Purple.
Hardware Specs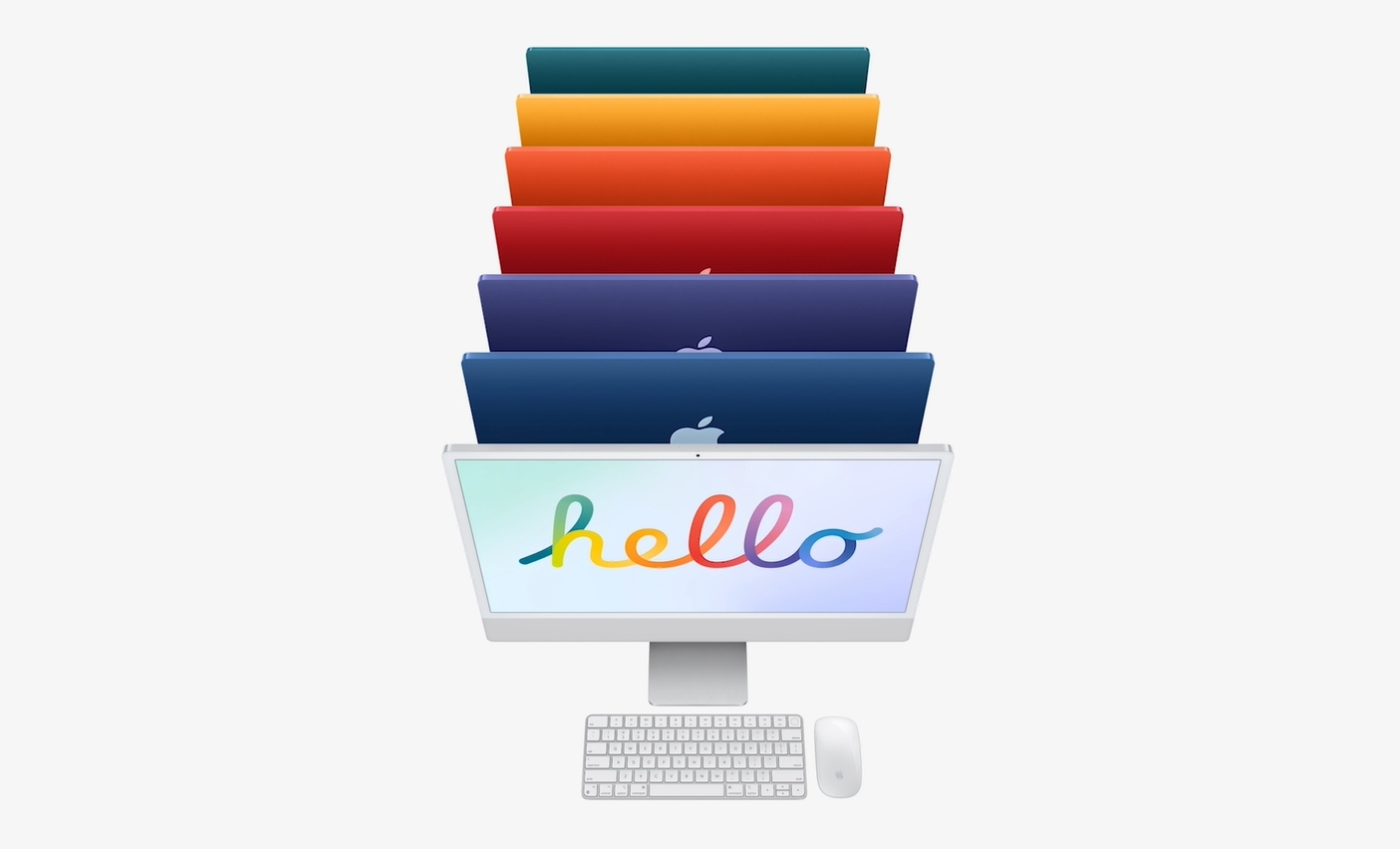 The new iMac 2021 features a 24″ 4.5K Retina Display (4480×2520 pixels) and it runs on the new ARM-based M1 chip which is also found on the new iPad Pro 2021, MacBook Air and entry-level MacBook Pro. The new all-in-one desktop is significantly slimmer at 11.5mm thanks to its smaller logic board. Apple claims that the M1 chip provides up to 85% faster CPU performance compared to its previous 21.5″ iMac.
The new iMac gets colour-matching Magic Keyboard and Magic Mouse which now comes with Touch ID for the higher-spec iMac (8-core GPU). The keyboard included with the lower-spec iMac (7-core GPU) gets a lock key instead of a fingerprint sensor.
Another major upgrade is the FaceTime HD camera which offers 1080p resolution and improved video quality which is made possible by the M1's image signal processor. Apple claims that you'll get better noise reduction, enhanced dynamic range and better white balance for FaceTime video calls.
In addition, the iMac now gets a 6-speaker setup that offers spatial audio with Dolby Atmos. Apple still retains a 3.5mm headphone jack but they have removed the SD card slot. You can learn more about the new iMac 2021 in our previous post.
Related reading