As previously announced, the government's Program Jaringan Prihatin programme has now begun, with Maxis also revealing its own subsidy programme today. In total, RM2 billion has been allocated to help 8 million eligible Malaysians, with those who are eligible for the Bantuan Prihatin Rakyat (BPR) programme included.
Meanwhile, Celcom has confirmed details for its own programme as well, with eligible Malaysians to receive:
Free 2GB daily internet for 1 hour and
Rebate of RM15 for 12 months or subsidy of RM180 (individual) or RM300 (household) for device purchase with Celcom
Do note that these subsidies are disbursed differently depending on telcos and plans selected.
Am I eligible for Jaringan Prihatin?
All Malaysians who are already eligible for BPR will qualify for the subsidised telco packages. To find out if you are eligible, enter in your details here. If you are already a Celcom Postpaid customer, you can check on your status via the Celcom Life app. Or, you can check if you are eligible for BPR here.
The programme is open to all eligible Malaysians above 18 years of age, including new registrations and existing customers, MNP registrations, prepaid-to-postpaid conversions, and Pass upgrades. Jaringan Prihatin runs for 12 months from the date of registration, with the signup period running from the 5th of May 2021 (today) till the 31st of July 2021.
You can sign up during this period via:
Celcom Life app
Bluecube
Celcom Certified Partners Nationwide
Celcom Online Shop
Celcom Account Manager
Celcom Prepaid
The following diagram explains the rebates available to eligible customers: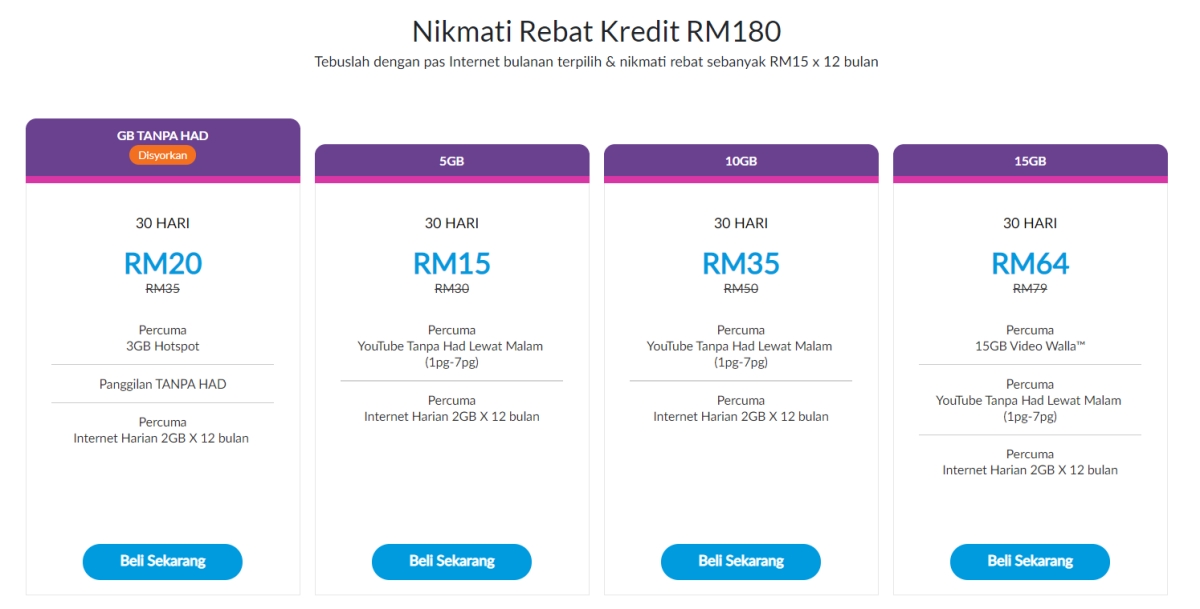 Rebates of RM15/month will be granted for the plans above, which amounts to RM180 of savings over a 12-month period. You'll also be able to redeem 2GB of free data everyday during this period via the Celcom Life app.
Celcom Postpaid
For Celcom Postpaid plans, eligible households with children will be able to redeem a rebate of RM300 for a new phone purchase with Celcom or a monthly rebate of RM25 over a 12-month period with a free phone included. In addition, an additional rebate of RM60 with Celcom XP Lite is provided, along with 2GB of free daily internet. For individuals without children, the rebate for a new device is RM180, or a monthly rebate of RM15 over a 12-month period (no free phone included; RM60 XP Lite rebate and 2GB of free daily internet included).
Plans are as follows:
To find out more, click here for Celcom's page. Meanwhile, scroll down to the related reading section for coverage on other telcos.
Related reading