The iPad is arguably the best tablet you can get your hands on today—whether we're talking about the regular, basic iPad, or the M1-powered supposed laptop replacement iPad Pro. These have been backed up by numbers from IDC, which reveal that Apple holds 31.7 percent of the market share in tablets during Q1 2021—a marginal increase from 30 percent in Q1 2020.
Meanwhile, Apple's closest challengers in the tablet space comes in the form of South Korean company Samsung (as expected), who—in my opinion—are among the best when it comes to Android tablets (read my review in the related reading section down below). They have a market share of 20 percent in Q1 2021, slightly up from 19.3 percent in Q1 2020.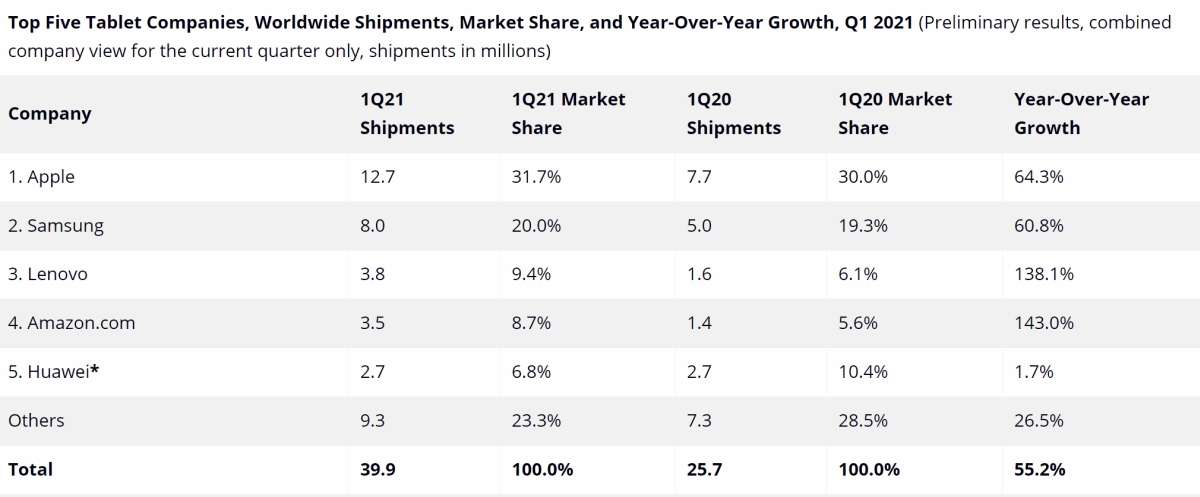 Meanwhile, tablets as a whole have seen a growth of 55.2 percent over the past year, with Amazon recording the highest YoY growth from Q1 2020–Q1 2021. Huawei clings onto the last spot in the top 5 rankings, although this includes Honor, with dwindling market share of 6.8 percent (down from 10.4 percent).
This can arguably be attributed to the loss of access to Google Mobile Services (GMS) on Huawei tablets, which have significantly affected the functionality that devices like the MatePad Pro can really offer. For example, the MatePad Pro is a device that is clearly designed to be a media consumption device, but without Widevine support or official whitelisting by Netflix, you're limited to measly SD resolution on the app.
"While much of the world is still dealing with the COVID-19 pandemic, sales of tablets and Chromebooks remain on fire. Tablets had an outstanding first quarter of 2021 (1Q21) with 55.2% year-over-year growth and shipments totaling 39.9 million units."
According to a research analysts at IDC, the growth in the tablet market is expected to continue, due to COVID-19-related situations:
"While vaccine rollouts and businesses returning to offices may slow down the work-from-home trend, we are still far from returning to 'normal' working conditions and hence the demand for tablets, especially detachables, is expected to continue for a while."
Also interesting is the fact that Chromebooks are rising in popularity, particularly in the education industry. In fact, IDC says that Chromebooks have "supplanted tablets", although pricing and a "dependence on cloud services" continue to be obstacles for the device.
To read the full report, click here.
[ SOURCE ]
Related reading