In conjunction with Ramadan and the upcoming Raya celebrations, Celcom has announced its new Raya promo where you can enjoy non-stop HD streaming, video calls and more without limit on its Home Wireless broadband plans. On top of that, you can stand a chance to win RM500 Lazada voucher if you subscribe online from now until 30th April 2021.
The "Unlimited" promo is offered for its highest Home Wireless XL plan which is priced at RM150/month. Originally, the plan offers 150GB of high-speed data coupled with 1TB of Super VideoWalla & MusicWalla. This 1TB quota can be utilised for YouTube, Netflix, Dimsum, viu, Astro Go, iFlix, iQiyo, Spotify and Joox. The plan is bundled with a 4G-LTE Cat11 wireless modem on contract and there's also a 7-day return policy where you can cancel with no monthly fee if you're not satisfied with the service.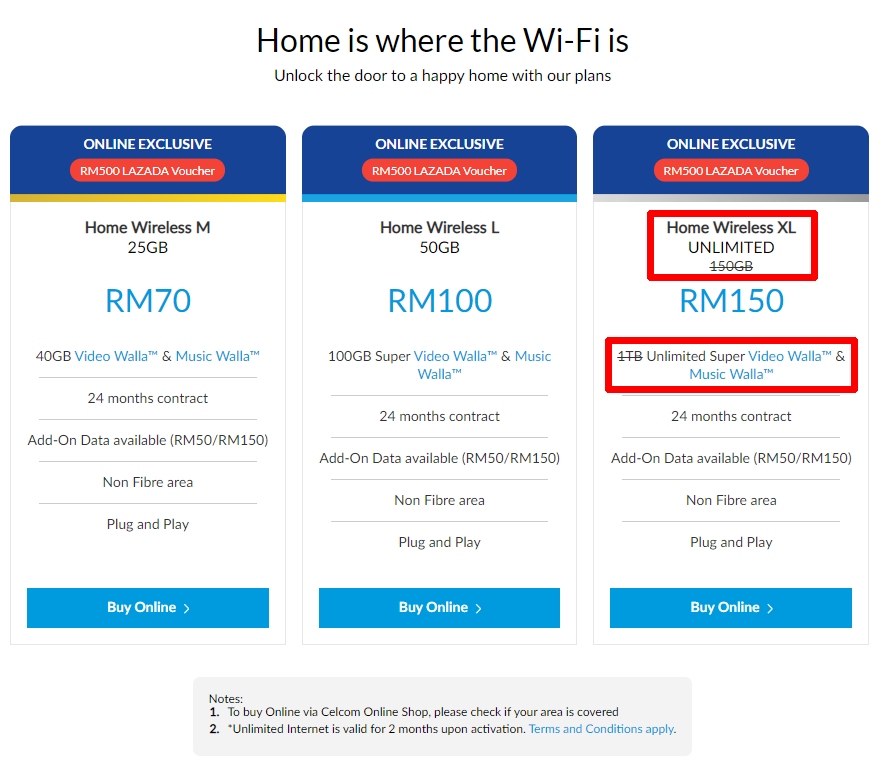 As shown on their website, the Raya promo promises to offer "Unlimited" for both high-speed data and Super Video Walla and Music Walla. Take note that the "Unlimited" offer is only valid for 2 months upon activation.
If you do check out the Terms & Conditions, it appears that there's nothing unlimited about this Raya promo at all. When you subscribe to the plan, what you're actually getting is an additional 150GB of quota for 2 months. So in total, you're only getting 300GB of high-speed data for the first 2 months, followed by 150GB monthly for the remaining months in the 2-year contract.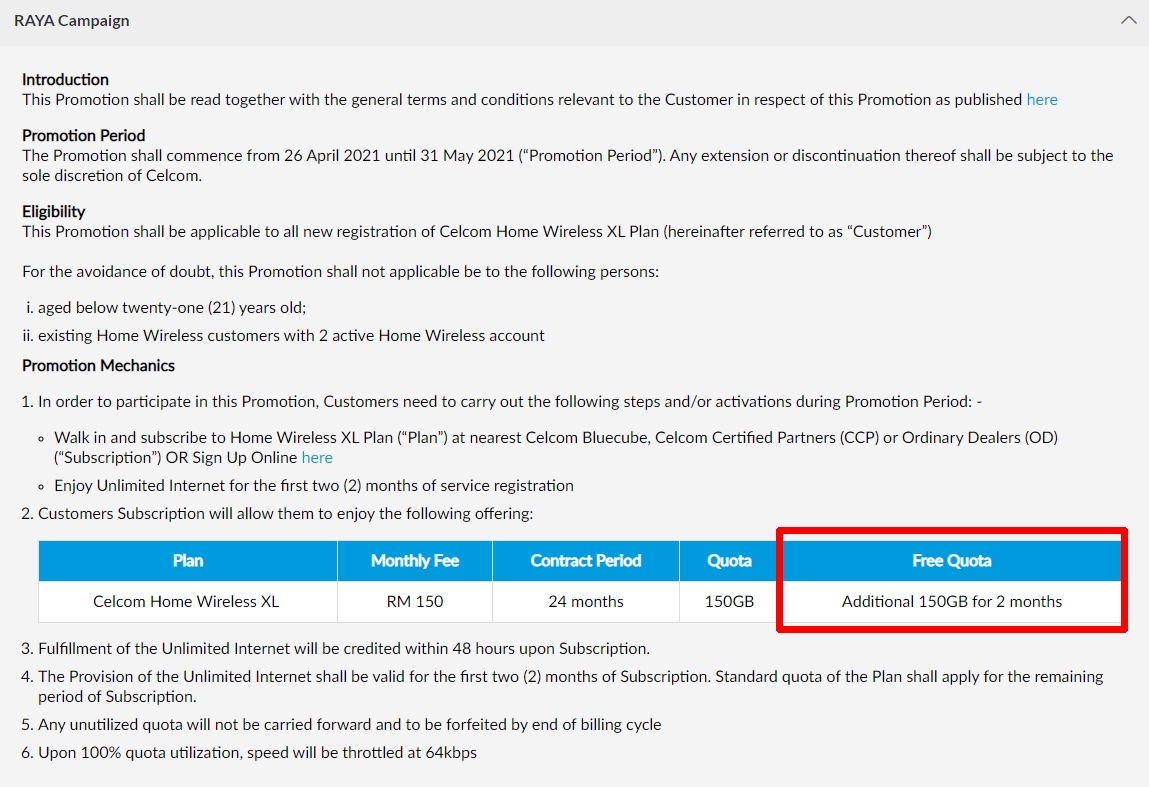 Once you've hit your data limit, your speed will be throttled to 64kbps. If you need more, 10GB of add-on quota costs RM50 and 100GB will cost you RM150. There's also an add-on for video or music walla at RM20 for 40GB.
In addition, it appears that the Super Video Walla quota still remains at 1TB and it isn't unlimited as advertised on the website. In reality, you're getting 300GB of high-speed data plus 1TB for video and music streaming for the first two months.
To advertise this plan as "unlimited" is misleading and most consumers may not be aware that they are only getting double the high-speed quota. A total of 1.3TB inclusive of Video Walla is more than enough for most users and there's no need for Celcom to misuse the word "unlimited" if they don't mean it. We hope telcos will stop using the word unlimited if there are imposing data caps and limits on the plan.
Related reading