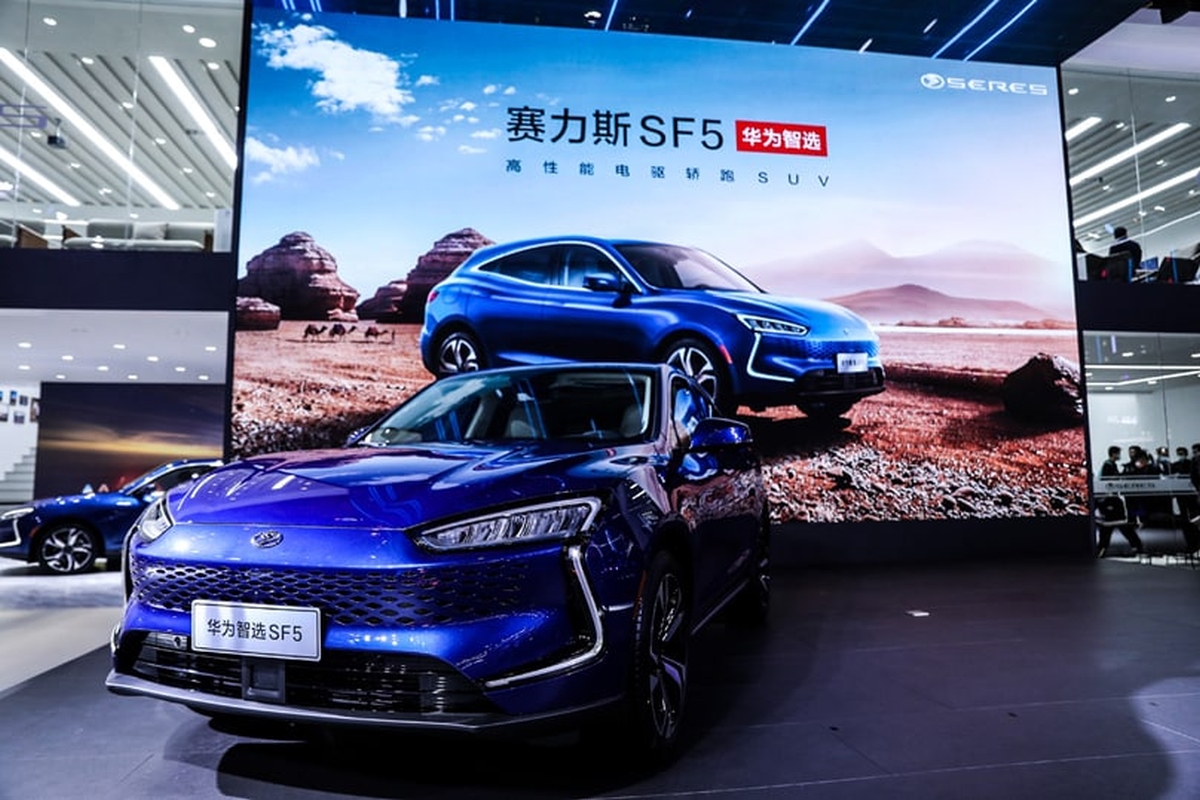 Huawei has just announced that the first car to be sold in its flagships stores in China will be the Seres SF5—which appears to be part of an ongoing push for its 1+8+N ecosystem building efforts. We've heard about this before, of course, with rumours earlier indicating that an electric car from the Chinese company would be arriving sometime this year—although there is a caveat here.
For one, the Seres SF5 isn't technically a pure EV (electric vehicle). Instead, it's an extended range electric vehicle, so you're looking at a larger battery than a conventional electric hybrid, but there is still a combustion engine to help push things along. If you have the time—and you understand mainland Chinese—have a look at the official launch below:
In a nutshell, the Seres SF5 was technically announced awhile back, although Huawei has had a hand in designing the new update—primarily with the Huawei DriveONE Three-in-One Electric Drive system. This combines to offer a flexible 180km in pure electric mode, or over 1,000km in extended range mode for long-distance travellers. Rather impressive is the 0-100km/h time of just 4.68s, too.
Huawei also says that this acceleration is helped by a lightweight aluminium chassis, with a four ball joint double-wishbone front suspension and a trapezoidal multi-link rear suspension. Meanwhile, and perhaps where Huawei's expertise comes to the fore, is the HiCar solutions.
These essentially integrate compatible mobile phone apps onto the SP5's control panel, while the car in itself will be integrated into Huawei's ecosystem of smart devices. You'll supposedly be able to control smart home devices right from your car—stuff like turning on air-conditioners, and the like.
Plus, there will also be a "three-dimensional surround audio system" comprising 11 sound units, a vehicle-to-vehicle rescue recharge mode, and more.
"The new SERES SF5's twisting and bending strength meets five-star safety design standards, with a body made of robust and reliable ultra-high strength 1500 Mpa thermoformed steel. With L2+ level automatic assisted driving, traffic congestion assistance, full speed domain adaptive cruise control and other features, users facing urban congestion don't need to worry about long-distance driving."
The new Seres SF5 will be available in Huawei Stores in China from the 21st of April 2021, with four colours available: Deep Ocean Blue, Charcoal Black, Pearl White, and Titanium Silver Grey. Test drives will also be available, with official pricing set at CNY 246,800 (~RM156K) for the 4WD version, and CNY 216,800 (~RM137K) for the 2WD version.
[ SOURCE ]
Related reading