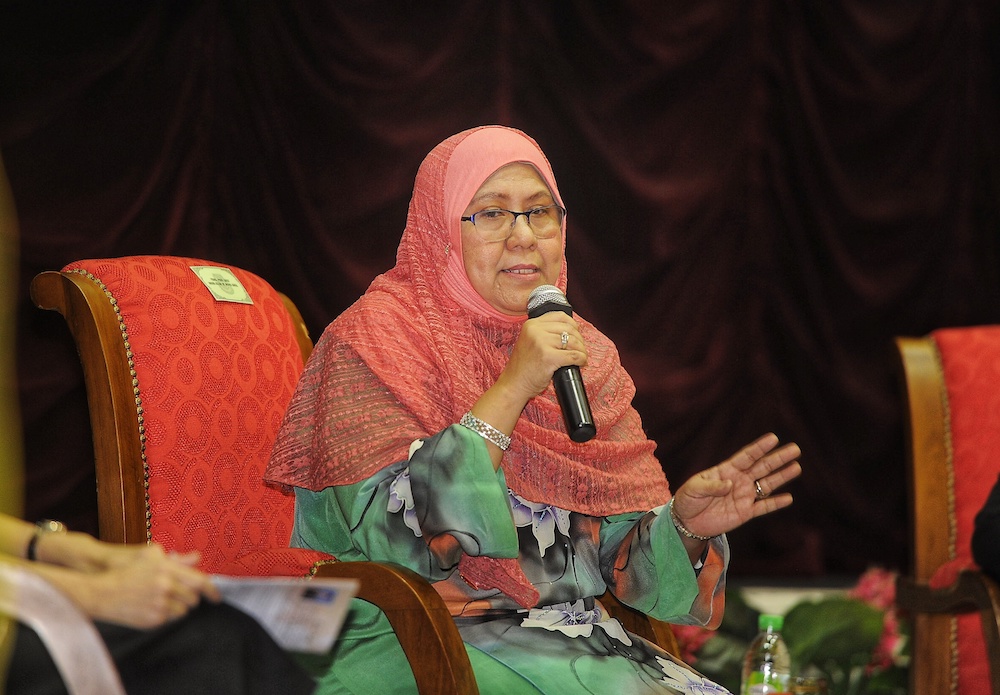 In today's public seminar hosted by MCMC and UNICEF, Human Rights Commission of Malaysia (SUHAKAM) Children's Commissioner Datuk Noor Aziah Mohd Awal shared an overview of children's online protection situation in Malaysia. In her presentation, she shared that the controversial dating app Sugarbook "may have attracted children" to use its platform.
According to Datuk Noor Aziah and SUHAKAM, 9 out of 10 children in Malaysia aged 5 to 17 are internet users, and 92% of students aged 13 to 17 have their own social media accounts. She also stated that there are "real risks and dangers" for an unsupervised child on the internet.
"The internet provides significant opportunities for kids to learn and express creativity, but exposure to online risks like cyberbullying and sexual exploitation can harm a child's mental health and wellbeing," she said.
Datuk Noor Aziah shared that based on the Out of the Shadows Index—which illustrates how countries are responding to child sexual abuse and exploitation—Malaysia in 2019 scored 0/100 when it comes to internet protections, which is the best score a country can get. However, Malaysia scored a scary 100/100 for online grooming.
She also said that the "Sugarbook app issue" is part of Malaysia's online grooming problem, amongst other issues. She explained that children—referred to those under the age of 18—have "relevant gadgets" to access the platform.
A month ago, MCMC blocked Sugarbook for "violating Communications and Multimedia Act 1998". As of today, they're only currently available on Google Play. While there are concerns about the Sugarbook ban saying that Malaysia shouldn't "police sex between two consenting adults", SUHAKAMconcern is that it has may have attracted children below the age of 18 to use the app.
Datuk Noor Aziah also stated that according to SUHAKAM's research, children have admitted that they are viewing porn on internet. She also shared that children may also be victims of online child sexual exploitation—especially during the lockdown period.
What can be done?
UNICEF also shared their "recommendations" to help support children within harmful cyber-related environments. They include integrating technology and social media into parenting and caregiver programmes, and programmes for early childhood development. They also include building the digital literacy skills for parents and caregivers.
UNICEF also mentions that technology companies need to play a part as well. The recommendations include that companies for social media platforms need to make profiles private by default—with the option of making them public through settings.
Default options for contacts should be changed from the default "everyone" to just "friends of friends". And social media apps should be designed to block unsolicited photos sent by people outside contact lists.
Deputy Undersecretary of the Ministry of Women, Family, and Community Development Datin Izzatul Shima Md. Thahir also shared that there is still a lot more work to be done for child online protection. She shared pointers for their "action plan":
Prevention
Improving self identity awareness and knowledge of children in the cyber world
Strengthening prevention and enforcement
Empowering professionals and non-professionals to handle issues of child protection in the cyber world
Enhancing and promoting prevention services
Encouraging participation of communication companies, Internet service providers and broadcasting companies in protecting children in the cyber world
Collaboration between government and the private sector to encourage information sharing in addressing the risks on children safety in the cyber world
Reviewing and examining the need to improve existing laws/guidelines applicable to the protection of children in the cyber world
Improving international cooperation and information sharing
Intervention
Identifying the victims, the perpetrators and the users
Improving communication skills between parents and children, peers, family members and the community
Recovery programme for children in the cyber world
Support Services
Developing a comprehensive recovery programme for children in cyber related social ills
Expanding and improving recovery and support services for the victims, perpetrators, families and local communities
Improving network between the government and NGOs that productive protection services to affected individuals
Engaging children of all levels in the programmes
Conducting research and surveys about child protection in the cyber world
Technology companies like Microsoft have already introduced features to help families protect their children online with apps like the Microsoft Family Safety app (iOS, Android). The app emails parents every week with highlights of the child's digital activity.
There are plenty of initiatives available that try to help raise awareness about child online safety. They include #StandTogether—an anti-bullying initiative, and Digi's Yellow Heart campaign to make the Internet "a space that is safe for all Malaysians".
But it also falls on the Malaysian government to help make these initiatives more known nationwide. Like previously said before by UNICEF, digital literacy skills should be available to parents and caregivers in order to learn the possibilities of what their children can be exposed to. Children also need to be equipped with the knowledge and skills to protect themselves in all settings.
[ IMAGE SOURCE ]
Related reading