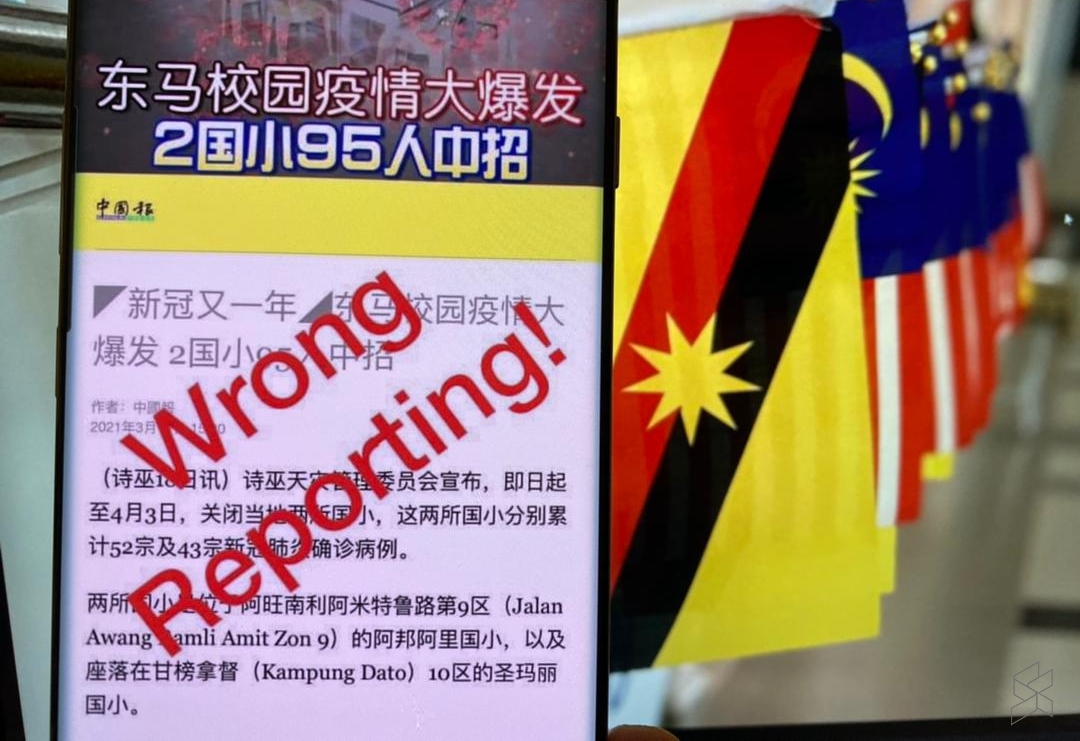 [ UPDATE 21/03/2021 18:00 ]: China Press has deleted the news article which reported 95 positive cases at two schools.
===
Sarawak's Assistant Minister of Local Government and Housing, Dr Annuar Rapaee, has expressed disappointment over circulation of fake news which claims that 95 cases were detected at two schools in Sibu, Sarawak. A social media post which mentions 52 positive cases detected at SK Abang Ali and 43 cases detected at SK St Mary was circulated online and it was also picked up by China Press.
Dr Annuar Rapaee explained that the two schools were closed not because there were positive cases among the pupils but due to the Jalan Awang and Hilir clusters. He added he has mentioned this during his Facebook live stream that the two primary schools located within the same localities have been asked to closed due to the clusters and not as what has been claimed by the viral reports on social media.
The Nangka assemblyman who is also the Sibu Division Disaster Management Committee coordinator has said that this isn't a laughing matter and it can cause panic and unnecessary concerns among the local community. He advised the public not to spread and believe in fake news.
At the time of writing, the news report is still accessible on China Press' website. According to the counter, the post has accumulated over 40,000 views.
Under the Emergency (Essential Powers) (No. 2) Ordinance 2021, individuals that create or publish fake news on COVID-19 or the Emergency proclamation can be fined up to RM100,000 or imprisoned up to 3 years or both. The ordinance comes into effect from 12th March 2021.
A few days ago, Khairy Jamaluddin had blasted Harian Metro for its misleading headline when reporting the death of a nurse in Kedah. The nurse who passed away in Kedah is among the frontliners who have been vaccinated and the Ministry of Health has clarified that her death wasn't linked to the vaccine. Autopsy has shown that she died from a heart attack.
Related reading