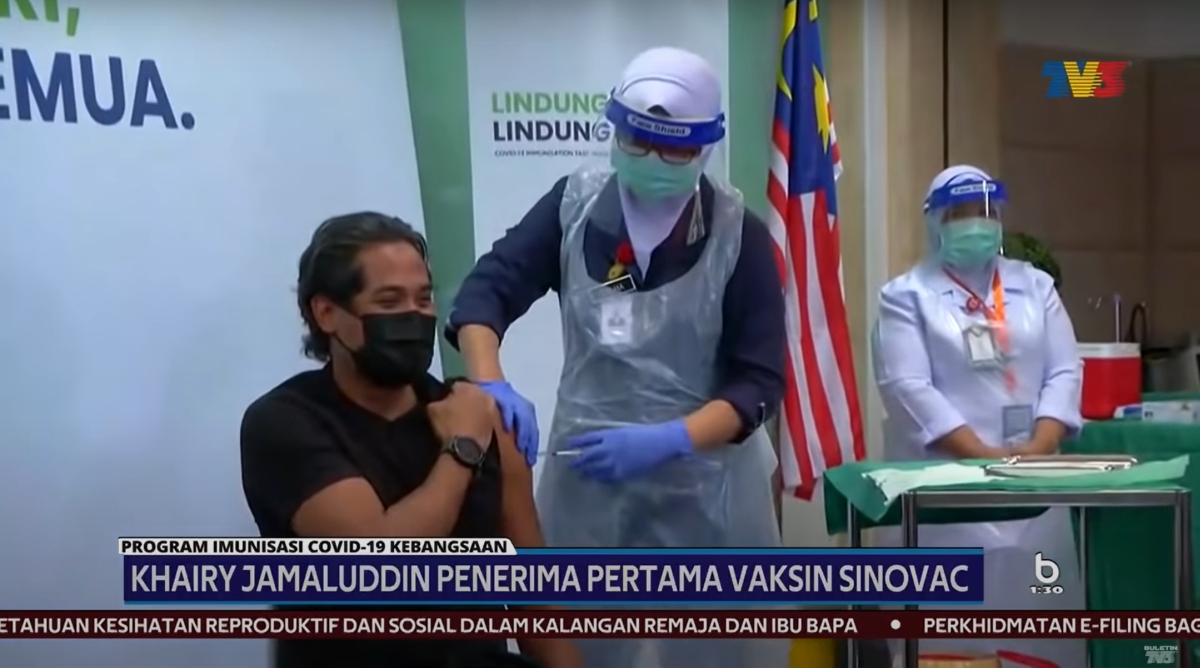 We've done this before, of course. Back in 2018, it was the Yang Di-Pertuan Agong and his choice of smartphone. In more recent times, the focus shifted to our current Prime Minister, and his iPhone 11 Pro Max. We've also seen the current Finance Minister using what looked like an iPad Pro to present the federal budget for 2021, and his predecessor using the Samsung Galaxy Fold. Of course, these aren't absolutely vital pieces of information—but that doesn't mean that we aren't interested, just for the fun of it.
YB Khairy Jamaluddin, the Minister of Science, Technology, and Innovation, recently became the first person in Malaysia to receive the Sinovac COVID-19 vaccine, with the vaccination done at Hospital Rembau. Putting aside the significance of the occasion, the SoyaCincau.com team spotted YB Khairy's choice of wristwear—and I (humbly) approve.
If you look very, very closely, it looks like YB Khairy has gone for a Garmin smartwatch, one from the Fenix lineup of sports watches. For some context, the Garmin Fenix series is the company's range of wearables that cater to the specialist category, with fitness enthusiasts and adventurers being the main target market.
As such, these can be very different from your mainstream smartwatches such as the Apple Watch Series 6 or the Galaxy Watch 3. Rather than bright, vibrant OLED displays, Garmin equips its Fenix watches with transflective Memory-in-Pixel (MiP) displays—which offer excellent visibility under direct sunlight, and crucially, improve battery life tremendously. Meanwhile, software features such as Garmin's Body Battery metric are highly praised in the fitness industry.
Looking closely at the images above, it looks like the Minister of Science, Technology, and Innovation is using a Garmin Fenix 6X. It isn't clear if this is the regular Fenix 6X, or if it's the Fenix 6X Pro Solar. The latter, as per its name, has an impressive battery life of up to 21 days in smartwatch mode which can be extended by a further three days via solar charging.
Additionally, it's a titanium casing on the watch, while a 10ATM water resistance rating means that you'll be able to take this into the shower, or on swims. Plus, the certification is also good for diving into water, snorkeling, and high-speed water sports—so you're pretty much covered in that regard.
Of course, this isn't an official statement of any sort, and it's merely an educated guess based on some admittedly low quality photos. However, the minister has also been spotted with a Garmin Fenix before, using a Fenix 2 back in 2014:
If you're considering a Garmin Fenix for yourself, keep in mind that these don't come cheap; the Fenix 6X Pro Solar, for example, has a starting price of RM4,550. But if you're keen, scroll down to the related reading section down below for some of our coverage on Garmin's smartwatches.
[ SOURCE ]
Related reading