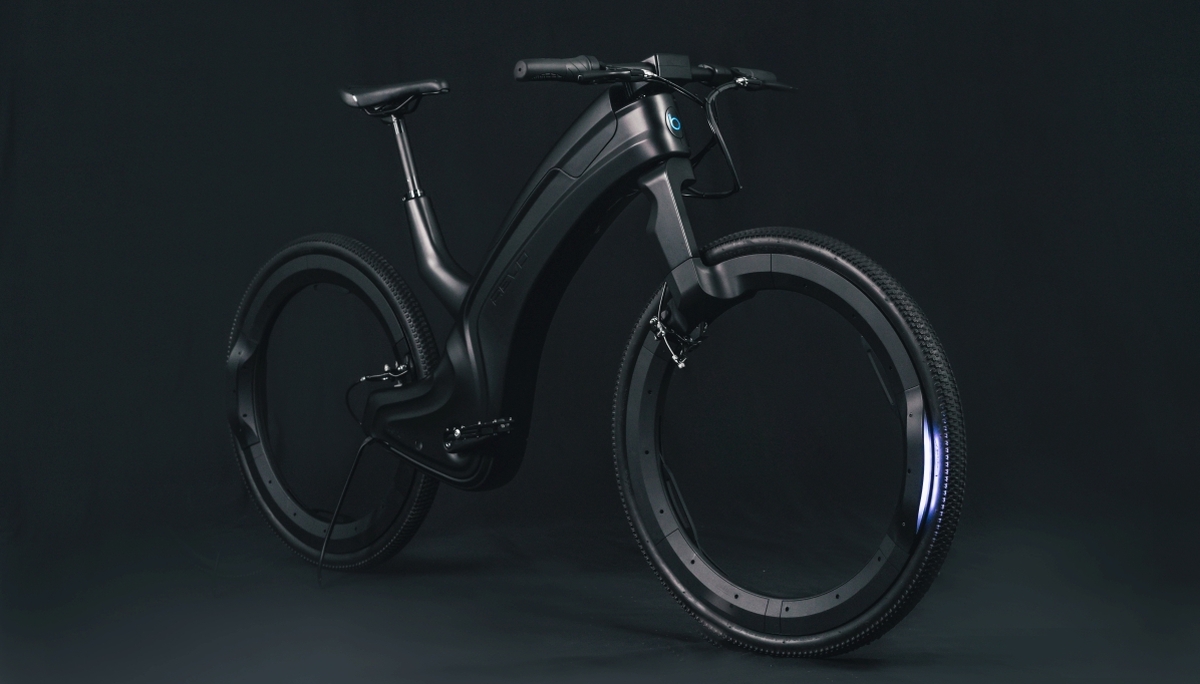 EBikes are all the rage these days. We've seen the rise of electric-powered bicycles in recent years—and even guys like Harley-Davidson and Ducati have been joining in with eBikes of their own. To add to that, Beno Technologies, a company with corporate offices and a manufacturing hub in Malaysia, is working on a hubless eBike—the Reevo.
The Reevo is designed for the urban biker, with CEO Alec Lim explaining that the unique-looking eBike is supposed to be "maintenance-free", while offering a "touch of class" to your daily commute.
Those futuristic-looking wheels are connected with an aluminium alloy frame, while there is a one-sided fork and retractable kickstand as well. You can attach a Beno bag within the wheels for extra storage, and there are integrated brake and signal lights for night sessions. Thanks to an ambient light sensor, the lights automatically turn on in low light settings, with 800 lumens of brightness promised.
In general, the bike has a minimalist, all-black look to it. Beno calls it a "stealth black" finish, and I have to say—it looks pretty darn sleek.
"As active eBikers, we aim to solve the main problems faced by electric bike users while keeping a clean, sleek, and functional design. We've developed a unique eBike that addresses daily user issues and looks like nothing else on the road."

– Beno CEO, Alec Lim
Beno also says that the Reno is equipped with an "impenetrable " Triple Barrier Anti-Theft System, made up of a fingerprint scanner, an integrated automatic lock, and a GPS chip on the bike that you can use in tandem with a smartphone.
This is a Class 2 eBike—which means that it provides throttle, as well as pedal assist. That's down to the 750W motor, which provides a top speed of around 40km/h. Meanwhile, the 48V battery has a maximum range of 60km, and a full charge will take around three hours.
Something that Beno champions with the Reevo eBike is the fact that you won't need to charge various devices separately before you ride. Charge the bike, and the integrated components—lights, signals, and so on—will charge as well.
The Reevo eBike, like many other eBikes, isn't cheap. It's priced at USD 2,199 (~RM9,030) for the standard edition, while the Premium Pack will set you back USD 2,569 (~RM10,549) with some added accessories. As mentioned earlier, the bike is still in the crowdfunding stage, so you'll have to wait till March or April of 2021 before you get to ride your futuristic, spokeless eBike around town.
What do you think? Are eBikes the future of transport? Let us know in the comments section below.
[ SOURCE , VIA , IMAGE SOURCE ]
Related reading