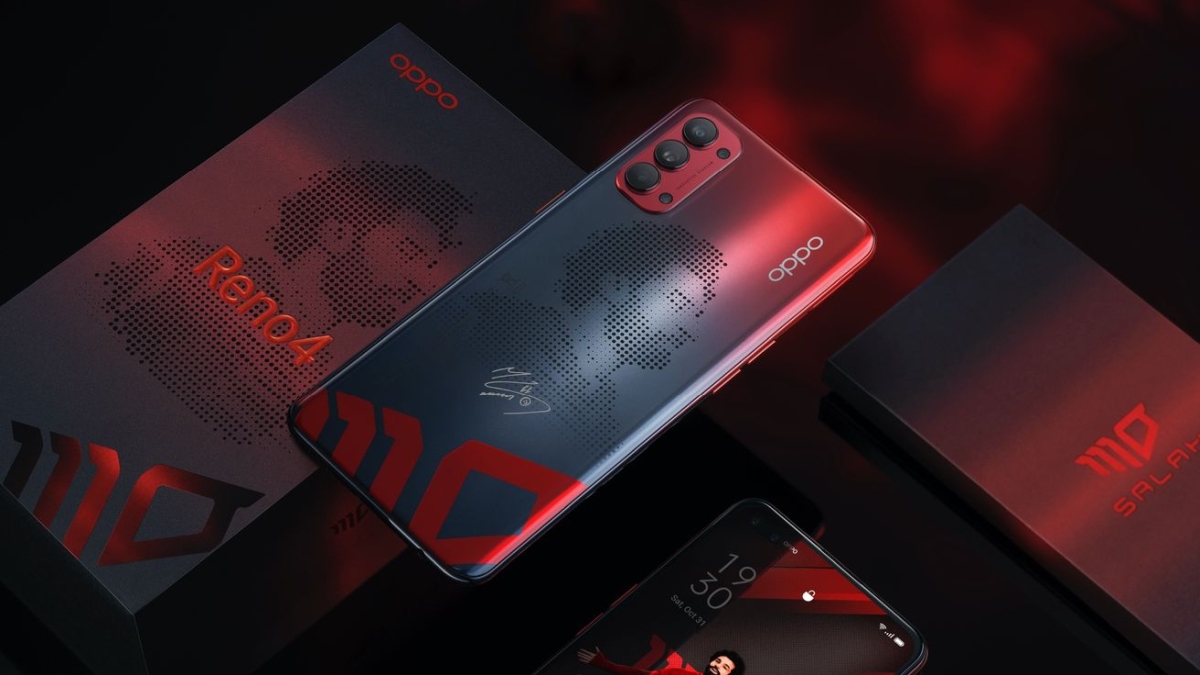 Oppo has had a long-standing relationship with Liverpool forward Mo Salah. The forward is has a huge following in home country Egypt, and of course, his exploits with Liverpool—who won their first league title in decades recently—have led to a global presence as well.
Now, the company is releasing a Mo Salah edition of the Oppo Reno 4—although this appears to be a limited release in Egypt. The special edition Reno 4 is decked out in colours that look a lot like the Egyption flag, while there is also an image of the footballer splashed across the back of the phone.
The colours of the phone fade from red to dark grey/blue across the body, along with some red accents reminiscent of Liverpool's famous red strip. And if you've been longing for the one-time Premier League winner's autograph, Salah's signature is also printed on the back of the device.
Software is also Salah-themed, of course. The phone comes with an exclusive theme for ColorOS 7.2, which includes UI tweaks such as redesigned icons with Mo's face on them (well, some of them), and even a special wallpaper of The Pharoah—as he is fondly referred to by his fans.
Plus, you'll also get "exclusive pictures" of Salah—so you can see another side of his life (the commercial side, I guess).
Elsewhere, the Reno 4 Mo Salah edition is pretty much identical to the regular ol' Reno 4. This includes a 6.4″ OLED display, VOOC 4.0 Flash Charging, and the mid-range Snapdragon 720G processor under the hood.
I suppose that Oppo's new Reno 4 edition will appeal to fans beyond Egyptian borders—although this is a release limited to Salah's home country. If you do manage to get your hands on one, this might be one of the most public ways for you to declare your allegiance… for Liverpool. Which, I suppose, is a good thing right now.
It comes at a higher price, however. It's priced at EGP 6,590 (~RM1,731) for 8GB of RAM and 128GB of storage, which is higher than the regular Reno 4 in Egypt. In Malaysia, the Reno 4 is priced at RM1,699 with equivalent specs, for some comparison. Just like the Malaysian unit, the Mo Salah Reno 4 will not have 5G support; that remains exclusive to the China market for this model.
So, what do you think?
Related reading