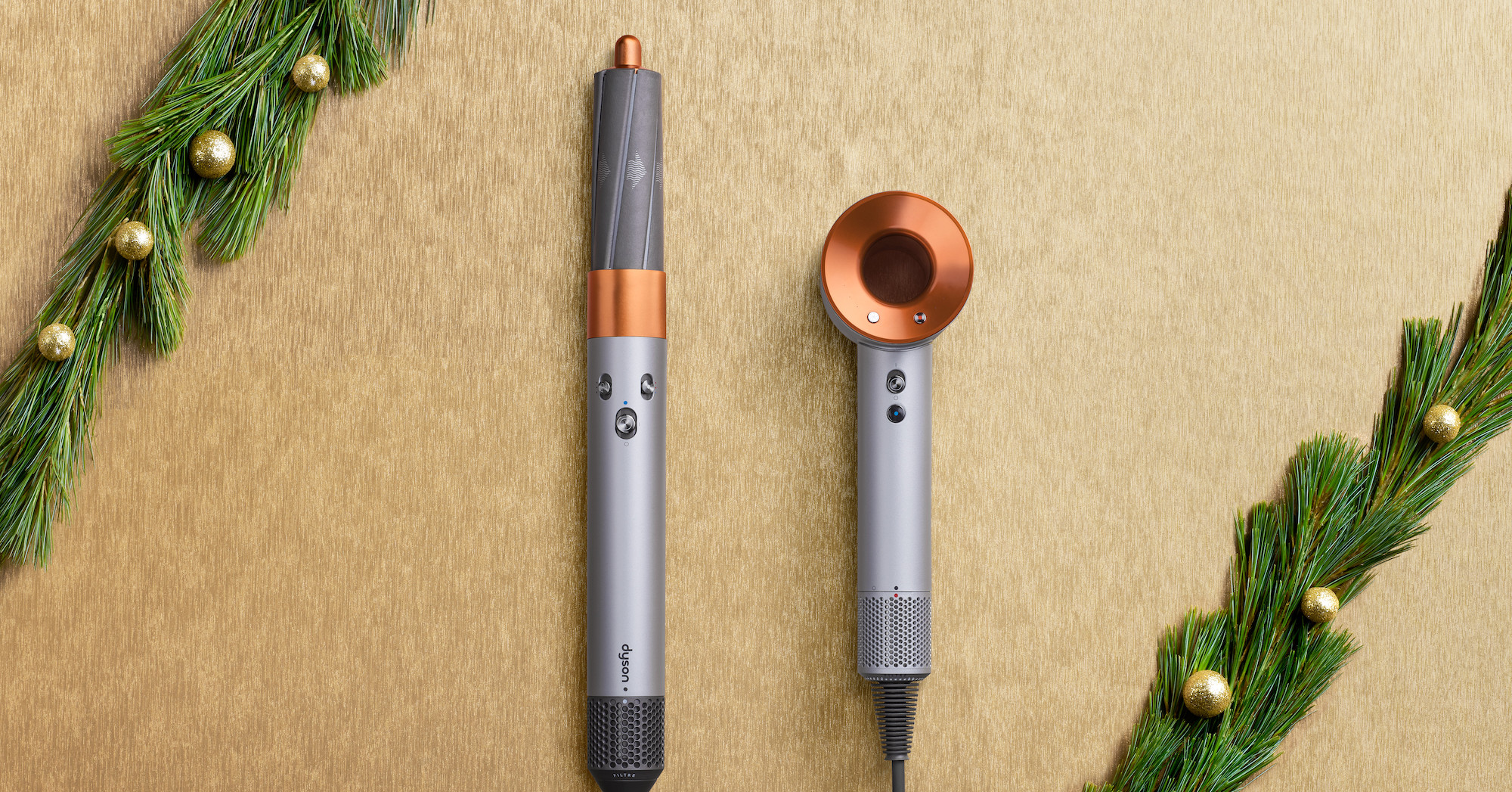 With the upcoming Christmas holidays coming in just a couple months, Dyson is already hoping we'd treat a special someone with a limited edition coloured hair dryer or curler. Their Airwrap and Supersonic are both getting a special copper and silver edition.
Honestly, I think that it's a weird pick for a limited edition colour product—especially when the other colours they've had before has been stellar. But if you're into a more bronze-y and rustic tone, it might be something you can consider getting.
Other colours for the Dyson Supersonic include Black and Purple, Iron and Fuchsia, and Black and Nickel. For the Airwrap, the other colours are Red and Nickel, Black and Purple, and Iron and Fuchsia.
Limited Edition Dyson Airwrap
The products are a part of an exclusive gift set paired with a selection of accessories. The accessories—especially the ones that come with the Airwrap—also have copper coloured details.
With the Airwrap, you'd get a copper coloured presentation case, cushioned with soft fabric and secured with a magnetic grasp. In the box, you'd get a 30mm Airwrap barrel, a 40mm barrel, a firm smoothing brush, a soft smoothing brush, a round volumising brush, a pre-styling dryer, a non-slip mat, a filter cleaning brush and a storage bag.
The hair styler uses the Dyson digital V9 motor—and it's just 27mm wide and sits in the handle. The motor's 13 blade impeller spins at up to 110,000rpm, generating 3.2kPa of pressure and propelling 13 litres of air every second.
Limited Edition Dyson Supersonic
The Dyson Supersonic also uses the digital V9 motor, and it uses a fast but focused airflow. It also claims that it is quieter than others and intelligently controls the temperature to help protect hair from extreme heat damage.
The limited edition hair dryer also comes with a copper coloured presentation case. The accessories aren't as abundant as the set for the Dyson Airwrap, and they aren't copper coloured either (besides the case and storage bag)—but they have the same silver colour. The accessories include a smoothing nozzle, a styling concentrator, a diffuser, a gentle air attachment, a non-slip heat mat, and a storage bag.
The limited edition copper Airwrap and Supersonic are available now. The copper coloured Airwrap is priced at RM2,799, while the Supersonic is priced at RM1,799. You'd get the storage bag and presentation case if you buy them online, or at the Dyson Demo Stores (The Gardens Mall and Mid Valley Southkey), Dyson Demo Zones (Beauty Lab at 1 Utama and Sunway Pyramid), and Dyson Demo (Beauty Lab at Queensbay Mall).
If you're looking to splurge for a good straightener instead, you can consider getting Dyson's newest hair tool—the Corrale. However, it doesn't come with a limited edition copper colour but you can still purchase the Corrale in either Black Nickel and Fuchsia or Purple and Black for RM2,199 each. You can watch me review it here.
Related reading