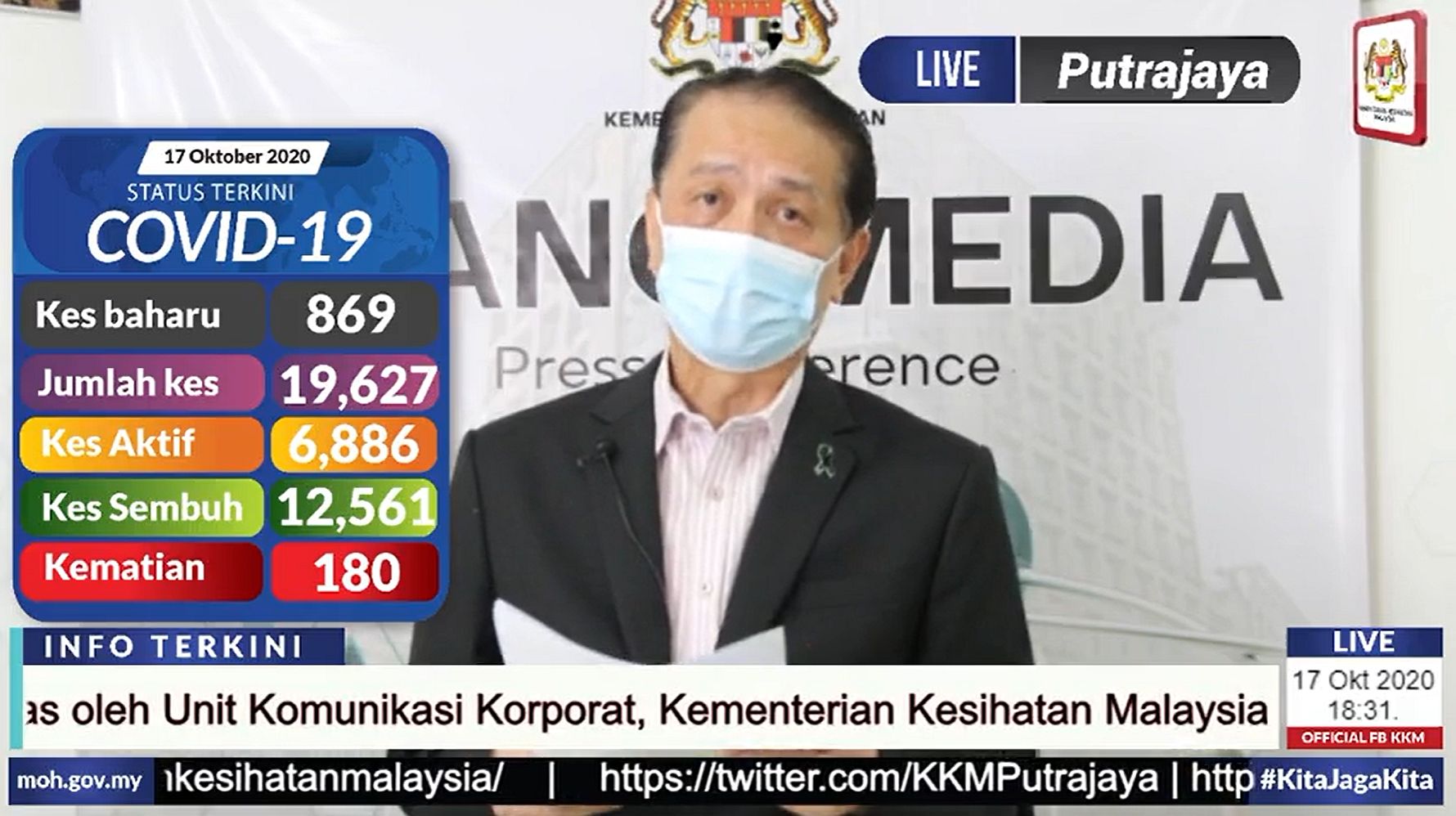 Malaysia has recorded 869 new COVID-19 cases today which brings the total number of infections to 19,627. This is a new record high after recording 691 cases on 6th October. There are 4 new deaths reported in Sabah today and the death toll is now 180.
The Ministry of Health has reported 302 new recoveries and a total of 12,561 patients have recovered and discharged so far. The recovery rate is now 64.00% while the mortality rate is now 0.92%.
There are currently 6,886 active COVID-19 cases remaining which are receiving treatment. 91 patients are in ICU while 30 require respiratory support.
All 869 cases reported today are transmitted locally and there are no new imported cases today. Sabah records the most with 451 new cases, followed by Pulau Pinang with 189 cases, Selangor with 159 cases, Kedah with 38 cases and Kuala Lumpur with 15. Sarawak, Perak, Terengganu, Johor, Putrajaya, Melaka and Negeri Sembilan have also reported new cases with less than 5 for each state.
90% of cases reported today are from CMCO and TEMCO areas and prisons. From 20th September until 17th October, a total of 441 positive cases have been reported with a recent travel history to Sabah.
The ministry has identified 5 new clusters today. This include Teduh Cluster in Lahad Datu, Menara cluster which covers several districts in Selangor and Kuala Lumpur, Keladi cluster in Klang, Sentral cluster which covers Kepong, Cheras and Titiwangsa, and Bah Bemban cluster which covers both Dungun and Kota Kinabalu.
Malaysia has been reporting over 500 new cases daily for 7 days straight. With Sabah being the main battleground, the Ministry of Health has doubled the state's daily COVID-19 RT-PCR testing capacity from 1,350 to 2,600 tests per day. Sabah currently has 122 ICU beds and a total of 180 ventilators.