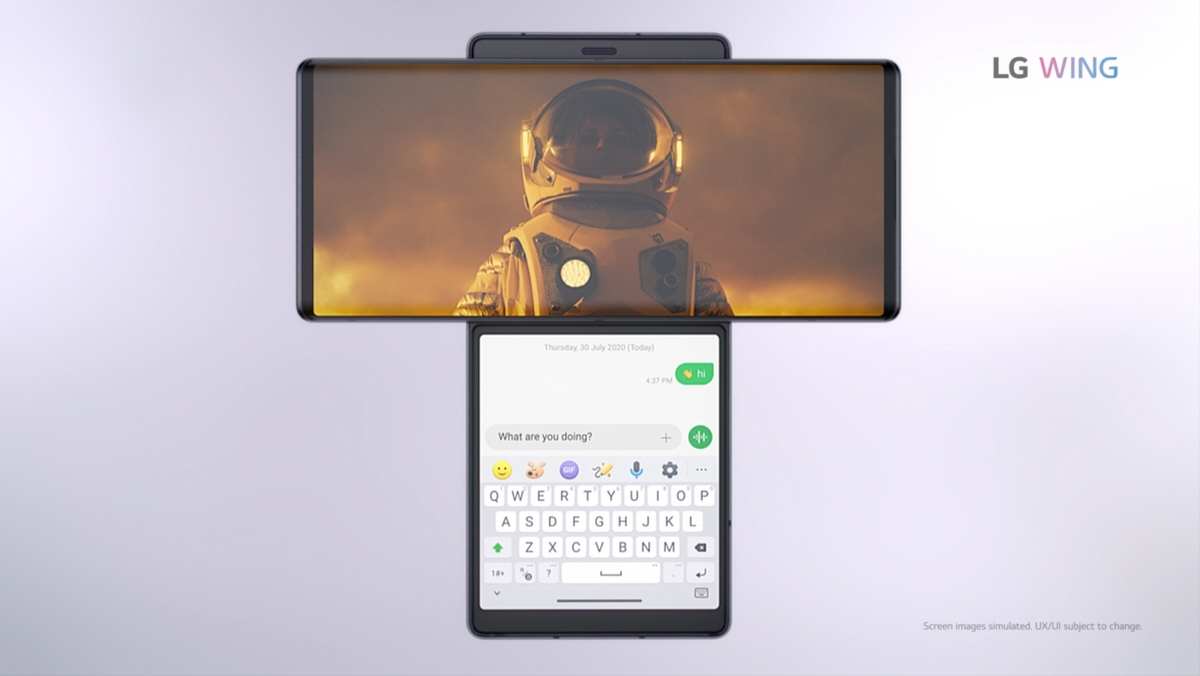 When it comes to the (frankly) boring form-factors adopted by most smartphone manufacturers these days, things can get pretty stale. However, we've seen an upturn in fortunes in recent times, with the dual-screen format shaking things up—whether it's the Galaxy Z Fold 2, the smaller Z Flip, or even the Microsoft Surface Duo. But now, we might be seeing the most unique dual-screen smartphone in awhile: the LG Wing.
LG has officially announced the Wing—and in the process, confirmed the rumoured swivel form-factor of the smartphone. There are two displays: a 6.8″ OLED FHD+ main screen, and a smaller 3.9″ display. Both displays are unencumbered by notches or anything similar, with LG going with a 32MP pop-up camera instead.
Basically, the larger display sits on top of the smaller display when the LG Wing is in its compact mode. The main display can then be rotated in a T-shaped configuration, with the smaller screen to display additional or extended functions in supported apps. LG envisions "Swivel Mode" (yes, that's what they're calling it) as a way for users to get more out of a single application; video sharing and streaming apps, for example.
However, it's worth noting the rather disappointing internals of the LG Wing. For one, it's powered by the capable, but mid-range Snapdragon 765G (5G), which is mated to 8GB of RAM and 128GB of storage. A 4,000mAh battery is sizeable, although dual displays should be heavy on power consumption on the Wing. There is, however, wireless charging and Quick Charge 4.0+ fast-charging.
On the back, a triple camera setup is made up of a 64MP wide shooter, a 13MP ultra-wide, and a second ultra-wide (12MP) that works as a dedicated "Gimbal Motion Camera". The gimbal mode essentially utilises the LG Wing's secondary display as a gimbal grip, with controls to be displayed on the display as well. Meanwhile, the selfie camera and the rear setup can be used simultaneously for an interesting video format.
It's worth noting that—like other foldable smartphones—the dual-screen nature of the Wing results in a certain amount of heft: 260g. Additionally, there are also durability concerns, although LG says that nine Mil-STD-810G certification tests have been passed by the LG Wing. Still, according to LG's official site, these tests were conducted when the Wing was in "swivel down mode".
The LG Wing will be launched in South Korea in October 2020, with selected markets in North America and Europe to follow. Two colour options will be available: Illusion Sky and Aurora Gray.
Unfortunately, we don't expect to see the LG Wing available in Malaysia—or at least, not via official channels. Pricing also remains a mystery for now, although rumours have suggested that the swivelling phone will cost at least USD 1,000 (~RM4,130). To find out more, click here.