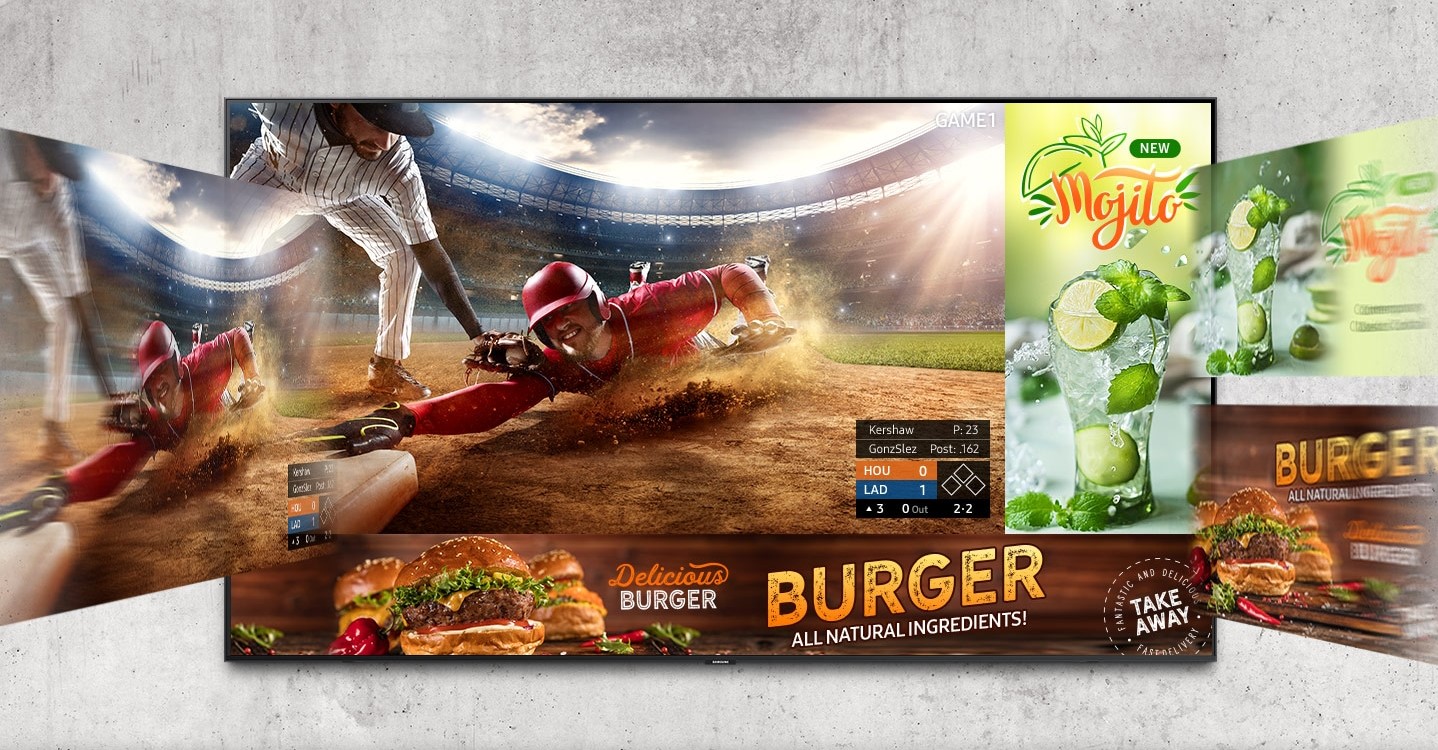 Samsung has introduced Business TV, a new range of signage TVs that are specifically designed for small- and medium-sized businesses. The new display solution that utilises its expertise in commercial signage display and its advanced TV technology, to let businesses communicate their latest deals and products with their customers.
The new Business TV displays images at 4K UHD (3840 x 2160 pixel resolution) with a 60Hz refresh rate. It also offers 250 nit of brightness, a 4700:1 contrast ratio and has a 72% coverage of the colour gamut.
In terms of aesthetics, Samsung's latest display for businesses feature a sleek, bezel-less design and provide users with an easy way to personalise content. Samsung offers the display in a variety of different sizes (43",50", 65" and 75") so businesses can choose the right display to fit any space or budget.
One the highlights of Samsung's Business TV is that it gives business owners all the necessary tools to create eye-catching in-store promos and ads that promote their latest products. Using the Samsung Business TV app, available for Android and iOS devices, businesses owners can remotely set up, control and manage multiple displays in their store.
According to Samsung, the set up process is very simple as it comes with a step-by-step tutorial that automatically starts when the TV is first turned on. Business owners will also have access to more than 100 pre-loaded and pre-designed promotional templates so they can create their own unique advertisements for their stores. This includes L-Bar layouts, motion-embedded, season sale and other promotions.
The app's simple interface allows users to edit, review, finalise and deploy content across multiple Business TV displays from their smartphone or tablet. The app also features a six-digit pin code requirement for added privacy and protection when connecting to the TV.
According to Samsung, the Business TVs are built to operate even with extended daily business hours, 16-hours a day and 7 days a week. Samsung said the displays come with an on/off timer that allows the TV to automatically operate during business hours and turn off when it is time to close. There's also a security lock feature along with a panel button lock and USB port lock to ensure all information on the display is kept safe.
Samsung said the new Business TV displays are now available in Malaysia. Below is the price for the various models.
LH75BETHLGKXXM (75" Signage TV) – RM7,720

LH65BETHLGKXXM (65" Signage TV) – RM3,575

LH50BETHLGKXXM (50" Signage TV) – RM2,188

LH43BETHLGKXXM (43" Signage TV) – RM1,875
To learn more about Samsung's Business TV visit the product page on their official website.
Related reading