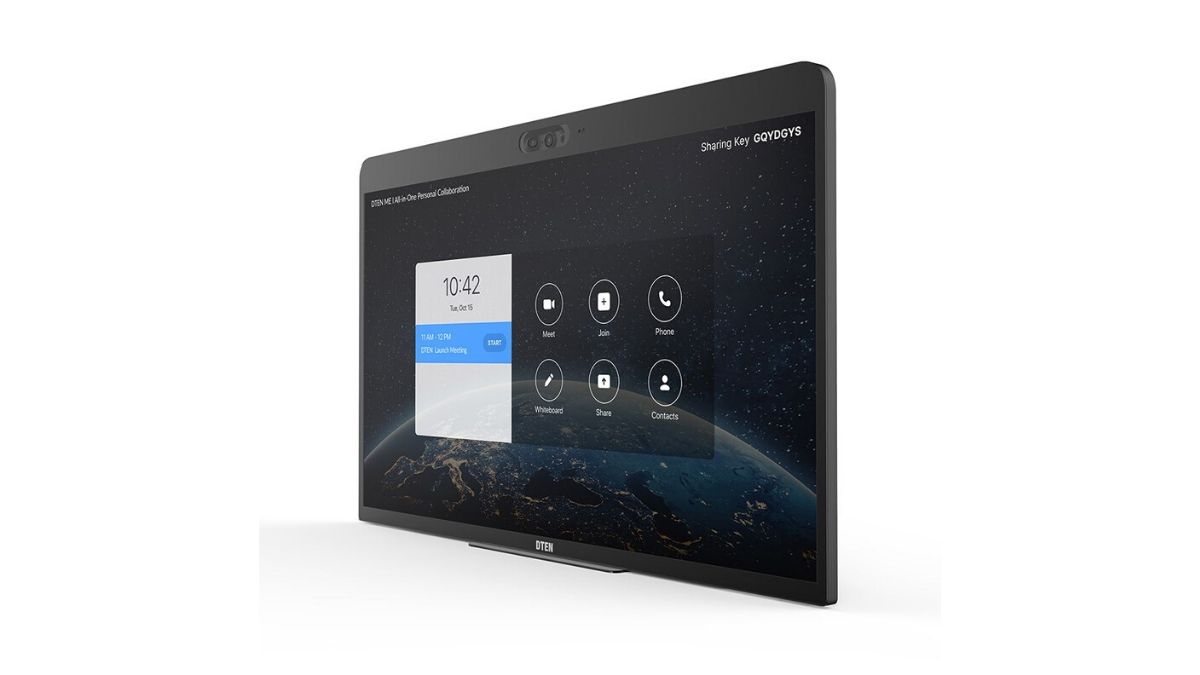 Zoom is a name that has become synonymous with remote working these days—specifically, video conferencing. While the company has been around for almost ten years now, it has seen a surge in popularity and users with COVID-19-enforced remote working situations now becoming a norm. To build upon their status as the video conferencing app of choice for many (but not all) users, the company has announced Zoom for Home.
Zoom for Home is essentially a range of "dedicated personal collaboration" devices for video calls and other team-based tasks, although it doesn't appear that the devices will be actually manufactured by Zoom. The first such example of this is the Zoom for Home – DTEN ME, a 27″ tablet which is being priced at USD599 (~RM2,557).
The idea here is that the device will be a straightforward way to take your video calls right out of the box, and there are three cameras and eight microphones to help you do that. In case you've made the same assumption I initially made: no, the DTEN ME does not run on Android (as far as I can tell). Instead, it runs on the proprietary DTEN OS, which presumably only works with Zoom software.
At USD599, it's a little debatable if the Zoom for Home – DTEN tablet is even necessary. Most, if not all Zoom users rely on their personal computers, tablets, or smartphones for their video conferencing needs, and meetings often take place on other video platforms such as Google Meet—which the DTEN won't work with.
There's a HDMI port for screen mirroring, while Tech Crunch reports that there is even support for "ultrasonic" pairing that works in a similar way to Bluetooth connections. Your DTEN device will reportedly emit a sound at a frequency that is inaudible to most humans, which is then picked up by an accompanying smartphone or mobile device. This isn't present on the company's spec sheet, however, so we'll have to wait for more information on that soon.
The display, as mentioned, is a multi-touch display that pushes a Full HD resolution with a 16:9 aspect ratio. Built-in speakers supposedly push out enough volume to cover a 5m x 5m room, along with cameras that can see clearly up to 5m away. It's pretty hefty at 6.5kg too, so don't expect to be pulling this out in front on the subway—there's no LTE or 5G support either, so this looks to be purely a home/office device.
Zoom CEO Eric Yuan says that the device is "out of the box" thinking from the team, although it's a little hard to see the benefits of an expensive tablet that does nothing other than Zoom. Still, there aren't many (if any) video platform-exclusive devices in the market today, so perhaps this pioneering attitude is what Yuan is referring to.
"After experiencing remote work ourselves for the past several months, it was clear that we needed to innovate a new category dedicated to remote workers. I'm so proud of the team for continuing to think outside the box and prove why Zoom is the best unified communications platform that can meet the needs of all types of users."
Shipping for the Zoom for Home – DTEN ME begins in August 2020, with pre-orders already open. To find out more, click here.
Related reading