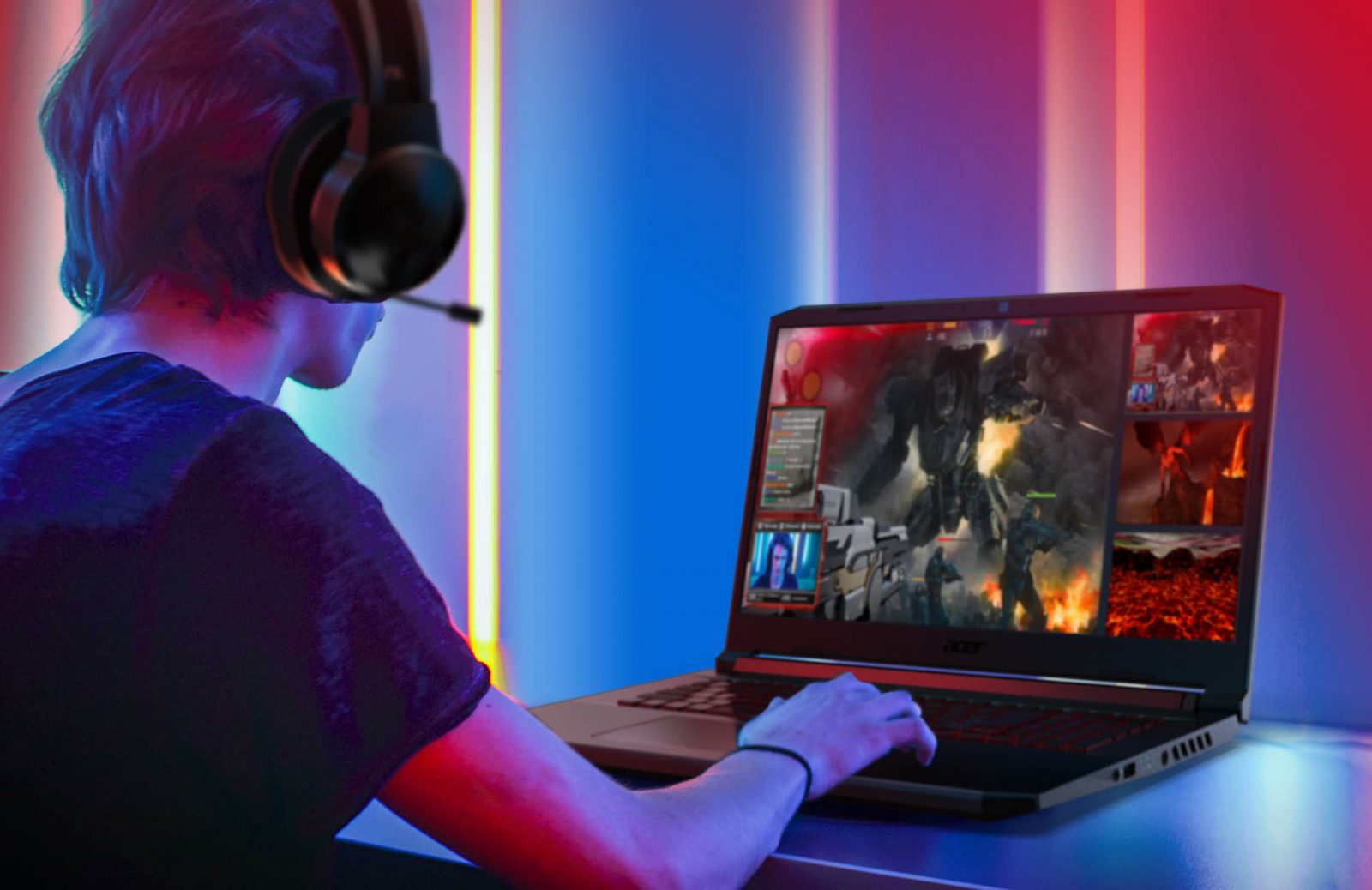 This post is brought to you by Acer. The first 50 buyers get RM300 off the Acer Nitro 5 gaming laptop or off any Acer product when you use the promo code, "ACER300" at Shopee. Use this link to buy. There are a number of really good deals to be had, so be sure you click on that link!
If there's one word to describe a gaming laptop, it would be – expensive.
And that's not an exaggeration.
A competent mobile gaming machine will set you back, at the very leas,t RM7,000 and go all the way up to a mind-numbing RM40,000.
But these laptops are beyond the reach of casual PC gamers. People who want to play games occasionally but also enjoy the performance, immersive sound and the flexibility of numerous ports and connectivity options of a gaming machine might not want to pay upwards of RM7,000 for the privilege.
Acer Nitro 5: PC gaming performance for the masses
The Acer Nitro 5 is the perfect gaming machine that marries performance and value, all in one sleek package. The result is a gaming PC with the performance, sound and peripherals of a gaming machine but starting from RM3,499, the Nitro 5 is a gaming machine for the masses.
"The new Nitro 5 gaming notebooks prove that performance gaming doesn't need to break the bank," said James Lin, General Manager, Notebooks, IT Product Business, Acer Inc. during the launch of the Nitro 5 laptop recently.
"Gamers now have more features packed in sleek designs to elevate their gaming experiences," he added.
Even at that price the Nitro 5 compromises little on the gaming experience with a 15.6-inch Full HD IPS display that boasts an 80% screen-to-body ratio thanks to the narrow 7.18 mm bezels
To deliver performance capable of running triple-A games, the Nitro 5 gets the latest 9th generation Intel Core processors (Core i7-9750H or the Intel Core i5-9300H) and the latest NVIDIA GeForce GTX 1650 graphics card with 4GB of dedicated GDDR5 VRAM for that smooth gaming experience.
You also get a 256GB SSD ( PCIe NVMe SSD) — which is great to see considering the price point — and a 4GB DDR4 SDRAM that's upgradeable to 32GB using two soDIMM modules allowing you to effortlessly stream gameplay with 2×2 MU-MIMO technology. When it comes to peripherals, you get a full array of connectivity options from a full HDMI 2.0 port to USB Type-C (3.1 Gen 1), wired ethernet and even a full-sized SD card reader.
Improved cooling
Even with gaming performance on tap, the Nitro 5 keeps cool even during extended gaming sessions thanks to a dual-fan setup that's further optimised with Acer CoolBoost
The configuration increases fan speed automatically by up to 10% while improving CPU and GPU cooling by 9% compared to auto mode.
The device is juiced up by a 55Wh 3,580mAh battery which is rated to last up to 8 hours of video playback and up to 11 hours of web browsing.
Full performance control with just one key
You can monitor and optimise your Nitro 5 gaming PC easily with NitroSense. It's an app that's accessible with one touch of the NitroSense hot key.
Once enabled, you get access to a dashboard that monitors component temperature, loading performance, power usage, sound modes, and more.
You can create specific power configurations to optimise your battery life and performance for different usage scenarios. Turn up the performance for full-on gaming or set up a balanced power profile for when you're just doing work or browsing the internet. The choice is yours. NitroSense also allows you to adjust and monitor cooling fan speed in real time, so you can customize your fan speed to suit your preference or quickly set fans to max speed when you get your game on.
An immersive premium audio experience
The updated Nitro 5 brings with it an improved audio experience delivering a truly multidimensional experience to gamers by adopting Waves MaxxAudio advanced sound optimization technologies.
MaxxBass intelligently boosts tones to deliver thundering lows that not only you can hear but feel as well, even on small speakers or headsets.
MaxxDialog is an intelligent speech booster than enhances in-game dialog to allow you to hear dialog more clearly.
MaxxVolume delivers maximum volume and clarity without distortion and heightens even the most subtle sonic detail in each game.
Special deal for SoyaCincau readers
The Acer Nitro 5 is available in 9th-gen Intel Core i5 for RM3,499. The 9th-gen Intel Core i7 version priced at RM4,399.
Special for SoyaCincau readers: The first 50 buyers get RM300 off the Acer Nitro 5 gaming laptop or of any Acer product when you spend a minimum of RM1,399 at Shopee. Use the promo code "ACER300" and use this link to buy.
In addition, the Nitro 5 will be featured on Shopee's Shocking Sale on 31 May. Stay tuned for the special price on sale day.
There are a number of really good deals to be had, so be sure you click on that link!