DxOMark, well-known for its smartphone camera tests, has announced a new test protocol that looks into the performance of the front cameras on smartphones. Previously, the company had only tested the main camera on mobile devices.
The DxOMark Selfie test protocol is based on the same procedures and methodologies as DxOMark Mobile but adapted to reflect the way front cameras are used. The front camera specific test evaluate a number of factors including:
• Solo selfies
• Group selfies
• Indoor selfies
• Outdoor selfies
• Selfies in lab conditions
• Selfies using a selfie stick
DxOMark has also released the first set of results based from the new selfie camera test protocol encompassing 12 smartphones, including the Galaxy Note9, Huawei Mate20 Pro and iPhone XS Max, and the results are rather interesting.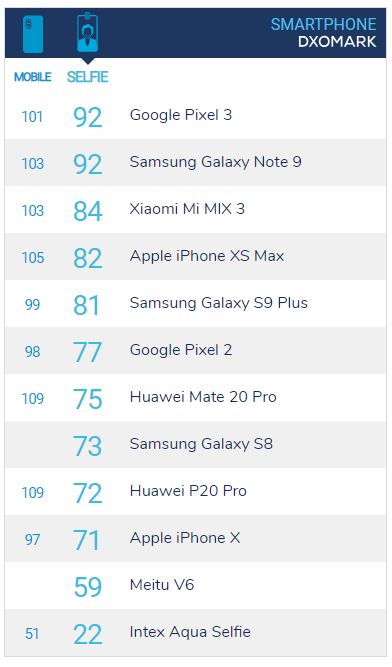 Leading the pack is the Galaxy Note9 and Google Pixel 3 with both earning an overall score of 92 points. It's interesting to note that despite the Note9 having only a single 8MP front camera, it still managed to score as high as the Pixel 3 in the test. The Pixel 3 has dual 8MP front facing cameras.
This goes to show that hardware is only part of the equation when it comes to camera performance. The other part of the equation would be software and how the two are optimised together.
In its findings, DxOMark also noted that while the iPhone XS Max "produces some of the best still images and video quality in bright-light conditions", the phone struggles to keep up with the Note9 and Pixel 3 when it comes to taking selfies in low-light. The iPhone XS Max get 81 points in the test, on par with the Samsung Galaxy S9 Plus.
The test also found that phones have improved significantly with its new iteration. The S9 Plus, for example, scored 8 points higher than its predecessor, the Galaxy S8. While the Google Pixel 3 is 15 points higher than the Pixel 2 and the Huawei Mate20 Pro is 3 points better than the P20 Pro. In the iOS camp, the iPhone XS Max scored 10 points higher in the selfie test than the iPhone X.
Related reading:
[via]