Intro
The Samsung Galaxy S9 and S9+ are hitting Malaysia on 16 March 2018. If you prefer to get it on contract, it's now available on our big 4 telcos – Celcom, Digi, Maxis and U Mobile. So which telco has the lowest cost of ownership, lowest monthly commitment and the most data for your money? It's time for a telco plan comparison for the Galaxy S9 and S9+.
To recap, there are a total of 4 models available and below is the official Malaysian pricing:
Samsung Galaxy S9 64GB – RM3,299
Samsung Galaxy S9+ 64GB – RM3,799
Samsung Galaxy S9+ 128GB – RM3,999
Samsung Galaxy S9+ 256GB – RM4,399
For the 64GB and 128GB models, it comes in Midnight Black, Coral Blue and Lilac Purple, however, the 256GB model is only available in Midnight Black for the time being. Among all telcos, only Celcom has the full range of products while the other three – Digi, Maxis and U Mobile, are only offering the Galaxy S9 64GB and Galaxy S9+ 128GB.
At the moment, all four telcos are accepting pre-orders and you can receive your unit as early as 9 March, which is a week before it hits retail outlets. Unlike the previous Galaxy S8/S8+ pre-order promo, Galaxy S9 and S9+ pre-order customers will get a Harman Karon Wireless Bluetooth speaker worth RM699.
Below is a comparison of all plans sorted by their monthly subscription from lowest to highest with a breakdown of its data quota, calls, minutes and subscription fees. You can click on the table below for a bigger view.
When deciding on a plan, we recommend that you get one that fulfils your monthly usage. It's normal for telcos to offer the device at a lower price if you commit to a higher monthly plan but that would also drive up the overall cost of ownership. It would be a waste if you can't fully utilise your plan's monthly quota.
Also listed is the advance payment which telcos would often require when signing up for a contract plan. This would be rebated back to your monthly bills and on certain telcos, it could be rebated across 24-months. If you're an existing loyal customer, some telcos would waive this advance payment if you have been with them for at least a year with good payment history.
Monthly commitment below RM130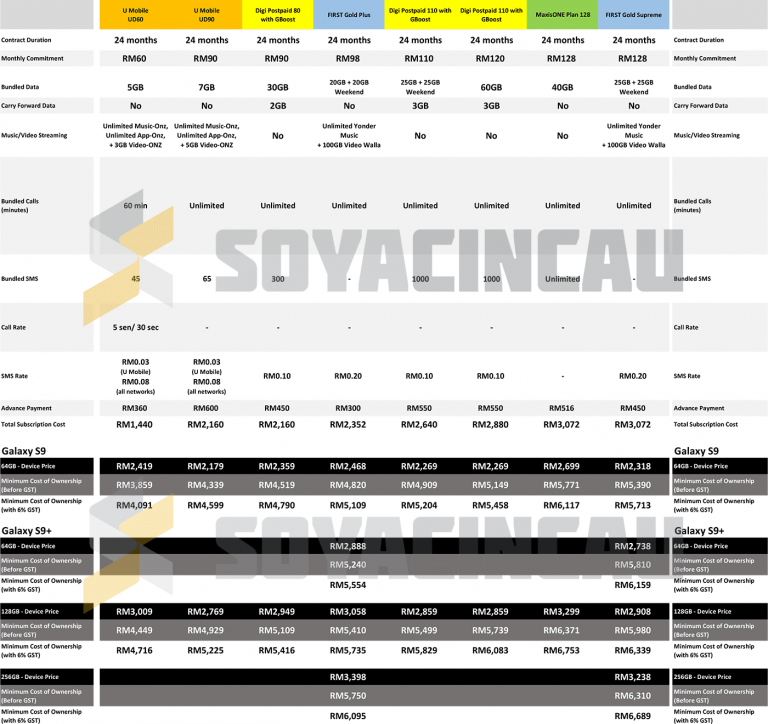 Monthly commitment of RM130 above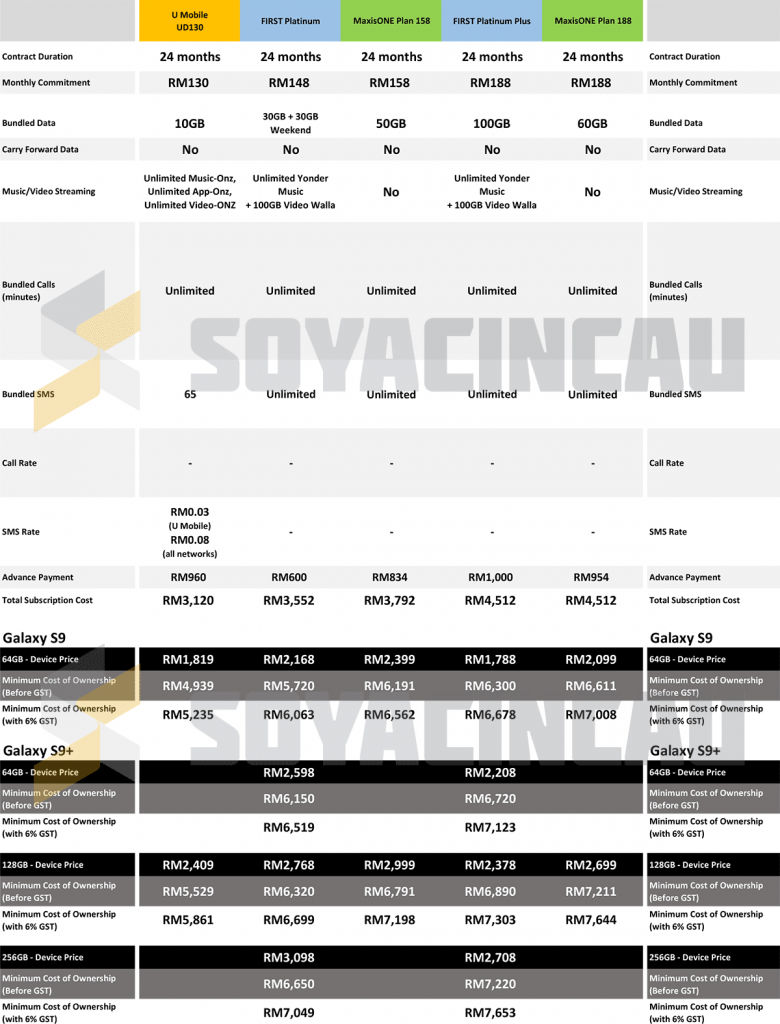 Don't want to fork out thousands of RM upfront? There's another option…