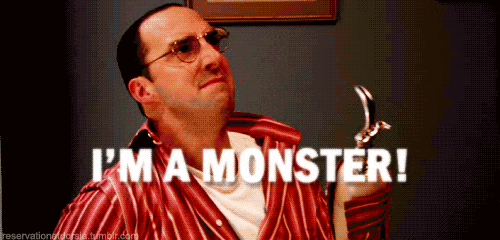 This post is brought to you by U Mobile.
Everyone uses their smartphones differently. Some used it for keeping in touch with voice calls, while others must stay connected with data 24/7. Even when it comes to data, your actual usage can differ greatly from others. There are people who can't get enough of social updates and there are video junkies who can't live without binge-watching their drama series on the go.
Your mobile habits can define the type of monster that's lurking within you. Are you a movie buff? Or are you a social media addict? U Mobile has devised a simple quiz so you can find out. Take the quiz now!
Whichever Unlimited Monster you get, U Mobile has an affordable unlimited plan just for you. At only RM78/month, U Mobile's Unlimited HERO Postpaid P78 plan lets you enjoy true unlimited data and phone calls that you can never finish.
Video Pandas will be happy to know that this plan gives you unlimited video streaming with no limits. Whether you're at home or on the go, you can watch thousands of YouTube, Netflix and iflix shows non-stop without worrying about finishing your data. Go ahead and binge on your favourite K-drama, latest of Game of Thrones episodes or even just silly cat videos.
For the Music Maniacs, you can listen to all your favourite tracks without fear of reaching your data limit. Whether it is Spotify, Apple Music or even music videos on YouTube, U Mobile has got you covered. Stream the latest hot songs and stage your own karaoke session or even concert in the comforts of your own room!
Social Media Butterflies will appreciate the freedom to share moments in real time. Still uploading photos? Why not vlog or broadcast a live stream instead? Share anything and everything on Instagram stories. The sticker and filter addict in you would be thankful. Yak with your BFF on WhatsApp or LINE till the cows come home. There's no need to save on data, so start sharing to your heart's content.
The Unlimited HERO Postpaid P78 Plan has everything a Business Body needs in a typical day to day working life. You've got unlimited usage of voice calls to reach out to your clients and family plus unlimited data to catch up with the latest TEDtalks and tech videos. Keeping yourself up-to-date is essential for a go-getter. Unlimited data also allows you to send your important emails and work documents to your teammates without running out of high speed quota. If you ever need to work with your laptop, you can always turn your smartphone into a mobile hotspot with 10GB of quota each month at no extra charge. How is that for convenience and seamless multi-device working!
That's not all, you can even stay connected overseas for free with U Mobile Roam-Onz™. This gives you 5GB free data for roaming in 12 destinations such as Australia, Singapore, Thailand and many more.
All these unlimited perks can be yours at an incredible price of just RM78/month. For more info, visit here.