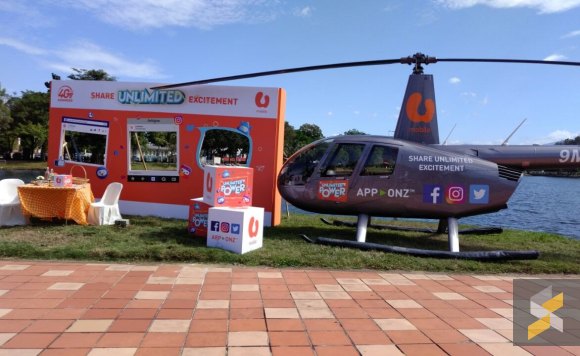 UPDATE: Check out our U Mobile UNLIMITED Power Prepaid vs Power Prepaid plan comparison.
U Mobile has always been shaking things up in the telco industry with its generous data offering. First, they had introduced Video-Onz which gave unlimited free video streaming and this was followed by Music-Onz which does the same thing for music. Then, they had Game-Onz data add-ons designed for unlimited gaming through WiFi tethering.
Now they are introducing App Onz which offers unlimited free data for social. This lets you enjoy Facebook (including Messenger), Twitter and Instagram without utilising your normal data quota.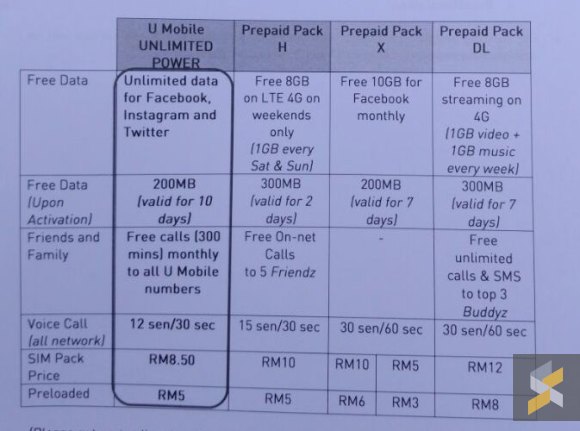 U Mobile App Onz is rolled out with its new UNLIMITED POWER Prepaid plan. It's the first prepaid in Malaysia to provide unlimited data for all your social needs and it comes with 300 minutes of free calls each month within the U Mobile network. A starter pack costs RM8.50 and it comes bundled with RM5 of credit and 200MB of high-speed data that's valid for 10 days.
Compared to the current POWER Prepaid plan, the call rates for the new prepaid are slightly higher at 12 sen/30 secs instead of 7 sen/30 secs while SMS costs 12 sen each. According to U Mobile, the new UNLIMITED Power Prepaid still comes with free 1GB of high-speed data each month with a minimum top up of RM10. You'll lose the free 1GB high-speed internet each month but you get free 1GB of basic (throttled) data instead of 2GB basic data.
For existing U Mobile prepaid customers, you can enjoy App Onz by migrating to the new UNLIMITED POWER Prepaid by dialling *118*6*2*3# beginning 17 February 2017 which costs RM3 to make the switch. For postpaid customers, App Onz will be activated automatically between 17 to 25 February 2017. App Onz has no time, weekend or quota restrictions, so you can use it anytime and anywhere.
U Mobile also has plans to add more apps into App Onz sometime in the future. In case you missed it, data usage of Waze is free if you're on U Mobile's postpaid and prepaid UMI plan.
Since U Mobile is now offering free usage for video, music and now social, it is probably harder for most Hero P98 postpaid subscribers to finish their quota. The new UNLIMITED Power Prepaid starter pack will go on sale starting tomorrow, 17 February 2017.