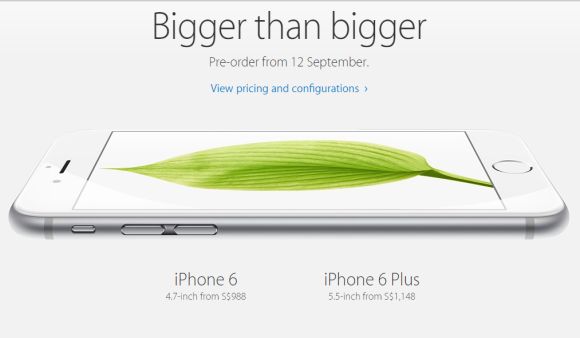 If you're planning to get the iPhone 6 or even the iPhone 6 Plus get ready to pay through your nose and perhaps sell an organ or two. Being in the list of countries that will be receiving the first wave, the online Apple Store in Singapore has listed the prices of the iPhone 6 and iPhone 6 Plus, and they are expensive.
The iPhone 6 starts from SG$988 which is about RM2,500 while the iPhone 6 Plus starts from SG$1,148 or about RM2,900. If you want more storage, expect to pay even more. For the iPhone 6, the 64GB variant will cost you SG$1,148 and the 128GB version is SG$1,288, that's RM2,900 and RM3,270 respectively! The bigger iPhone 6 Plus is even more expensive still with the 64GB version priced at SG$1,288 (RM3,270) and the 128GB a whopping SG$1,448 (RM3,770)! You can get a really good laptop for that kind of money.
Even if you take out the 7% GST from the Singapore pricing, the new iPhones is a lot of money to put down for a phone, this is excluding the price of the Apple Watch which, predictably, almost all iPhone 6 and 6 Plus buyers will want to get as well.
iPhone prices without 7% Singapore GST:
iPhone 6
16GB — SG$919, about RM2,331
64GB — SG$1,086, about RM2,755
128GB — SG$1,198, about RM3,039
iPhone 6 Plus
16GB — SG$1,086, about RM2,755
64GB — SG$1,198, about RM3,039
128GB — SG$1,347, about RM3,418
A release date for Malaysia has not been announced but Apple has indicated that the new iPhones will be available in a total of 114 countries by year end, with Malaysia very likely to make the list. Pre-orders for the iPhone 6 and 6 Plus start on September 12 and the device will be available from September 19 in selected markets.
So how bad do you want the iPhone 6 and iPhone 6 Plus?
Related iPhone 6 Posts
Betting big on big: Apple announce two new iPhones with bigger displays
Apple Malaysia reduces iPhone 5S pricing
Apple's next big thing is on your wrist
By the numbers: iPhone 6 and iPhone 6 Plus compared with other flagship smart phones
Fanboys already started queueing up for iPhone 6
iOS 8 rolls out next week