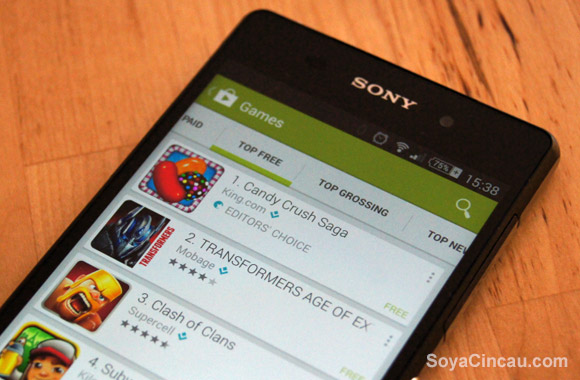 Google will take steps to address concerns raised by the European Commission about in-app purchases in mobile games and in particular about inadvertent purchases by children. By the end of September 2014, Android developers won't be able to call apps available through Google Play with in-app purchases "free"; the default settings on Android will be changed so that payments are authorised prior to every in-app purchase, unless the consumer actively chooses to modify these settings; targeted guidelines will be developed for its Android developers to prevent direct exhortation to children as defined under EU law; and time-framed measures will be put in place to help monitor apparent breaches of EU consumer laws.
Google has not announced whether these changes to Google Play would be worldwide or contained only within Europe, or whether non-game apps with in-app purchases would also stop being described as "free."
"Freemium" is one of the most iconic and ironic portmanteaus of the mobile era. The business model is not new—the first taste is free and once you're hooked you've got to pay—but the ubiquity of smart devices and the ease and immediacy of digital transactions has made in-app purchases a money train Developers, Apple, Google and Amazon. App analytics firm Distimo found that in November 2013, 92% of Apple App Store revenues and 98% of Google Play store revenues came from free apps with in-app purchases.
In 2011, users in Britain, Germany, France, Italy, Spain, the Netherlands and Belgium spent an estimated €16.5bn on online games, Europe's app market is expected to be worth €63bn within the next five years.
In-app purchases are a mixed bag for consumers. On the one hand they are a keystone of one of the true miracles of the digital age: instant gratification through buy-on-demand. But on the other hand they're a minefield of impulse buys and unsanctioned expenses, and it's through the latter that a lot of people get burned, especially parents.
If you have kids you'll know exactly what we're talking about. Either you've proactively safeguarded your smart device from your children, or you've paid real money for virtual good coins, jewels or some other in-app knickknack. These in-app purchases are too tempting, too easy and next to impossible to correct. They're a scam that fleeces billions from millions.
It's clear that Google is trying to get ahead of this growing issue in the mobile app market.
Across the Pond, in January 2014, Apple agreed to settle a Federal Trade Commission complaint that the company billed consumers for millions of dollars of charges incurred by children in kids' mobile apps without their parents' consent. Apple agreed to refund a minimum of $32.5 million to aggrieved customers.
And earlier this month, the FTC filed suit against Amazon.com alleging that the online retailer allowed millions of dollars in unauthorized purchases by children through its app store. Similarly to the EU's request, the FTC wants Amazon to provide more-prominent notices about in-app purchases, wants the company to require passwords for all such purchases, and make refunds simpler and easier.
In their statement, the EU Commission regretted that Apple had to date made "no concrete and immediate solutions" to address the Commission's concerns about in-app purchases.
Apple says that it has already taken a number of steps to safeguard users when they make in-app purchases including the use of passwords. Apple claims its "controls go far beyond the features of others in the industry," and that its forthcoming iOS 8 will add further features to give parents even more control over what their children can buy on the App Store.
Have you been burned by in-app purchases? Share your story in the comments section.