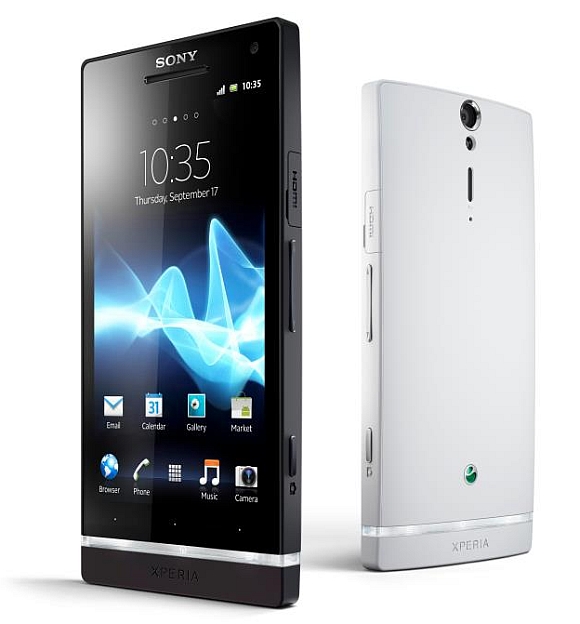 Ladies and gentlemen this is the Sony Xperia S (previously known as the Nozomi or the Xperia HD), the first smartphone from Sony's Xperia NXT (next generation smartphones from Sony) series of devices.
Sony says:
Xperia S showcases a new design approach referred to as "Iconic Identity". The design will be replicated across the Xperia NXT series and creates a simple strong look that is instantly recognizable. The transparent element at the base creates an iconic silhouette where the display is emphasized and underlined. In addition, it provides illumination effects and integrates the antenna components.

The user Interface has been redesigned to match the minimalistic design of the hardware. The home screen has a new colorful flow background making full usage of HD Reality Display and dual-core processing power.
Vital specs for the Xperia S include a 4.3-inch 1280x720p HD Reality Display with Mobile Bravia Engine, a 1.5GHz dual-core Qualcomm MSM8260 processor and 32GB of on board storage. Additional connectivity includes DLNA, HDMI and BRAVIA Sync as well as NFC. Power is courtesy of a 1,750mAh battery pack.
Apart from the brilliant display, the other highlight of the Xperia S is the 12MP f/2.4 Exmor R camera with 1080p video capability. In addition to the 12MP rear camera the Xperia S features a 1.3Mp front camera that's capable of shooting 720p videos. Like the Xperia ion, the camera on Xperia S also comes with Sony's Fast Capture technology enabling the camera to go from standby mode to first shot in 1.5 seconds.
Knowing Sony Ericsson's established reputation of making fine cameras on their mobile phones, we're not expecting the Xperia S to disappoint. In fact we'll go so far as to say that the Xperia S has all the makings of one of best camera phones for 2012. We can't wait to get our hands on one.
The Sony Xperia S will be available to consumers globally from the first quarter 2012. At launch the Xperia S will run Android 2.3 Gingerbread. Sony says users can expect an Ice Cream Sandwich update within the second quarter of 2012.
More pictures and videos right after the jump.