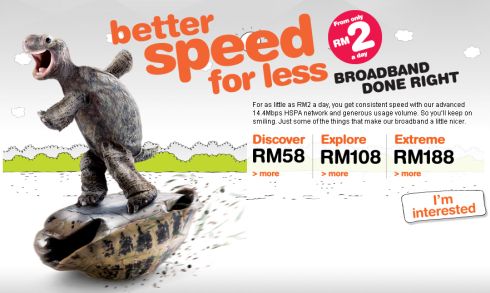 After running several pre-launch promos at Mutiara Damansara & SS2, DiGi has officially launched its 3G Broadband service. Most of us are anticipating DiGi to launch 3G service in form of mobile telephony services but it seems that they decided to take on the broadband route.
There are 3 official broadband packages, that differs on speed and monthly data quota.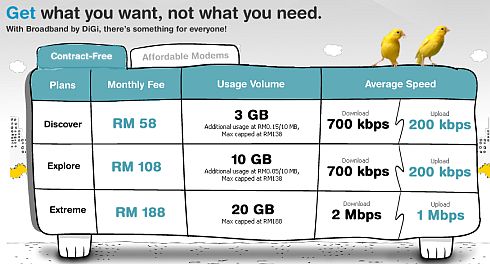 The lowest package, Discover is priced at RM58/month with average speed 700kbps download and 200kbps upload. Monthly data quota is 3GB and additional usage is charged at RM0.15 per 10MB.
The mid range package, Explorer is priced at RM108/month with same speed as Discover but it has a higher monthly data quota of 10GB/month. Additional usage is charged at RM0.05 per 10MB. The Discover and Explorer's excess charge is capped at RM138 which is the maximum you would pay for excess data.
For power users, Extreme is  priced at RM188/month with average speeds of 2Mbps download and 1Mbps upload. Monthly data quota is 20GB and that is also the maximum data cap allowed.
Key differences of Digi's Broadband service are the use of Average Speed as opposed to speeds up to used by other competitors such as Maxis, Celcom and U Mobile. From what we understand, this would be a better gauge of actual speeds compared to the maximum theoritical speeds of up to 3.6Mbps or 7.2Mbps often used today. This could probably mean that the Extreme's 2Mbps is capable up to 7.2Mbps as offered in the trial offer.
While others reserves the right to throttle down the speed once the data quota is used up, DiGi uses a different approach of charging excess usage. Once your original data quota has been exceeded, you will charged for excess usage while enjoying your original speed.
However this is only valid until you reached the max capped limit (RM138 for Discover/Explorer and RM188 for Extreme.) After the cap has reached, speeds will be throttled down to 128kbps for all 3 packages. Basically DiGi gives you some data quota headroom before it throttles down your speed.
All packages above are on non-contract basis unless you opt for the modem bundle which is payable on monthly installment.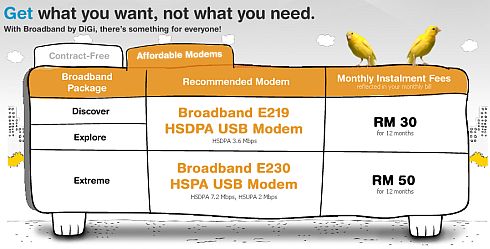 There are 2 modems being offered, the Huawei E219 and the Huawei E230 with HSDPA 3.6Mbps and 7.2Mbps respectively. Both modems above are on 12 months contract while it is covered with a 18 months warranty. An advanced payment of RM300 is required up front for those who wish to take up the modem bundling.
Coverage wise, they have started covering beyond Damansara and PJ. For more info, check out the DiGi Broadband site.