Samsung Malaysia just released its new robot vacuum, the Samsung Jet Bot AI+. It claims to be the first vacuum that uses an Intel AI solution with object recognition to navigate through your home. The Jet Bot AI+ uses a LiDAR sensor, the same type of sensor that most Tesla use, to detect and avoid obstacles.
Apparently, the vacuum can identify if an object is fragile or dangerous and will keep a safe distance. According to Samsung, the Intel AI utilised in the Jet Bot AI+ has learned over 1 million images of household items including home appliances and furniture. It is claimed to be able to recognise objects such as sofas, bookshelves, tables, dog bowls, towels and electrical cables. As shown in their product video, it is even smart enough to avoid vacuuming over faeces left behind by your pets.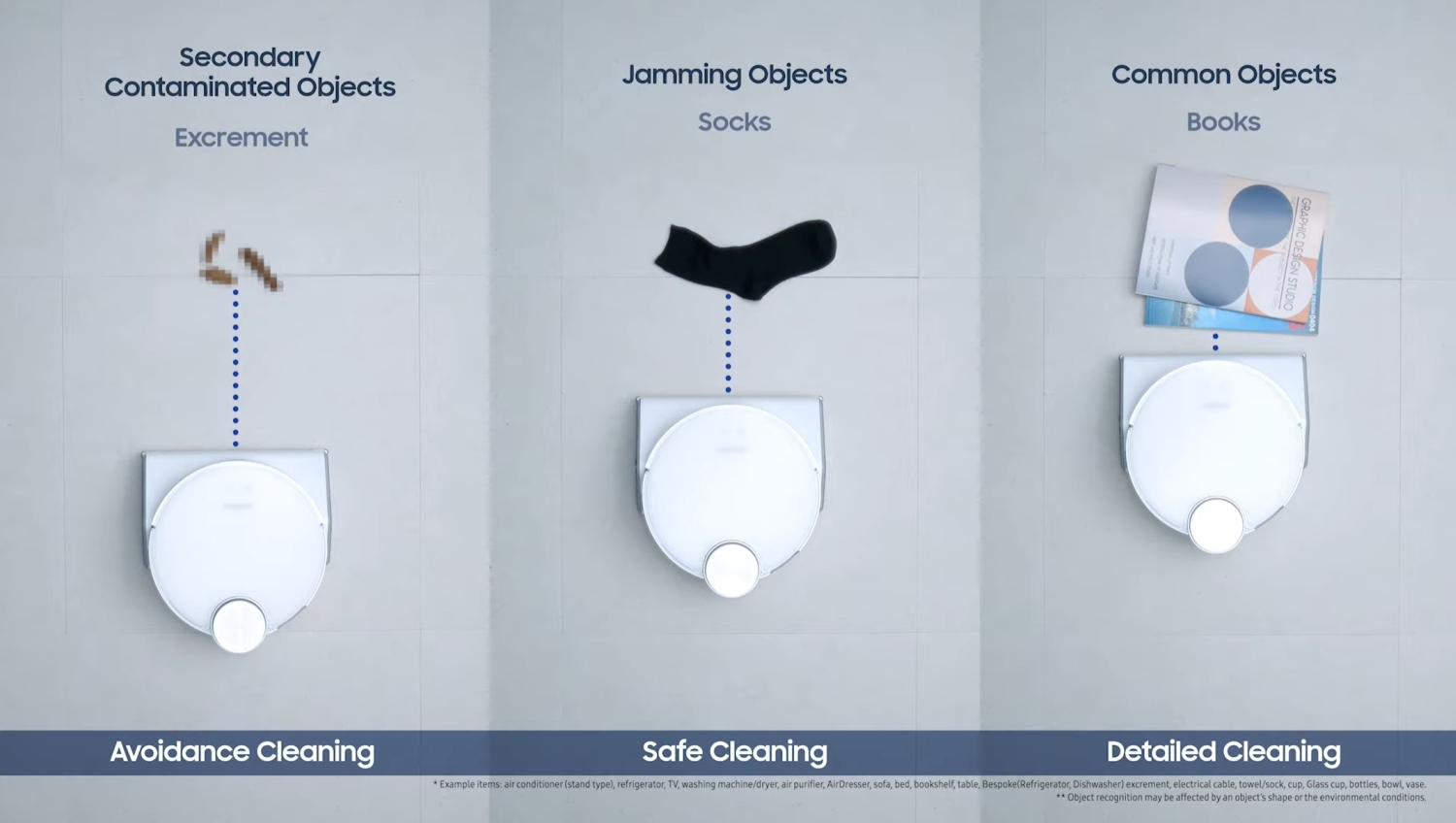 The sensor extends to 3D, giving the vacuum a better picture of the objects and obstacles it might face. It also uses the LiDAR sensor to learn the layout of your rooms so it can move in the most efficient and optimised path.
Navigation aside, how's the power? The Jet Bot AI+ has a 30W suction power from its Jet Cyclone system, a structure that captures dust in a big chamber and catches the smaller particles in a second chamber with 8 separate cyclones of air.
The vacuum also has 'extractors' that grind up loose hairs to avoid them getting tangles around the brush.
The Jet Bot AI+ also has a Smart Mode that identifies the type of surface and amount of dust to clean the area accordingly. For example, when going from hard floors to carpets, the vacuum would increase its suction power.
To charge, the Jet Bot AI+ will automatically return to the Clean Station, its disposal system. It removes the dust from the vacuum using air suction technology, which technically makes the Clean Station a vacuum cleaner cleaner. The waste then gets collected into a bag that only has to be replaced every two to three months. All the parts are fully washable which makes maintenance more convenient.
Users can connect the vacuum to the Samsung SmartThings app, where you can schedule cleaning routes remotely, set no-go zones, and review the cleaning route history.
The vacuum also has a front camera, so you can check on your pets with the Jet Live feature straight from your phone. In patrol mode, you can monitor the status of your home from anywhere. And don't worry, the video is encrypted and can only be viewed by authorized users.
Samsung's Jet Bot AI+ is now available at all Samsung outlets, retailers, and online shopping platforms with a RRP of RM4,999. For more information on Samsung's Jet Bot AI+ robotic vacuum cleaner, you can view the product and buy it on their product page.